DAVID F. WALKER

SEND THIS TO A FRIEND!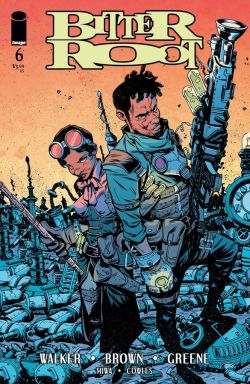 DF Interview: Comic co-creator David F. Walker talks about 'Bitter Root' film
By Byron Brewer
When Bitter Root #1, a book from Image Comics, hit stores in November 2018, fans knew they had something special, something beyond sci-fi and spandex. It stood out among the many titles in their pull lists.
Legendary must have known it as well. The filmmaker optioned the property in March and now it is being adapted by director Ryan Coogler, known for another adaptation moviegoers and comic book fans have lifted to – er uh, legendary status: Marvel's Black Panther.
Created by David F. Walker, Sanford Greene and Chuck Brown, the comic Bitter Root is about a family of monster hunters during the Harlem Renaissance period of the 1920s. To get more on the film, DF sat down with one of the men behind the comic: David F. Walker.
Dynamic Forces: David, the Captain Obvious question right out of the gate: How does it feel to have one of your works being adapted for film?
David F. Walker: This is all still very surreal. Everything is still in the very early stages, and to be honest, it hasn't all sunk in yet. I think once there's a screenplay, and they go into active pre-production, it will just get more real – and surreal. But for now, it is just plain surreal. About thirteen years ago, I adapted a short comic I wrote into a live-action short film. I wrote, directed and produced an adaptation of my short comic, Black Santa's Revenge. That played in a bunch of festivals, and I had always hoped to turn it into a feature film, but it never happened. Honestly, I never really thought any of my comic projects would ever go beyond that phase. Then, several years ago, another comic property got optioned – Number 13. That was a mini-series I did at Dark Horse with Robert Love, and it is still in development. But this thing with Bitter Root is on a completely different level.
DF: And – AND – your creator-owned comic Bitter Root (co-created with Sanford Greene and Chuck Brown) is being adapted by Black Panther director Ryan Coogler and his wife Zinzi Evans! Thoughts?
David F. Walker: I'm very excited. I loved Black Panther, but I really, truly loved Creed, and Fruitvale Station is incredible. Coogler is the filmmaker I always wanted to be, and the kind of filmmaker I've always wanted to work with.
DF: What can you tell readers of how this came about?
David F. Walker: Bitter Root was optioned by Legendary early this year. There were several companies that had approached us, but Legendary really had a good handle on the series, and came to the table with some great ideas. Legendary presented us (me, Chuck, Sanford, and my business partner Sean), with a wish-list of producers, writers and directors. It was an amazing list. And of course, Coogler was on the list, but we were all like, "We'll never get him on board." At the same time, I knew that he was a comic book fan, and there was this general belief that it wouldn't hurt to reach out. Ultimately, I'm not sure if Legendary went to him, or he went to Legendary. I just know that he'd been reading the comic from the start, and was familiar with the material.
DF: For those under a rock (and today, who can blame them, LOL), summarize please the backstory of the comic now published by Image Comics.
David F. Walker: Bitter Root is set against the backdrop of the Harlem Renaissance, in 1924. It follows the Sangerye family – the descendants of slaves, who specialize in hunting monsters. These hideous creatures are humans who have been infected by the disease of racism and hatred, and the Sangeryes specialize in curing those that are infected. At least that's what some of the family does – others just believe the monsters should be killed.
DF: Which of Root's characters are you most excited to see cast? Any casting choices of your own for characters (just for fun)?
David F. Walker: I go back and forth on this – I love all the characters. The two family members I'm most excited to see are Ma Etta and Berg – at least right now. That may change in the next hour. I don't know who I'd cast in either of those parts. For the character of Berg, maybe someone like Brian Tyree Henry. For Ma Etta, I'd probably cast a fairly young actress, and put her in old-age make-up – someone like Zazie Beetz. I'm a huge fan of old film (and television), and to be honest, when I think of actors that I'd cast for this movie, it's all people from another era. For the character of Ford, I'd cast Yaphet Kotto, circa 1976. I'd cast either Zara Cully or Frances Williams for Ma Etta – no one knows either of them these days, but they should look them up. For the character of Blink, my dream actress would be Nina Mae McKinney, who was a huge star in the 1930s – they called her "the Black Greta Garbo."
DF: I know we are not even on the launch pad with this, but are there any things you would like to see different from the book in its on-screen iteration? Should this become a film, do you foresee any changes to the comic should it still be running?
David F. Walker: Film and comics are two very different things, and I like letting each be their own thing. I would love to see the backdrop of the Harlem Renaissance more on film – I'd love to see musicians playing at a Harlem speakeasy, to hear the music. You can't hear music in a comic. The medium of comics is static – the images don't move, the voices are in your head. I look forward to seeing how others interpret what we've done, and bring it to life. As for the comic, Chuck, Sanford and I have our plans, and we're sticking with them. At the pace we're going – which is a bit slow for some of our fans – we'll be fairly far along in the series before a film comes out. We have ideas in play that will carry us through to a certain number of issues, and then more ideas if we want to keep going. In my mind, the comic will be its own entity, and the film will have a life all its own.
DF: Will Sanford, Chuck or you have any active part on the film? On the script?
David F. Walker: That all depends on if Legendary or Coogler wants us for anything. Speaking for myself, I'm happy just waiting to see the movie when it comes out.
DF: David, after this high, let me ask what else you can tell readers about projects you are working on … comics, film, whatever?
David F. Walker: Well, we're working on the second volume of Bitter Root right now. I'm also co-writing a series with Brian Michael Bendis for DC called Naomi. The second volume of that is in development right now. Earlier this year, I launched Solid Comix, my own little publishing imprint, and I'm putting out a few titles with various co-creators. The first series, One Fall, debuted this year, with more issues coming in 2020. I also have two, possibly three other titles coming from Solid Comix in the next six to twelve months. The first of those will be The Hated, which is something I'm very excited about. And of course there's all the stuff I just can't talk about at the moment – but all of it is cool.
Dynamic Forces would like to thank David F. Walker for taking time out of his busy schedule to answer our questions. Keep following DF News for more on the Bitter Root film.
For more news and up-to-date announcements, join us here at Dynamic Forces, www.dynamicforces.com/htmlfiles/, "LIKE" us on Facebook, www.facebook.com/dynamicforcesinc, and follow us on Twitter, www.twitter.com/dynamicforces.
LUKE CAGE #1 SIGNED BY DAVID WALKER
SHAFT #2 RARE DENYS COWAN "VIRGIN ART" EDITION FEATURING SILVER ELITE EDITION SIGNATURE BY DAVID WALKER
SHAFT #1 RARE Denys Cowan "VIRGIN ART" EDITION FEATURING SILVER ELITE EDITION SIGNATURE BY DAVID WALKER
SHAFT: A COMPLICATED MAN TRADE PAPERBACK
SHAFT: IMITATION OF LIFE TRADE PAPERBACK
SHAFT'S REVENGE PAPERBACK NOVEL
---
NEW! 1. 11/30/2020 - SKYLAR PATRIDGE
5. 11/16/2020 - RYAN O'SULLIVAN