TIM SEELEY

SEND THIS TO A FRIEND!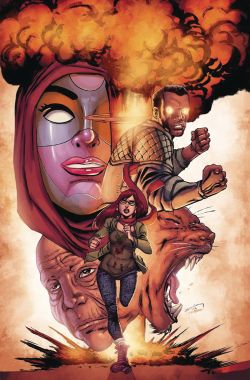 DF Interview: Tim Seeley gives glimpse of 'where we're heading' in Brilliant Trash
By Byron Brewer
In the days to come, a super-powered teenage girl wipes the heavily-disputed Old City of Jerusalem from the face of the globe. Now, in American dystopia after the "Lady Last Word Incident", a click-bait headline writing "journalist" holds the key to a med-tech conspiracy that could turn people into gods for the price of days off their lives. But in a world where news is tailored to every viewpoint, will anyone believer her?
From AfterShock Comics comes Brilliant Trash, a sci-fi superhuman epic brought to you by Tim Seeley, writer of Revival and Grayson, and breakout art sensation Priscilla Petraites. DF wanted to pick up the total 411 just for you, so we chatted it up with scribe Tim Seeley.
Dynamic Forces: Tim, before we get into your new series for AfterShock Comics, Brilliant Trash, I just wanted to compliment you on the kickass variant cover for issue #1. You didn't sign on to write the book just with the agreement they would let you draw that awesome cover, did you? (laughs)
Tim Seeley: I try to keep a toe in the water and remind readers (and myself) that I still draw. I'm a little rusty, but I figured I could help set the "cyberpunk" tone that was in my head with an image.
DF: You're really pulling no punches with this series, are you? I mean, it starts with a super-teen destroying Jerusalem! Obviously we're in for an uber-satirical look at today's social world. Tell us about Brilliant Trash.
TIM: To me, the best science fiction is the stuff that presents a look into the world we might be heading into. And, some of my favorite sci-fi, which originally seemed completely ridiculous in its heavy-handed satire, basically became true.
DF: Any concern about feedback? Just recalling the debut of Marvel's X-Men Gold and the unintended internet blowup there.
TIM: Eh, I get sh*t for most everything I do, half of it from the right, half of it from the left. The internet is always blowing up all over itself. At this point, if I don't make someone mad, I assume I'm doing something wrong. Brilliant Trash is pretty even-handed in its take down, sticking it to Trumpism and trigger culture in fairly equal measure.
DF: As a former 20-year newspaper editor, I often joke that I've actually outlived the journalism profession which bares little semblance to today's "media." Tell us about the "journalist" in this series and what motivates her, and what challenges this story will present her.
TIM: Our "journalist" is someone who believed in the power of the press at one point, but the power of the press has been eroded by the political class's constant attacks, as well as the news media's own self-inflicted wounds. She's forced to LIVE through a story because it's the only way to ensure even she believes it. And I think that's where we are, or at least where we're heading. She wants to tell the truth, but it's easier not to. Because the audience doesn't want the truth.
DF: What other characters should we be on the lookout for here? Can you introduce us to some of them?
TIM: The other main character is Jim Heller, a super-powered soldier gone freelance. Jim barely escaped an urban warzone, living on borrowed time anyway, so having superpowers that could kill him isn't new to him.
Jay Cromwell is a young executive working for Lifespan Inc, a massive med-tech corporation. Jay represents modern American business … his only concern is profit for his shareholders. Having any other concern would be immoral.
We'll also get introduced to some superhuman teens, basically early adopters and hackers who steal their powers, and have to live with what that does to their bodies.
DF: Just wondering: Will there be any GOOD folk in the book with super-powers?
TIM: Well, I mean, this is a "superpowers" story, not really a "superhero" story. These people are motivated by different things than morality.
DF: Aside from commentary on the "real" world, I am sure there will be some comment(s) on the state of superheroes and comic books. You're right there with a lot of things, most famously now with Nightwing from DC. How is that reflected in Brilliant Trash?
TIM: Yeah, I think the book is partially about people's interest in superheroes, not for the morality and humanity, but for their superpowers, and story continuity. I see some of these alt-right creeps dressing up as Supergirl, or trying to tell writers that Captain America wouldn't fight for refugees and I wonder how they missed the message of these characters they purport to love. And then I realized, they never cared about the message, just the idea of power. This series definitely touches on that.
DF: How does it feel to be working with Priscilla Petraites? Talk a little about what she brings to the series.
TIM: I wrote the first several issues "Marvel style" and Priscilla broke these pages down and did a lot of the legwork. She's an amazing storyteller. She's also doing some really cool cyberpunk design work. She's also pretty new to this, so the reader will get to watch her improve my leaps and bounds with every issue, which I always think is pretty exciting. Her husband colors her work so there's some great synergy there.
DF: Tim, what other projects current and near-future can you tell us about?
TIM: I'm doing Green Lanterns at DC, as well as a brand new horror series at Vertigo called Imaginary Fiends!
Dynamic Forces would like to thank Tim Seeley for taking time out of his busy schedule to answer our questions. Brilliant Trash #1 from AfterShock Comics hits stores Nov. 15th!
For more news and up-to-date announcements, join us here at Dynamic Forces, www.dynamicforces.com/htmlfiles/, "LIKE" us on Facebook, www.facebook.com/dynamicforcesinc, and follow us on Twitter, www.twitter.com/dynamicforces.
HACK/SLASH VS VAMPIRELLA #1 (OF 5) ATLAS COMICS SIGNATURE SERIES - SIGNED TIM SEELEY EDITION
NIGHTWING #1 SIGNED BY TIM SEELEY!
NIGHTWING #1 ULTRA-LIMITED NIGHTWING BLUE SIGNATURE EDITION SIGNED BY TIM SEELEY
GRAYSON #1 BLANK VARIANT SIGNED BY TIM SEELEY AND REMARKED BY KEN HAESER WITH A NIGHTWING SKETCH (BVS)
BLADE #1 ULTRA-LIMITED BLOOD RED EDITION SIGNED BY TIM SEELEY AND LOGAN FAERBER
DEADPOOL VS. THANOS #1 ULTRA-LIMITED BLOOD RED SIGNATURE SERIES EDITION SIGNED BY TIM SEELEY
VAMPIRELLA ARMY OF DARKNESS #2 COVER E HIGH END - TIM SEELEY "BLOOD RED" EDITION
GUARDIANS OF THE GALAXY: BEST STORY EVER #1 SIGNED BY TIM SEELEY DUAL PACK!
DEATH OF WOLVERINE LOGAN LEGACY #2 CANADA VARIANT SIGNED BY TIM SEELEY!
PURGATORI #1 SILVER ELITE EDITION SIGNATURE BY TIM SEELEY
BATMAN ETERNAL #1-4 ULTRA-LIMITED SILVER SIGNATURE SERIES MASTER SET SIGNED BY TIM SEELEY!
CHAOS #1 SIGNED IN BLOOD RED BY TIM SEELEY!
CHEW / REVIVAL #1 ULTRA-LIMITED BLOOD RED SIGNATURE EDITION SIGNED BY TIM SEELEY!
CHASTITY #4 HIGH-END TIM SEELEY "VIRGIN ART" ULTRA-LIMITED
BATMAN AND ROBIN #23.4 KILLER CROC GOLD SIGNATURE SERIES SIGNED BY TIM SEELEY!
WOLVERINE IN FLESH #1 SECOND PRINTING VARIANT GOLD SIGNATURE EDITION SIGNED BY TIM SEELEY!
---
NEW! 1. 11/25/2020 - STEVE SKROCE
4. 11/16/2020 - RYAN O'SULLIVAN
5. 11/16/2020 - RYAN O'SULLIVAN