JIM RUGG

SEND THIS TO A FRIEND!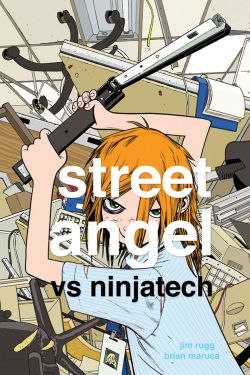 DF Interview: Jim Rugg gives us a homeless orphan vs. a ninja industrial complex in the Street Angel vs. Ninjatech HC
By Byron Brewer
After a hard fight with Ninja Carl, the deadliest girl alive seeks revenge ... against the company that manufactured his dangerous weapons. Street Angel makes some friends, kinda; helps out a witch, sorta; and fights the Assassin of the Future™: the Ninja 6000 ® by Ninjatech. Join Jesse Sanchez – Street Angel – as she declares war on the ninja industrial complex. Sure is convenient that it's bring-your-daughter-to-work day!
Image Comics brings Jesse to hardcover again in Street Angel vs. Ninjatech from the writing team of Jim Rugg and Brian Maruca with Jim on the art as well. DF wanted to know much more of this HC, so we caught up with Jim Rugg. Here is what he told us.
Dynamic Forces: Jim, Street Angel started, I believe, as an alt-comic 5-issue limited series published in 2004 and put together by Brian Maruca and yourself. What else can you tell us about this series and how it came to Image Comics, getting ready to again receive the hardcover treatment?
Jim Rugg: Image Comics began publishing new Street Angel stories last year. Each book is a complete story. Street Angel is a homeless ninja skater and the deadliest girl alive! So her stories involve hanging out with her friends, fighting evil ninjas, eating whatever she can find (she's about 13 years old so she has a healthy teenager appetite), fighting robots, she joins a gang briefly, fighting bullies, befriending stray dogs … the usual superhero and YA shenanigans.
Street Angel was out of print for years. Then AdHouse Books published a hardcover collection in 2014. I ended up in a room with Eric Stephenson at Comic-Con and pitched some new Street Angel with Image Comics. He said yes. And we were off and running.
As Brian Maruca, my writing partner, and I started making new stories, the hardcover graphic novel format made the most sense to Eric and Image. I love picture books! Besides comics, my background is in design. I've designed books that won an Eisner Award for their design as well as books on the AIGA 50/50 list for best design. So oversized hardcovers for the new Street Angel stories are a dream come true!
The Street Angel books are all designed to stand alone and be read in any order -- something I have struggled with as an indie comics fan. I'm often disappointed when I hear of a new series but can only find like issue 4 or whatever. With Street Angel -- any book is the perfect place to start.
DF: From what I have seen, and you can correct me, the series is both a satire of superhero comics AND the era of the Golden Age. Why this take for the book, and what goal lies behind this execution?
Jim Rugg: It's an alternative take on the superhero genre. When I started reading comics, they were dark and violent (1990s). When I started making comics, I wanted to make something different. Street Angel is fun and brightly colored but it keeps the dynamic action that I like in superhero comics. So it's a book that is different than most of what you see on new comic book day. Something fun, funny, fresh and attractive. Something for readers of all ages and perfect for new and old readers. It has satirical elements, it has qualities you may associate with Golden Age comics, and it has influences from dozens of other genres and media from Kung Fu movies to 1990s alternative comics. We're trying to make the best comic we can and that means no idea is off limits.
DF: What I really love about some of the work I have seen on Street Angel is there are no attempts whatever to maintain continuity, as you have explained. And characters pop in and out without explanation! It's crazy … in a good way!
Jim Rugg: I hate the obsession with exposition. It's not how life works. You meet people randomly all the time in real life and no one starts by explaining their origin when you meet.
I picked some of this up from cartoons, like Looney Toons. Those cartoons just hit the ground running. They change scenes without any long-winded explanations and kids are able to keep up. So I try to apply some of that type of storytelling -- keep it moving. Give readers some credit. And let Street Angel kick someone in the face!
DF: What can you tell us about Jesse Sanchez and her world?
Jim Rugg: Jesse "Street Angel" Sanchez is kinda mysterious. She's a homeless orphan. She's great at skateboarding and fighting and she tries to help people out. It's probably a little warped, but overall, she tries to do what's right.
As you can imagine, without any parents, she is rough around the edges. She's around 13 years old. We're not sure when her birthday is. We don't know if she even knows.
In a lot of ways, she's like a typical 13 year old. She has some friends. They hang out and get in trouble. She loves to eat.
DF: Tell me about how you and Brian work together, the process.
Jim Rugg: We used to work at the same place. We would just write stories and scenes to try to amuse each other. We continue to work that way but now we do it on GoogleDocs, the phone, or at meetings. It's very organic. Sometimes one of us has a fully formed idea and it's just a matter of fleshing it out and editing. Sometimes we have lots of small ideas and try to make them fit. We're like co-writers and co-editors. A lot of bitter arguing goes into every story!
We end up with a short prose story. That way we can make sure the story all works. Then I break that into a script. We go through that a couple of times and then I draw it.
DF: I'm not sure readers know this, but a Street Angel live-action short film was made in 2008, and used original artwork from you for its opening animated sequence. What can you tell us about this experience?
Jim Rugg: Lucas Testro, a filmmaker from Australia, made that short film. I did not have much of a hand in it. Testro contacted me about making it. I said sure. And he adapted issues 1 and 4 from the original series. He was very faithful to the source material. I think he did a wonderful job. Great theme song. It was shot on film, which in today's world is very unusual. You can view it here: https://vimeo.com/63237636
DF: So what will readers be discovering in the Street Angel vs. Ninjatech hardcover when they pick it up?
Jim Rugg: During a ninja fight, Street Angel gets hit with a nasty poison dart. Fortunately, she survives. When she realizes the dart was made by a company called Ninjatech, she declares war on them but that raises the question of how do you fight a building? Also, Ninjatech has a bring-your-daughter-to-work day, so she's contending with that. When Ninjatech realizes they are under attack, they unleash the Ninja6000, Assassin of the Future! It's Street Angel vs the ninja industrial complex!
DF: Jim, any projects current or near-future you can tell us about?
Jim Rugg: I'm launching a weekly YouTube show with Ed "X-Men: Grand Design" Piskor called Cartoonist Kayfabe. We're going through '90s comics history and Wizard magazine. Each show is a page-by-page trip through an issue of Wizard. The early '90s are a fascinating period in comics history. We'll see the rise of Image Comics, the speculator bubble and eventual burst, early days of the internet and its impact on comics … it's a rich period and very fun to explore: https://www.youtube.com/channel/UCU0v4IGzj2wK-PmjASkK2Rg
I'm currently drawing The Plain Janes, a young adult graphic novel that I created with YA author Cecil Castellucci for DC Comics' YA imprint, Minx. That imprint folded. And now Little Brown is going to do a deluxe, new Plain Janes book! So that is on my drawing board right now. I'm drawing a new 150-page story, and then we're going to release it as a big 500 page, single volume book! I'm excited. It's going well.
Street Angel Gang skateboard: I just did my first skateboard collab with Girl Is Not a 4 Letter Word and Dusters California. Available here:
https://thankyousupply.com/products/dusters-gn4lw-street-angel-25-cruiser-skateboard
Here are some other places to follow me:
Instagram: https://www.instagram.com/jimruggart/?hl=en
T-shirt shop: https://shop.spreadshirt.com/jimruggart
Patreon: https://www.patreon.com/streetangel
Twitter: https://twitter.com/jimruggart
Upcoming appearances:
November 25: Genghis Con Cleveland -- my last comics show of the year. It's a fun show, small press, i.e. lots of great, unique comics. This is their 10th anniversary. I'm making a poster for the show so come out and get a cool show poster! http://www.genghisconcleveland.com/
Dynamic Forces would like to thank Jim Rugg for taking time out of his busy schedule to answer our questions. The Street Angel vs. Ninjatech hardcover from Image Comics hits stores Nov. 7th!
For more news and up-to-date announcements, join us here at Dynamic Forces, www.dynamicforces.com/htmlfiles/, "LIKE" us on Facebook, www.facebook.com/dynamicforcesinc, and follow us on Twitter, www.twitter.com/dynamicforces.
CAPTAIN VICTORY AND THE GALACTIC RANGERS TRADE PAPERBACK
CAPTAIN VICTORY AND THE GALACTIC RANGERS #1
---
NEW! 1. 11/25/2020 - STEVE SKROCE
4. 11/16/2020 - RYAN O'SULLIVAN
5. 11/16/2020 - RYAN O'SULLIVAN