PAUL LEVITZ

SEND THIS TO A FRIEND!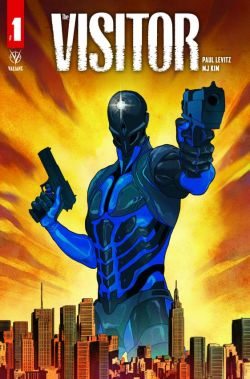 DF Interview: Paul Levitz weaves a marvelous mystery for readers in 'The Visitor'
By Byron Brewer
Unstoppable. Untraceable. Unkillable. This is how he changes the world…
Who is the Visitor? Why are the leaders of the world terrified of him? And will they live long enough to find out?
You'll be exploring the mystery along with the comic book cast in The Visitor from writer Paul Levitz and artist MJ Kim. DF wanted to gather all the 411 allowable for our readers, so we had a chat with industry veteran and scribe Levitz.
Dynamic Forces: Paul, this "layered mystery" of a story sounds like an intriguing concept. Tell readers about the genesis of this idea and of The Visitor as a comic.
Paul Levitz: By layered mystery, I mean that there's not one secret for readers to discover but several layers, perhaps related to each other, perhaps not. In doing a story like this, I wanted The Visitor to be an interesting read for fans unfamiliar with Valiant's mythology, but also to offer some hitherto unrevealed facets of the mythology for their longtime readers.
DF: Obviously we are not revealing any spoilers here, and especially on a sci-fi story such as this, but can you give me a bare-bones pitch as to what the storyline for this limited series might be?
Paul Levitz: It's UN Week. NYC is gridlocked and overrun with international visitors, including a group of scientists here on a secret project from their homeland that they want to get help from American scientists on. Suddenly, there's a visitor from somewhere, buildings exploding, and it becomes clear that he's after the scientists, but why? And how? And who is he?
DF: This is a hard interview to conduct when we are purposefully staying away from The Visitor's identity and intentions, but can you answer this? If this is someone – or someTHING – so dangerous to world governments, surely there is a unit or units (like Marvel's SHIELD, for example) put together to combat such dangers. Does any group of that nature enter the picture here, and if so can you tell us about it/them?
Paul Levitz: That would be a good story. Unfortunately, it's not this one.
DF: Talk about the art of and your collaboration here with MJ Kim.
Paul Levitz: MJ is new to comics, and is developing as we all watch, turning into a major talent, I think. She's very dedicated, and has been doing site visits with and without me to research the locations. We're making this a very specific story in terms of using some real world locations, and a bit of New York character. I think it adds a lot to the tale.
DF: Paul, what other projects in which you are involved can you tell readers about?
Paul Levitz: Well, there's a graphic novel in the drawer at Dark Horse that should be announced soon, lots of teaching, and some writing and editing at other comic companies, and serving on the board of BOOM! Studios. I don't control the publicity strategies, so I don't get to time the announcements, but I just keep plugging away. Kind of hoping that before I'm done, my fingerprints will be on something from pretty much every shop one way or another.
Dynamic Forces would like to thank Paul Levitz for taking time out of his busy schedule to answer our questions. The Visitor #1 from Valiant Comics hits stores Dec. 18th!
For more news and up-to-date announcements, join us here at Dynamic Forces, www.dynamicforces.com/htmlfiles/, "LIKE" us on Facebook, www.facebook.com/dynamicforcesinc, and follow us on Twitter, www.twitter.com/dynamicforces.


---
NEW! 1. 11/30/2020 - SKYLAR PATRIDGE
5. 11/16/2020 - RYAN O'SULLIVAN