MILES GUNTER

SEND THIS TO A FRIEND!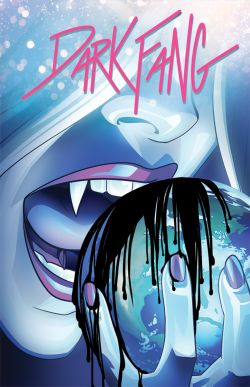 DF Interview: Miles Gunter takes a bite out of climate change with Dark Fang
By Byron Brewer
Her name is Valla. In life, she was a fisherwoman. In death, she is a vampire residing peacefully on the bottom of the ocean. When a mysterious dark plague descends upon her aquatic paradise, she must venture to the surface in search of answers.

What she finds is a world headed towards an environmental collapse that will eventually wipe out her food supply. If Valla is to continue to have the blood she needs to survive, then she must stop the fossil fuel industries from destroying the planet – no matter the cost.
From Miles Gunter (NYC Mech) and Kelsey Shannon (Bastard Samurai) comes a middle finger to the politicians and propagandists who choose to deny the reality of climate change.
And so you won't give US a middle finger, DF sought out scribe Miles Gunter to explore this very different take on the action-horror comic.
Dynamic Forces: Miles, I am old enough to remember when Namor the Sub-Mariner was a crusader for environmental causes, and also the team of Green Lantern and Green Arrow. But an environmentally-concerned vampire? What was the genesis of this concept?
Miles Gunter: Dark Fang wouldn't exist without my Mom who is a climate activist and author. Her book Earth Calling is a manual for how people can figure out the best way that they as individuals can do good works for the Earth during this turbulent environmental time. Watching her develop that book led me to think about what I could do as a comic writer to address climate change. The first arc of Fang deals with the main character finding her own Earth calling -- which of course falls WAY outside anything presented in my Mom's book!
DF: Tell more about the storyline of this new series from Image.
Miles Gunter: Dark Fang is the story of Valla, a vampire who realizes that climate change is eventually going to wipe out her food supply (humans) so she sets out to take down the fossil fuel industry.
DF: What can you disclose to us about Valla as a character? What part of her just MAY be reflective of her creator?
Miles Gunter: My old friend Ivan Brandon described Valla as a Disney princess covered in blood. I think that's the perfect description. Kelsey's style is like if David Fincher was an animator at Disney. Everything is bouncy and beautiful but there's a danger to it. Valla herself is a different kind of vampire. She's an apex predator but she's used her immortality to expand her knowledge base and become a more developed individual. Like Dracula, she is from a different time and when she steps back into the modern day, she finds a world that is much changed from when she left it.
As far as what aspect of Valla is reflective of me: I've been out of comics for nearly ten years and like Valla in the first issue, I am reemerging into that world with the new skills I acquired during those years. It's kind of like when you spend time in a video game grinding to make your character more powerful before you proceed.
DF: Can you introduce us to some other characters we might be meeting in Dark Fang?
Miles Gunter: Valla's minion is a hacker named Cody. He's sort of like the Microchip to Valla's Punisher. He's also a window into the modern world who schools her on things she doesn't quite grasp.
When you have a powerful character, you have to have adversaries that are more powerful. As Valla makes strides in her campaign against the oil industry, she will face her first real challenge in the form of Samael. He might be the son of the Angel of Death. Or he might just be an insane former underwear model. But what's for certain is he possesses the most powerful weapon on the planet and he's bringing it to bear against Valla.
DF: There is something about a book like this where a lone powerful figure takes notice and actually does (or attempts to do) something about a real-world concern that I believe readers (well, at least one) find cathartic. Is that felt on the other side of the keyboard?
Miles Gunter: Catharsis was my impetus for doing this book. I'm angry that our current leadership is not only blowing off doing anything about climate change but are also trying to destroy any progress we were making on the issue. I think the majority of Americans feel that same anger and frustration. The idea that scientific consensus on climate change could be politicized is a disgrace. Fang is very much a middle finger to those greedy stupid old fossils that currently hold the reins of power and who don't care about how they leave the world for their children and grandchildren. It's bound to piss a few people off, but how do they expect writers and artists to react when we see a consistently apathetic and ignorant response towards such a dire threat to human civilization?
DF: Valla obviously has some personal interest (like, survival!) in her environmental quest. Beyond that, are there other subtexts running through the book which readers might want to be aware of? Things ripped from today's headlines?
Miles Gunter: The main theme that we're exploring in Fang is appetite. Our appetite for fossil fuels is a big reason the climate is changing. I think we've seen an acceleration of appetite all across our culture. Everywhere I go, people are on their smart phones most of the time. Junk food has doubled down in recent years creating these hideous mash up products. Things like tacos made from waffles and burgers where the bun is a donut. We binge watch TV shows. The news cycle never sleeps. Narcissism has never had a bigger platform thanks to social media. I think we all overdo it at times with our appetites and, as we see in the first issue, Valla gets caught up in this appetite mania as well.
DF: Tell us about working with Kelsey Shannon. What does this artist bring to the vampiric table?
Miles Gunter: Working with Kelsey is like getting the keys to James Bond's car. You don't want to drive it like you're going through a school zone all the time. You want to see what it can do. Kelsey and I were brought together years ago by Mike Oeming on an Image book we all did called Bastard Samurai. We've been friends and colleagues ever since. Fang was written specifically for Kelsey. Everything in this book is visually engineered with his passions in mind. I think Kelsey is one of the most visionary colorists in comics. When you work with somebody that capable, it creates an obligation to go beyond your very best.
DF: The reason readers should pick up Dark Fang is …?
Miles Gunter: Because it's not like any vampire story you've ever read. I realize some people reading this might be turned off thinking this book is a stern lecture about environmental responsibility, but it's not. It's a thrill ride with lots of action, peril and humor. My job is to entertain you, not tell you how to leave less of a carbon footprint.
DF: Miles, what other projects current or near-future can you tell us about?
Miles Gunter: I just finished a screenplay for a producer that deals with werewolves. Kelsey and I have a strip that will be in a future issue of Heavy Metal. Other than that, I'm developing other projects but nothing I can be specific about.
Dynamic Forces would like to thank Miles Gunter for taking time out of his busy schedule to answer our questions. Dark Fang #1 from Image Comics hits stores Nov. 15th!
For more news and up-to-date announcements, join us here at Dynamic Forces, www.dynamicforces.com/htmlfiles/, "LIKE" us on Facebook, www.facebook.com/dynamicforcesinc, and follow us on Twitter, www.twitter.com/dynamicforces.
---
NEW! 1. 11/25/2020 - STEVE SKROCE
4. 11/16/2020 - RYAN O'SULLIVAN
5. 11/16/2020 - RYAN O'SULLIVAN