KEITH GIFFEN & BENJAMIN ROMAN

SEND THIS TO A FRIEND!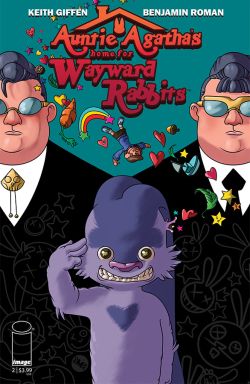 DF Interview: Keith Giffen & Benjamin Roman put the dis in dysfunctional in Auntie Agatha's Home for Wayward Rabbits
By Byron Brewer
Auntie Agatha's Home for Wayward Rabbits is in danger. Run by the titular Agatha and her niece, Julie, this peculiar shelter cares for damaged and dysfunctional rabbits – and now it's being threatened by a wealthy businessman who will stop at nothing to tear it down.
From writer Keith Giffen and artist Benjamin Roman comes Auntie Agatha's Home for Wayward Rabbits, an Image Comics limited series which DF just had to know more about. So we discussed same (wellll, kinda; you'll see …) with Giffen & Roman.
Dynamic Forces: Keith and Benjamin, before we discuss the book proper let's talk about your re-teaming. What was the last project you guys collaborated on and how did you happen to come together at Image Comics for this snarky limited series?
Benjamin Roman: We last worked on I Luv Halloween over at TokyoPop back in 2007. It wasn't until about four years ago Keith reached out to me and had an itch to work on something new. Something creator-owned. I, of course, jumped at the chance to work again with Keith. As far as Image, that went pretty smoothly. It's awesome to be working on Keith's first time back at Image in over 20 years.
Keith Giffen: That'd be I Luv Halloween way back when. Coming together at Image was pretty much looking for a publisher and Image being naive enough to agree to publish it.
DF: Keith, what prompted the return to creator-owned? How long has it been anyway, and why is now the right time?
Keith Giffen: Nothing too complicated. Had an idea, did the work, then sniffed around for a publisher.
DF: What can you tell us about the storyline for Auntie Agatha's Home for Wayward Rabbits?
Keith Giffen: It's six issues long. Anything else you want to know, buy the damn book!
DF: Can you introduce us to the titular Agatha, to Julie and … er uh … anybunny else you feel is important for the reader to know please?
Keith Giffen: "Any bunny else." Cute, real cute. Again, you want to know, buy the book.
DF: Hm. Seems like something is a hare off here. … Benjamin, I am assuming you did all the character designs? From your #1 cover alone, I see a glorious gallimaufry of rabbits who seem to have been inspired by various pop culture figures, personal habits, etc. (at least in part). Can you discuss some of these, and which have been your favorites to create/render?
Benjamin Roman: Designing these characters has been a blast. Keith and I have a great workflow. He'll just throw out an idea, and I'll riff on it. If it doesn't work, we'll just put it aside and maybe use it in the future. We easily have half a dozen characters that are just as insane that we didn't use.
One idea that ended up in volume one is Frankie and Annette. So Keith would give me a description of what he wants to do with these two and the gag being the names of these two are from those old beach movies. But just going the opposite direction with them. The first thing that came to me was playing with the idea of them being harlequin rabbits. Similar looking but very different. One is the doting husband with codependency issues, and the other is a quick-tempered psychopath. Just fun characters! As far as my favorites, I cannot say. Even though the public is seeing this for the first time next month, I have been working on these guys for years. They are all my babies.
Keith Giffen: The names are pulled from the classic Frankie Avalon/Annette Funicello movies. The attitudes … hell, just look at any long-married couple.
DF: Benjamin, talk about using your artist's tool box to bring this world to life.
Benjamin Roman: Everything is digital! I've been using a Cintiq for all of my art since 2007. I use Clip Studio Paint for pencils and inks. I think this is the best program for inking period. They have a "lazy mouse" type of feature similar to what's in Zbrush that gives the artist full control over the inking. This feature is a game changer for inking. I know Clip Studio is popular, but I don't read too much about this feature. And Photoshop for coloring.
DF: Aside from characters, and I do not how far into the series you are as of this interview, but what thus far has been your favorite set piece(s)/scene(s) rendered for the series?
Benjamin Roman: Elliot the rabbit is one of my favorites. We don't get to see him too much in volume one, but when we do, he's hysterical. He's an idiot. We tell you he's an idiot. And you'll love him. The way Keith puts words into his mouth seems so effortless. I would think he would be the hardest to write because he's so simple-minded, but the way Keith approaches him feels organic. There are plenty of "goofy/ simpleton" characters out there, but a lot of times they feel forced and one dimensional. But that's not the case with Elliot and the way Keith writes for him. I love this character.
DF: Benjamin and Keith, can you tell readers about any other projects from you that might be coming out now or in the near-future?
Benjamin Roman: I have another comic and children's book I'm working on that I can't say much about just yet. But I'd love to continue with Wayward Rabbits for a while.
Keith Giffen: Nope.
Dynamic Forces would like to thank Keith Giffen & Benjamin Romanfor taking time out of their busy schedules to answer our questions. Auntie Agatha's Home for Wayward Rabbits #1 from Image Comics hits stores Nov. 7th!
For more news and up-to-date announcements, join us here at Dynamic Forces, www.dynamicforces.com/htmlfiles/, "LIKE" us on Facebook, www.facebook.com/dynamicforcesinc, and follow us on Twitter, www.twitter.com/dynamicforces.
BLUE BEETLE #1 SIGNED BY KEITH GIFFEN
---
NEW! 1. 11/25/2020 - STEVE SKROCE
4. 11/16/2020 - RYAN O'SULLIVAN
5. 11/16/2020 - RYAN O'SULLIVAN