KIM D.M. SIMMONS

SEND THIS TO A FRIEND!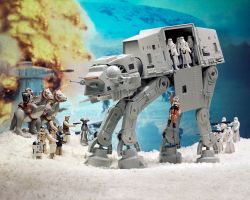 DF Interview: Kim D.M. Simmons is 'The Man Who Shot Luke Skywalker'
By Byron Brewer
Industry legend says he was first. He wasn't. But photographer and author Kim D.M. Simmons definitely lives up to his nickname, "The Man Who Shot Luke Skywalker."
DF sat down with the legendary lensman to discuss his career as a photographer for Kenner/Hasbro and how he produced images of the Star Wars toy lines that have become as iconic as the films themselves.
Dynamic Forces: Kim, as a proud member (and in good standing yet!) of the Kentucky Star Wars Collectors Club, I know why you are known far and wide as "The Man Who Shot Luke Skywalker" – aside from your book of similar moniker – but tell our readers about your space-faring sobriquet.
Kim D.M. Simmons: You almost caught me on 'sobriquet', I had to look it up. I am a Lifetime member of both the Kentucky and the Ohio Star Wars clubs.
In 1997, I did an interview with James Woods of Star Wars Galaxy Magazine and it was he who gave me that nickname in the title of the article. As I really started to get onto the web, I decided that should be the name I should use for anything Star Wars-related.
DF: Star Wars (also known these days as Star Wars Episode IV: A New Hope) came out in 1977, and that same year industry legend is that you were already photographing what would become an iconic toy line for Kenner. Tell us, were you actually a fan of Star Wars when it was only known to be ONE movie? And did you ever see the toy line as something special?
Kim D.M. Simmons: As I've said many times, and it's okay as it can be confusing, I was NOT shooting commercially at that time. I did not come onto the scene until mid-1981. My future boss, Roy Frankenfield, was the original photographer of the toy line.
But to your point: No, I was not a die-hard fan of Star Wars; in fact, a friend had to literally drag me to the drive-in to see the movie as I was always either working or going to school. As I told her, I just didn't have time to go to the movies. But she persisted and we went to see the movie. I did like it, I thought it was a good movie and hoped there might be more to it. To be honest, I never knew there was a toy line to the movie until much later.
DF: By looking at some of your very first work on the toys – test shots, air-brushed and final images – your sense of perspective and detail for these figures et al is just amazing. Something about Star Wars must have sparked your imagination, yes?
Kim D.M. Simmons: I can actually speak to this as I came to know Roy very well and Billy Ellison who was the airbrush artist employed by the design studio, who retouched the photos that Roy (and I eventually) would take. Not to diss Roy, but it was photography work as more or less a paycheck... interesting work, but it was a paycheck. Billy, being the retoucher, was an artist and he did put his soul into his work, but in the end of the day it was another job.
As to the detail that was captured, that was really down to the choice of format and lenses, because of the F stop used on the format of 8x10 to 4x5 the details that were there would be captured as they were. It would be 20 years before the digital formats were able to really equal the 8x10 format's ability to capture the detail with the grain.
DF: Tell readers how your book, The Man Who Shot Luke Skywalker, came about. I want to say it is "textbook," but that makes it sound static. This is a canvas for some creative and imaginative photography.
Kim D.M. Simmons: This volume and the series of volumes – and that is what we hopefully eventually will be, a series – came about because I felt the images needed to be really seen by as many people as possible and not by individual prints we sell, but in a tabletop book series.
Since I wasn't there in the beginning, I talked with Ben Sheehan about providing the stories to the individual images as much as possible from different perspectives. I made some introductions so the people would talk with him: from Art Heffner, the internal art director at Kenner (which all designs of the SW packages went through), to Jeff Rice, who was the production artist at the design studio. I turned over my connections to these people and by adding them to his already large Kenner connections, Ben was able to put together the stories that we needed for the images in the book.
Trust me, Roy would be totally amazed at the reaction to the images and having a book created using those images would have literally blown his mind. After all, when I found the images in two trash cans in the very wet basement, he said they were worthless and if I wanted them, I could have them, but anything I did with them was to be on my own time. So when I bought the studio in 1988, part of the agreement was that I also got the copyright of the Star Wars images, although he wanted to wait to sign that section of the agreement until I was able to prove I'd make a go of the studio.
DF: Let's hop in the WABAC Machine: Tell us how you became interested in photography and how you became a photographer for Kenner/Hasbro.
Kim D.M. Simmons: I'd always had a camera in my hands from the third grade onward. I was suppose to be a doctor like my father, but I discovered I was fairly good at photography and lighting. So eventually I just switched to an art degree and received a BFA in photography while taking my time exploring other very interesting subjects. Then I proceeded into Ohio University where I eventually received my MA degree in photography. My only regret was not going after my MFA as I discovered I also enjoyed teaching photography at DAAP at the University of Cincinnati.
But as to how I started shooting the Star Wars line... I was showing my college book to a senior art director (Jim Gable) at the design studio that was handling the Star Wars account and he highly suggested that I go talk to Roy about working for him as he was about ready to lose a BIG ACCOUNT. I had no idea what that account was until later.
I went to see Roy and 24 hours later I was up a ladder and shooting the Darth Vader insert. From that point on, I never looked back and I totally enjoyed my years shooting, especially the Star Wars packaging line as well as the many different lines and companies I dealt with for over 25 years.
DF: Following from that, what is keeping you busy today?
Kim D.M. Simmons: Today I keep busy on the farm. We have a few head of cattle and chickens. My wife says no to any more critters, like pigs which I'd like to have but that is about it for farm animals. We have two boxer dogs, and with going to the different shows we are invited to make presentations at, my wife and I sell prints of the different Star Wars images that Roy and I eventually shot.
DF: Some fanboy questions, if you will: Any favorite figure you photographed, or image? Do you have a favorite Star Wars film/character?
Kim D.M. Simmons: No, I really don't have an absolute favorite figure although because of the name I have come to be known for, I do tend to like Darth Vader. My all-time favorite image that I shot would have to be the Hoth Battle scene . But I totally go into the Micro Collection.
DF: Is there perhaps another book coming out from you, what with Star Wars back on top since Lucasfilm has joined Disney?
Kim D.M. Simmons: [My book was] Volume 1 and I hope to get a Kickstarter going to get the next two to three volumes printed. Those would be just ESB with possibly the Micro Collection having its own volume, I believe. If the Kickstarter fails, then the series stops where it is. So alot rides on the Kickstarter being successful. But I believe now that people are seeing the quality of the images and printing, I am hoping people will come out of the woodwork to support these next volumes. But upon seeing the number of damaged books that we've discovered in the boxes from the binder, I am entertaining the idea of going hard bound books.
Dynamic Forces would like to thank Kim D.M. Simmons for taking time out of his busy schedule to answer our questions. Star Wars: The Rise of Skywalker, the close of the nine-part multi-decade Skywalker family saga, hits theaters Dec. 20th! To order Kim's book or his Star Wars toy images, check out http://www.themanwhoshotlukeskywalker.com.
For more news and up-to-date announcements, join us here at Dynamic Forces, www.dynamicforces.com/htmlfiles/, "LIKE" us on Facebook, www.facebook.com/dynamicforcesinc, and follow us on Twitter, www.twitter.com/dynamicforces.
STAR WARS #1 SIGNED BY CHARLES SOULE
STAR WARS #108 SIGNED BY WALTER SIMONSON
STAR WARS ANNUAL #1 SIGNED AND REMARKED BY MARIANO NICIEZA!
STAR WARS STAR-TER TRILOGY SET
STAR WARS HAN SOLO #1 SIGNED AND REMARKED BY MARIANO NICIEZA AND JOE DELBEATO WITH A HAN SOLO SKETCH
STAR WARS FORCE AWAKENS ADAPTATION #1 SIGNED & REMARKED BY KEN HAESER
STAR WARS SPECIAL C-3PO #1 BLANK VARIANT WITH A COLOR C-3PO SKETCH BY KEN HAESER!
STAR WARS #16 LIGHTSABER SILVER SIGNATURE SERIES SIGNED BY TERRY & RACHEL DODSON
STAR WARS: POE DAMERON #1 GOLD SIGNATURE SERIES SIGNED BY CHARLES SOULE
STAR WARS: VADER DOWN #1 - 1:4999 JAXXON SPOTLIGHT VARIANT BY CHIP ZDARSKY - CGC GRADED 9.8!!!
STAR WARS NEW JERSEY COMIC EXPO VIP ULTRA LIMITED EDITION COMPLETE SET SIGNED BY SUPER STAR JOHN CASSADAY!
STAR WARS #1 DYNAMIC FORCES EXCLUSIVE PLUS 1
STAR WARS #1 DYNAMIC FORCES EXCLUSIVE BLACK & WHITE EDITION IMPERIAL ELITE GOLD SIGNATURE SERIES SIGNED BY JOHN CASSADAY
---
NEW! 1. 11/30/2020 - SKYLAR PATRIDGE
5. 11/16/2020 - RYAN O'SULLIVAN