DANNY LORE

SEND THIS TO A FRIEND!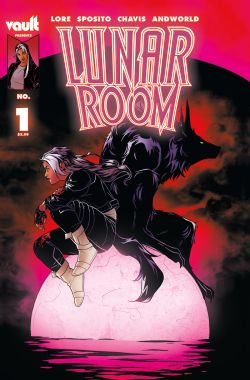 DF Interview: Danny Lore mixes werewolves and gangsters in 'Lunar Room'
By Byron Brewer
Cynthia "Sin" Breaker used to be a lot of things. A werewolf. A mob enforcer for a powerful mage. A name feared on every street of Solar City. But now she's forcibly retired from all those things, trying to get over her past job and past loves.
Zac Zero is a mage with their own agenda, and right now, item #1 is to hire some protection. Normally, Sin wouldn't look twice, but Zero may have the key to getting back the most important thing she ever lost: herself.
From Vault Comics comes Lunar Room by writer Danny Lore and artist Giorgia Sposito. I immediately sat down with fellow werewolf enthusiast/scribe Danny Lore and we chatted about this new series.
Byron Brewer: Danny, tell readers about the genesis of your new book, Lunar Room. I love stories like this… a conversation with Tim Daniel, wasn't it?
Danny Lore: Yes! So I've always been a huge fan of werewolves (as my twitter account name clearly makes obvious), but I'd never really done anything with them in comics. The first time Tim and I got to meet in person, we started discussing why this was the case. I often see werewolf stories, for me, as very internal stories, where the metaphor is so much about what's happening on the inside that I prefer doing prose over comics, where you obviously want to utilize the visuals.
So I pushed myself to figuring out what a werewolf story looks like in comic form for me. What metaphors can I discuss and keep really visual/external? How can I do this without making the werewolves the antagonists? And that's where Lunar Room really started. From there, I decided it would be really exciting to take a sharp pivot from some of my other work, where you've got Good Guys and Bad Guys…I think the phrase I may have used at some point was that I wanted Bad Guys and Assholes, lmao.
Byron: Often writers are looking to hide or disguise true meanings, shroud them in legends, mythologies or tropes. You have said you with this book are attempting to be "wonderfully unsubtle in my style", which I think is refreshing. Explain.
Danny Lore: This is based in advice that Adrian Wassel gave me early in working with him. I tend to try to stretch out tension and reveals, and Adrian pointed out that when we stop trying to be subtle, it really highlights the subtle moments far more efficiently. If and when we go epic, and large, and wild with images and ideas and personalities, the much more satisfying it becomes to make a layered story underneath it. After all, that's why I'm working in speculative fiction rather than in contemporary (although there's plenty of contemporary stories that do this as well; I'm speaking towards my own talents).
There's no reason to water down the story that is in my head, after all—the second bit of advice Adrian ever gave me was that it's far easier to start big and pare down than it is start small and give yourself space to be bigger. Plus, it's fun! Comics give us so many options in terms of genre-mashing and world-building, and I want to give Gio the space to play in it.
Byron: Tell us about the world you and artist Gio Sposito are building here.
Danny Lore: I'm so excited about our world because we decided to ramp it all up to 11 on Lunar Room. We are playing with a really large genre mash up—a noir toned city filled with the paranormal, technology, and bodegas. Solar City is filled with ancient and new powers, some trying to clash and others trying just to maintain.
The biggest thing that the world of Lunar Room takes from noir and cyberpunk is the way that the past weighs on our protagonists, and the way that pressure makes every decision more dangerous. You will always piss off someone more powerful than you—the question is which one is worse.
Byron: Introduce readers to Cynthia "Sin" Breaker: Who was she, who is she, and what challenges face her as we begin reading this new series? Any part of this character echo aspects of her writer?
Danny Lore: I wish I were as badass as Sin! Sin used to be one of the top enforcers for a magic wielding mob boss. However, before the start of the story, Sin…lost that employment, and her ex-boss robbed her of more than a paycheck. She lost her ability to transform. So she's struggling not to sink in the city, while losing hope she'll ever be fully herself again.
A lot of Sin is that badass wish-fulfillment (especially her height!), but one of the ways I use werewolves is to think about identity, and I think that my journey with gender and race identity is reflected in Sin's struggles. If she can't transform, is she still a werewolf? Does the rest of the world feel the same as she does? How does it affect her ability to navigate reality—not just in the literal physical sense, but what does it do to you internally when something you know to be true about yourself has been warped and ripped from you?
Byron: Tell us about some of the other important protagonists in Lunar Room. Can you spotlight one or two here?
Danny Lore: First person you need to know about is Zack Zero, a non-binary mage who is very much the archetype of 'chaos bisexual.' Zero opens the series making a decision to break from a particular organization. And they may take a particular artifact. And that artifact may have made them a target—and may be the key to Sin's sense of self.
There's also Angie, Sin's ex. Sin is very much in love…and Angie very much has Sin's old job. Enough said.
As for our other antagonists, we've got a few of them, from Zero's twin brother to Sin's old boss. Everyone needs and wants something from Sin and Zero…and the two of them can only give so much, even if they wanted to. And they probably don't.
Byron: What is the main storyline of the series? What should readers expect when they grab this comic?
Danny Lore: Sin wants her wolf back. Zero needs a bodyguard. Everyone hates Zero. It's gonna go badly for a bunch of people.
On the way, Sin and Zero both will have to contend with their pasts, the scars they've left in various places and with various people, and exactly the kind of people they see themselves as.
Byron: Talk about the art of Gio Sposito and why it is right for Lunar Room.
Danny Lore: There is nothing more exciting than when you're constantly inspired by your collaborators—and with Gio's work, I'm inspired by looking at it, and by the thought of the art I may see down the line. Gio has a great sense of body movement and body type, and you can feel the different ways people move and interact with the world in every panel. Gio is as comfy doing wrestling-inspired combat as high fantasy inspired beats, and there will always be expressive faces that help you navigate every emotional beat along the way.
And Gio's sense of design! When you've got a mash up like this, of noir, science fiction, contemporary and high fantasy, having really distinctive designs for everyone is of the utmost importance. And Gio knocked it out the park—there were so many times when a single design concept completely changed a character direction!
Byron: Danny, what other works, inside or outside comics, from you can readers be looking forward to?
Danny Lore: Hopefully, we're all looking forward to the work of me taking a nap, lmao.
But more seriously— I've got Transformers: Shattered Glass on the shelves right now, and just finished Champions. In the next few months, I've got a Death of Doctor Strange: Blade one shot with Dylan Burnett that I'm wildly hyped about. In prose, there's an upcoming anthology of queer witches called Unfettered Hexes (Neon Hemlock is the publisher) that I'm really honored to be a part of.
And there's definitely more on the way, but I'm pretty sure that if I say anything, they take away my ability to transform into a werewolf.
Dynamic Forces would like to thank Danny Lore for taking time out of their busy schedule to answer our questions. Lunar Room #1 from Vault Comics is slated to be on sale November 24th!
For more news and up-to-date announcements, join us here at Dynamic Forces, www.dynamicforces.com/htmlfiles/, "LIKE" us on Facebook, www.facebook.com/dynamicforcesinc, and follow us on Twitter, www.twitter.com/dynamicforces.
JAMES BOND: BIG THINGS HARDCOVER
JAMES BOND IN "REFLECTIONS OF DEATH" OGN HARDCOVER - SIGNED BY BEN PERCY
JAMES BOND IN "REFLECTIONS OF DEATH" OGN HARDCOVER
JAMES BOND VOL. 3 #6 - AFUA RICHARDSON LIMITED VIRGIN COVER
JAMES BOND VOL. 3 #1 - JIM CHEUNG LIMITED VIRGIN COVER
JAMES BOND VOL. 3 #1 - ATLAS EDITION SIGNED BY JIM CHEUNG
---
NEW! 1. 12/06/2021 - VAN JENSEN & ERICA SCHULTZ
3. 11/29/2021 - DAVID ANDRY & TIM DANIEL