GREG PAK

SEND THIS TO A FRIEND!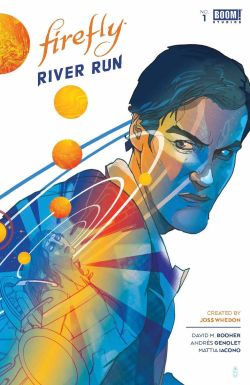 DF Interview: Greg Pak reveals secrets and tests allegiances in Firefly
By Byron Brewer
Captain Malcolm "Mal" Reynolds, a defeated soldier who opposed the unification of the planets by the totalitarian governed Alliance, will undertake any job – legal or not – to stay afloat and keep his crew fed. Find out now how his story began as we delves into Mal's past, how he met his first mate Zoe and the real truth about the War of Unification, the intergalactic civil war that divided friend and family alike.
Focusing on family, loyalty, identity and the price of redemption, writer Greg Pak (John Wick, Totally Awesome Hulk) and artist Dan McDaid (Kings Quest, Judge Dredd: Mega City Zero) take you back to the battleground where Mal's journey began.
DF wanted to know more about that journey and Firefly, so we sat down with scribe Greg Pak.
Dynamic Forces: Greg, you have played in a lot of awesome sandboxes in your career. What is it like to expand the rich Firefly mythology created in television and film?
Greg Pak: Amazing! I'd seen the Serenity movie when it first came out, but I'd actually never watched the original Firefly series. So when my editor Jeanine Schaeffer first approached me about the book, I actually said I wasn't sure if I was the right person for the job! But she told me to watch the pilot, so I did. And then I watched all the other episodes over the course of the next 24 hours. I got hooked by the worldbuilding, the banter, and above all by the compelling characters. Firefly has this great ensemble cast of outlaws and outsiders who drive each other crazy but who also form this kind of amazing found family. So it's been an absolutely pleasure writing this crew and contributing to this universe. I think it's particularly exciting because there's no other ongoing Firefly television show or other media currently being produced right now, so we have a real chance to fill a gap for fans and add to the mythos in a real way.
DF: Will your comic and any other Firefly publications from BOOM! Studios be considered canon for the franchise?
Greg Pak: Yep, as far as I know! Joss Whedon is reading our outlines and scripts and giving his thumbs up, so that's good enough for me!
DF: What can you tell us about the storyline of Firefly? Someone has mentioned the Unification War.
Greg Pak: We're telling a story that takes place between the television series and the Serenity movie, but that also deals with Mal's and Zoe's untold past during the Unification War. Secrets will be revealed and allegiances tested! This is uncharted territory that's never been covered anywhere else, so dontcha dare miss it!
DF: I am sure you have been steeped in research. Tell us: As characters, how do you see the personalities of Mal and Zoe?
Greg Pak: They're both soldiers and veterans -- and now they're both outlaws. They have this great friendship and bond -- and shared secrets -- that neither of them ever really talk about directly. I love it because it's still relatively rare to see friendships rather than romances between men and women in fiction. And I love their dynamic -- Mal fills the protagonist role for the series, but Zoe really plays more of the classic gunfighter role as the stoic, laconic type, with Mal providing more of the comic relief.
DF: What other characters will be playing a big part in the Firefly comic as we go forward? Can you introduce some of them here to readers please?
Greg Pak: The show's greatest strength is its ensemble cast -- a great mix of conflicting personalities that's just solid gold. In addition to Mal and Zoe, we've got Jayne, who serves as the ship's ruthless muscle; Shepherd Book, the big-hearted preacher with a secret, lethal past of his own; Inara, the high status Companion; Kaylee, the slightly goofy engineer who's the heart and soul of the ship; Simon Tan, a formerly upper class doctor who remains painfully clueless to Kaylee's affections; and River, Simon's sister, a preternaturally gifted young woman who's disjointed affect hides the fact that she's been turned into a killing machine by secret government experiments.
And, as noted above, they all drive each other craaaazy!
DF: I know creator Joss Whedon is credited as story consultant. Can you tell us a bit about your collaboration/communication with him on this particular comic?
Greg Pak: My awesome editor Jeanine Schaefer sends over the outlines and scripts and we get notes back. Joss has been incredibly open and generous. He's really letting us run free and do our thing, but always has smart questions that guide us in the right direction.
DF: I know it is very early, but what does artist Dan McDaid bring to this iconic table?
Greg Pak: Dan's drawing the hell out of the book. He's got a great fluid style that captures the essence of each character and delivers all of their interpersonal dynamics with so much fun and heart. We've made a conscious decision not to go for photographic likenesses, but fans of the show will recognize all their favorite characters immediately -- they're living and breathing under Dan's pen.
DF: Greg, what other projects of yours, inside or outside comics, can you tell readers about at present?
Greg Pak: I'm right at the end of a new Kickstarter campaign for The Princess Who Saved Her Friends, a children's book that's a sequel to The Princess Who Saved Herself, which was based on the beloved song by Jonathan Coulton. I co-wrote the book with Jonathan and it's drawn by Takeshi Miyazawa, colored by Jessica Kholinne, and Simon Bowland, and you can check it out right now at https://www.kickstarter.com/projects/gregpak/the-princess-who-saved-her-friends !
The story's about an awesome princess named Gloria Cheng Epstein Takahara de la Garza Champion who's befriended a wicked queen -- who's mean to Glory's other friends! So Glory has to figure out what to do when you have a mean friend. It's a ton of fun and Tak and Jessica and Simon are doing gorgeous, fun work -- please do give it a peek!
I'm also writing the new James Bond 007 book for Dynamite and a bunch of other stuff -- you can always find out more about what's up at gregpak.com and twitter.com/gregpak.
Dynamic Forces would like to thank Greg Pak for taking time out of his busy schedule to answer our questions. Firefly #1 from BOOM! Studios hits stores Nov. 14th!
For more news and up-to-date announcements, join us here at Dynamic Forces, www.dynamicforces.com/htmlfiles/, "LIKE" us on Facebook, www.facebook.com/dynamicforcesinc, and follow us on Twitter, www.twitter.com/dynamicforces.
FIREFLY #1 SIGNED AND REMARKED BY KEN HAESER
FIREFLY #1 PURPLE BELLY PURPLE SIGNATURE SERIES EDITION SIGNED BY GREG PAK
FIREFLY #1 SIGNED AND REMARKED BY KATIE HIDALGO
FIREFLY #1 ELITE GOLD SIGNATURE SERIES SIGNED BY GREG PAK
JAMES BOND 007 #1 SIGNED ATLAS EDITION - SIGNED BY GREG PAK
JOHN WICK #1 PHOTO COVER - SIGNED BY GREG PAK
INCREDIBLE HULK #714 - SIGNED BY GREG PAK
BATMAN SUPERMAN #13 FIRST PRINTING SIGNED BY GREG PAK!
BATMAN/SUPERMAN: FUTURES END #1 3-D MOTION ULTRA-LIMITED GOLD SIGNATURE SERIES ELITE EDITION SIGNED BY GREG PAK!
STORM #1 FIRST PRINTING SKOTTIE YOUNG VARIANT ULTRA-LIMITED EDITION SIGNED BY GREG PAK!
SUPERMAN DOOMED #1 GOLD SIGNATURE SERIES SIGNED BY GREG PAK!
DF'S DOUBLE "INCREDIBLE" HULK VARIANT SET-SIGNED BY STAN LEE AND GREG PAK!
KINGS QUEST #1 (OF 6) RARE MARC LAMING "VIRGIN ART" EDITION
---
NEW! 1. 01/21/2021 - RORY MCCONVILLE
5. 01/07/2021 - DARICK ROBERTSON