DECLAN SHALVEY

SEND THIS TO A FRIEND!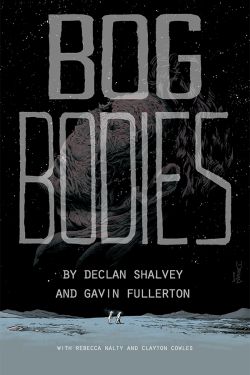 DF Interview: Declan Shalvey takes us to Ireland for his new survivor horror graphic novel, 'Bog Bodies'
By Byron Brewer
A cold, poignant story of crime, survival and regret, Bog Bodies follows an Irish gangster on the run after a job gone wrong who encounters a young woman lost in the Dublin mountains. Injured and unarmed, the unlikely pair must try to evade their pursuers and survive the desolate bog that has served as burial grounds for unspeakable murder throughout history.
From Image Comics comes an original graphic novel, Bog Bodies, by writer Declan Shalvey (Injection, Savage Town), artist Gavin Fullerton (Bags [Or A Story Thereof]), colorist Rebecca Nalty (Xena, Glow), letterer Clayton Cowles (Die, Savage Town) and editor Heather Antos. DF is gathering the total 411 and for that we chatted the OGN up with Irish-born scribe Declan Shalvey.
Dynamic Forces: Declan, the tone of your new original graphic novel for Image Comics, Bog Bodies, reminds me a bit of your book, Savage Town. Is there any connection between the two?
Declan Shalvey: Thematically, there's definitely connections. With Savage Town, if you looked close enough, you could see some commentary on the Irish economy of the time. Bog Bodies does something similar, with a different institution in Ireland. If you enjoyed Savage Town, I would definitely recommend Bog Bodies. It has a similar approach regarding the characters and the rhythm of dialogue, though not as region-specific. I do see both books in the same 'world' but this new book is a vary different tone set at a different time, with a whole set of new characters. Bog Bodies is far more self-contained than Savage Town was. More of a tight thriller.
DF: I love that you have, in your writing, wrapped your characters and action in your native Ireland. It certainly rings with authenticity and grounds the story, IMHO. Do you enjoy telling stories of the Emerald Isle and why?
Declan Shalvey: Ah, thanks, man. I'm glad the stories I'm writing feel authentic, that's something I try to work hard at. You always aim for that, but certainly more so when you're showing aspects from your own culture... there's an added self-pressure. I do enjoy telling Irish-based stories. As an Irish creator who is lucky enough to have worked on some big properties in comics, there's something very gratifying about creating stories set in my homeland that are accessible to a wider audience. When I was young, I loved seeing Irish characters or Irish locations in comics. Hell, I still do, so it's great to be able to make these kind of stories.
A lot of it started when I was coming out with Savage Town. I was rewatching a lot of films set in Ireland that were made during this big boom in Irish cinema in the late 80s and 90s. They showed an Ireland most had never seen, especially on film, and it struck me how the same could be done in comics and I became very dedicated to the idea of making something like that. On top of that, I enjoy writing these kinds of characters, there's an irreverence to the people here that is very fun to write. They're grounded in a more everyday way that's fun to write and, I hope, to read. While I'd also like to write other types of characters and stories, if Bog Bodies does well, then I'd love to be able to do more stories like this in the future.
DF: What can you tell us about the storyline of this OGN?
Declan Shalvey: Without getting too much into it, the story starts out with two gangsters who are getting rid of a body by driving out into the remote Dublin mountains. The whole book takes place out in this barren, bleak landscape where the main characters need to find their way out of there alive... if the gangsters don't get to them first.
DF: Would you introduce your major protagonists for readers here please, including the "Irish gangster on the run" and "a young woman lost in the Dublin mountains" [Image solicit]?
Declan Shalvey: The book opens with Killian, a teen-aged goon who is in the lower ranks of a Dublin criminal gang. Neev is a young, streetwise Dublin woman who was previously lost in the woods. The two of them meet at the worst possible time, but if there's any chance of them surviving the bleak countryside, they need to work together. Which proves to be difficult to do.
DF: Tell us a little about the area and character of this part of Ireland. As with previous of your works based in Ireland, I am expecting it to be brought vividly to life by your prose painting as well as the stunning art of Gavin Fullerton with the colors of Rebecca Nalty.
Declan Shalvey: Wherever you are in Ireland, no matter what city or town you're in, you're never more than a 20-minute drive away from the countryside. There's something really nice about that, yet also it means that you're never too far away from getting away with something. I actually live basically on the edge of Dublin city and the mountains just south. I have a nice view of the mountains from my place, they're quite pretty, and I've been up there on walks a couple of times. I see them at night, though, and realize to be out there at that time would be a very, very different experience. Also, there is a sad reality of people going missing and being 'discovered' out there. The book was partly imagined as I thought of how lovely the environment is, but also had a very macabre history, just buried under the surface, like many things in Ireland.
The characters are a bit different in this book, as opposed to Savage Town. There's essentially only 4/5 characters in this book, as opposed to the sprawling, multi-character piece that Savage Town was. Bog Bodies isn't as specific as Savage Town... Limerick has a VERY specific slang to it, and while Dublin does too, I didn't get as into it too much with this book. I don't think the specific slang would have read as well with this story. Savage Town had a lot of humor, and moments of dark drama. Bog Bodies has both, but leans into the darkness more.
DF: Spinning from the above, talk a little about this art team. Why are Gavin and Rebecca perfect for Bog Bodies.
Declan Shalvey: Well, as with the previous Irish book, I wanted to have an Irish creative team, I think it helps a lot with the authenticity you mentioned earlier. I had known Gavin and his work for a while. We were both at a convention, in the States, I think, where I mentioned the project to him, to gauge his interest. After I told him some more, he seemed into it, so we met up in a pub in Dublin (as we do) at one point and kinda spit-balled the whole thing while I told him the basic plot. I really love how Gavin emphasizes storytelling, yet also has a great eye for strong character work and wonderfully expressive lines. Rebecca started out with the Red Cube Apprenticeship I was a part of, so I have seen her start as a total novice to now, where she has multiple series under her belt. It's great to see how far she's come. Rebecca hasn't done a lot of books in this genre, so I was curious to see what she'd do, and how she'd mix with Gavin's work. I was delighted to see the results. What we have is a very evocative book, with a mix of subtle and bold color work. I'm delighted with how it's all looking.
DF: Is this graphic novel one that might have threads bringing us back into this land, this universe perhaps?
Declan Shalvey: Bog Bodies is a stand-alone story, it very much wraps up with a full stop. Saying that, if the book does as well as Savage Town (or better!) I'd love to come back to this 'world' and do more stories. There's so many possibilities for different stories; it would be great if they could happen under a 'series' of graphic novels. My dream is to do Irish crime stories every couple of years, with different art teams (maybe even write/draw one myself) and have them all under this one banner, like my own personal 'Criminal' line of books. Bog Bodies would have to do very well in order for that to happen, though. Fingers crossed.
DF: Declan, what other projects might you be involved with that you can tell our readers about?
Declan Shalvey: Aside from working on variants for House of X and Powers of X, nothing I can actually talk about! I'm starting to write something else creator-owned, something more episodic, and am drawing a miniseries for Marvel, but can't say what it is. Oh, and I just finished drawing a cover for the Art Of Declan Shalvey book Marvel is putting out next year.
Dynamic Forces would like to thank Declan Shalvey for taking time out of his busy schedule to answer our questions. Bog Bodies, an original graphic novel from Image Comics, hits stores in March 2020.
For more news and up-to-date announcements, join us here at Dynamic Forces, www.dynamicforces.com/htmlfiles/, "LIKE" us on Facebook, www.facebook.com/dynamicforcesinc, and follow us on Twitter, www.twitter.com/dynamicforces.
PROJECT SUPERPOWERS: BLACKCROSS #2 (OF 6) RARE DECLAN SHALVEY "VIRGIN ART" EDITION
JAMES BOND: CASE FILES VOL. 1 HARDCOVER
KING: PRINCE VALIANT #3 (OF 4)
KING: MANDRAKE THE MAGICIAN #3 (OF 4)
---
NEW! 1. 11/25/2020 - STEVE SKROCE
4. 11/16/2020 - RYAN O'SULLIVAN
5. 11/16/2020 - RYAN O'SULLIVAN