STEPHANIE PHILLIPS

SEND THIS TO A FRIEND!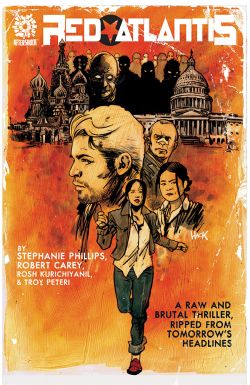 DF Interview: Stephanie Phillips brings a new political thriller in 'Red Atlantis'
By Byron Brewer
A series of unexplained, violent crimes on Election Day around the U.S. leads the FBI to zero in on a covert group of Russian terrorists.
When a Texas journalism student named Miriam accidentally finds herself mixed up in the investigation, her life will never be the same. With political espionage, treason and even mind control, can she clear her name and stop the U.S. from entering into a new Cold War?
From writer Stephanie Phillips (Butcher of Paris, Artemis and the Assassin, Descendent) and artist Robert Carey (Aliens: Resistance, James Bond) comes Red Atlantis, a fast-paced political thriller that explores the dark history of U.S./Russian relations. DF chatted this one up with scribe Stephanie Phillips.
Dynamic Forces: Stephanie, a bit of an unusual opener but word has it your new series Red Atlantis was not your brainchild but created by Jan Neumann, a former intelligence officer in Russia's Federal Security Service. Tell us a little about Neumann and how this story came to be from your pen for AfterShock.
Stephanie Phillips: Jan was working with AfterShock to develop this story into a comic series and AfterShock brought me on board to help build the bridge from Jan's idea to the comic page. Jan is such an amazing resource to work with on a story like this. I have learned so much about Russian history, traditions, and even combat techniques. I really think Jan and his background make this a unique project for readers.
DF: As usual, this saga is steeped in the wrappings of history; in this case, the history of the United States and Russia's long-term tense relationship (aka the Cold War). Give readers a focus into the writer's mind here and what research you or artist Robert Carey may have done.
Stephanie Phillips: That kind of Cold War tension is pervasive throughout this story, but the focus is primarily on modern-day events and politics. Of course, that Cold War background influences our present moments in so many ways, so it's something that this story never forgets. In particular, I think there is a heavy feeling reminiscent of McCarthyism in the story. The "better dead than red" sentiment of that era is something that will play out in Red Atlantis, and create a strong atmosphere of panic and fear.
DF: What is the overall storyline of Red Atlantis? Is there a certain meaning to that curious title?
Stephanie Phillips: When a series of coordinated, violent attacks all take place at the same time on Election Day, the FBI is led to a covert group of Russian terrorists with links to a seemingly defunct Cold War program known as Red Atlantis. When tensions were escalating between the U.S. and Russia, Russian scientists were tasked with creating a new kind of weapon that could dominate their foes: agents with mind control capabilities. Current tensions between the two superpowers look like they might turn hot, and a Texas journalism student named Miriam finds herself unexpectedly caught between the two nations. The story follows Miriam as her life is derailed. As she uncovers secrets about the U.S. and Russia, she also finds out many about herself and her past.
DF: Introduce Miriam to us. Who is she as a character, and what challenges does she face as the first issue begins to unfold?
Stephanie Phillips: Miriam is very much a "fish-out-of-water" here. She's a smart, capable journalism student who finds herself sucked into a world of espionage and supernatural soldiers. As we will all discover, Miriam's involvement in the story is not accidental, and her past will play a key role in her actions and whether or not she can stop the coming war. From issue #1, Miriam is thrown into a series of dangerous and unusual events that will push her and force her to make really tough decisions both for herself and her country. An average college student at the start of the story, Miriam will be anything but average by the time we reach the end.
DF: What can you tell readers about the background atmosphere of Red Atlantis, something that is always heavy, intriguing and plays a major role in most Stephanie Phillips tales?
Stephanie Phillips: The atmosphere is one of panic that sharply escalates as the story progresses. The book opens on Election Day when a series of coordinated, violent attacks occur at voting centers around the nation. As these attacks continue in other places, it looks like there is a larger threat against all of America. I thought a lot about McCarthyism and the kind of underlying fear that Americans felt about some kind of "red" communist threat – this idea that you don't really know your neighbors. That's the same kind of fear that we are dealing with in Red Atlantis, only a 2020 version of it. I thought Texas was also a really interesting place to watch that kind of fear play out.
DF: Aside from Miriam, what other characters do we need to be on the lookout for? Can you introduce at least a few here?
Stephanie Phillips: Miriam finds herself in the "care" of a former Russian agent named Sasha. Sasha has tactical skills and is trying to keep Miriam safe from the threat of Red Atlantis because of a promise he made years ago. Sasha is a loner that now finds himself dealing with a young woman who is struggling with her identity, which is a tougher job for Sasha than any of his past work as a soldier.
We will also meet FBI agents Greg and Christine who are pursuing Miriam and Sasha. Greg and Christine will have really interesting story arcs as they begin the series as two very loyal, patriotic agents. This loyalty is heavily tested as they follow the Red Atlantis trail and have to face some really tough truths.
DF: What does artist Robert Carey bring to this table?
Stephanie Phillips: Robert is able to make the setting feel dark and gritty without losing important details, like expressions and mannerisms from our characters. I have been familiar with Robert's work for a long time and really loved when he was on Bond, so I was very excited to get him on this project and have the opportunity to work with him. The colorist on the project, Rosh, is also fantastic to work with. This is a really great creative team!
DF: Stephanie, what else is brewing for readers on the Phillips back burner?
Stephanie Phillips: Well, I have a lot of things coming out this year already announced, but I'm very excited about a few unannounced projects that will be showing up later in the year. I've taken on some stories that are pretty different for me and I'm excited to be involved with them. Feel free to follow me on Twitter (@Steph_Smash) for more updates!
Dynamic Forces would like to thank Stephanie Phillips for taking time out of her busy schedule to answer our questions. Red Atlantis #1 from AfterShock Comics will hit stores Nov. 4th!
For more news and up-to-date announcements, join us here at Dynamic Forces, www.dynamicforces.com/htmlfiles/, "LIKE" us on Facebook, www.facebook.com/dynamicforcesinc, and follow us on Twitter, www.twitter.com/dynamicforces.
---
NEW! 1. 11/30/2020 - SKYLAR PATRIDGE
5. 11/16/2020 - RYAN O'SULLIVAN