ALEX DE CAMPI

SEND THIS TO A FRIEND!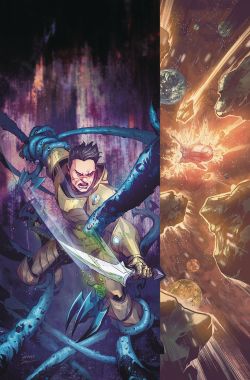 DF Interview: Alex De Campi adds new series to Catalyst Prime Universe with Astonisher
By Byron Brewer
The most dangerous corners of the universe live inside the nightmares of super-powered people. Magnus Atitarn, heir to the Atitarn Satellite Corp., tried to save the world with his experimental one-man spaceship -- and ended up a broken man. Now a celebrity joke suffering from Post Traumatic Stress Disorder, Magnus has the power to travel inside the minds of super-powered people, where he discovers nightmares which threaten the entire human race.
From writer Alex De Campi and artist Pop Mhan comes Astonisher, the newest world in Lion Forge's Catalyst Prime Universe!
Want to know more? So did we, so DF sat down with scribe Alex De Campi.
Dynamic Forces: Alex, how does it feel to be doing a book in the relatively new universe of Lion Forge's Catalyst Prime? In doing the new Astonisher series, is there that feeling of world-building in a new comics cosmos?
Alex De Campi: It was fun. They gave me a reasonable amount of freedom, which was nice. I'm so used to creator-owned work I build worlds every damn day, with every damn book. So the Catalyst Prime stuff didn't feel different to what I do all the time. Every story is a puzzle, and my job is to find the most interesting and unexpected solution to that puzzle. And I treat everything like I own it. There is no B game. Only A.
DF: I know the CPU has a rather complex history, but for the uninitiated can you kind of summarize the situation as we enter the book re its "world" please?
Alex De Campi: A year before our story begins, a meteor – the Icarus Asteroid – was on a collision course with Earth. A powerful entrepreneur named Lorena Payan sent a team on a spaceship to intercept and destroy the asteroid. At the same time, billionaire playboy Magnus Atitarn also flew his experimental spaceship on the same mission. The asteroid exploded before either ship reached it, and everyone involved got pretty banged up. Then, soon after, as the radiation from the asteroid began to affect the Earth, folks began to get superpowers.
DF: What is the initial storyline for Astonisher? What can you tell us about it, at least in a non-spoilery manner?
Alex De Campi: Well, it's about what happens next with Magnus Atitarn, who went out to fight the asteroid and didn't get anything except a TBI and PTSD... while all the others got superpowers. He engineers himself a suit that allows him to see into the minds of other people affected by meteor radiation – and he finds out that the radiation also has something else in it. Something sentient.
DF: Who more can you tell us about the Magnus Atitarn character?
Alex De Campi: He was written as a Thai-Chinese/American playboy, the son of satellite telecoms queen Boonsri Atitarn. His father is white American and is divorced from his mom. Later, after I finished my 9-issue run and a couple of weeks before #1 hit stands, he was changed to being a white guy, and his mom's name is now Olivia. The surname is now Attarian so I guess he's Armenian? But the art hasn't changed.
Anyway, he's the eldest son and the black sheep of the family – seen as shallow and unreliable, more interested in parties and his social media accounts than carrying on the family business (his younger brother Drew is the one taking on that mantle). His latest entrepreneurial fad was failing so he really went after the meteor for attention. Now the world has moved on – superpowers! Heroes! When Magnus finally checks out of rehab, a year after the asteroid, nobody is interested in him any more at all.
DF: Magnus, it is said, suffers from Post Traumatic Stress Disorder. Having several friends with this ailment – one of whom went missing in August but was luckily found – will you be touching on the disease in any real-world way?
Alex De Campi: Yeah, I have several friends with PTSD too. The book deals with it in subtle ways. The book is significantly about mental illness, and gaslighting, and families who do not recognize mental illness as a real problem. My big book about PTSD and the post-war experience is something in the works with a French publisher, called Ghost Patrol. I'm also working on a comics anthology of veterans' and serving military stories, and several of those deal with PTSD in their own voices.
DF: Are there any other characters in Astonisher readers should look out for who may play an important role? If so, can you introduce some to us please?
Alex De Campi: Oh, so many. Magnus' Russian instagram-model girlfriend, Sasha. Boonsri's assistant, Adila. Magnus' brother Drew. His neurologist, Dr Saperstein.
DF: How is it collaborating with artist Pop Mhan on a brand-new book in what I still consider a brand-new comics universe?
Alex De Campi: I had some great chats with Pop (he's Thai, it's one of the reasons we made Magnus' family Thai-Chinese) and I love all his work, but as with most work for hire there are editorial walls put up between writer and artist so I hardly ever got to speak to him once we got going.
DF: Alex, any other projects current or near-future you can tell readers about?
Alex De Campi: Golly. I've got a Judge Dredd miniseries in the 2000AD Megazine right now, and another one soon to follow. My Dark Horse action miniseries Bankshot has two issues left. So in October, I've got three male solo action books on stands.
Next July, you'll have my and Victor Santos' gangster noir graphic novel Bad Girls from Gallery 13 / Simon & Schuster. At NYCC we're announcing the artist for my Ghost in the Shell 48-pager from Kodansha (Shirow GiTS, not the US film), and it's someone I've always wanted to work with. Masamune Shirow saw my script and I'm still completely verklempt about that! Yeah. And a new Image thing in February, stay tuned. And yes, I'm finally starting the next Mayday miniseries too!
Dynamic Forces would like to thank Alex De Campi for taking time out of her busy schedule to answer our questions. Astonisher #1 from Lion Forge is in stores now!
For more news and up-to-date announcements, join us here at Dynamic Forces, www.dynamicforces.com/htmlfiles/, "LIKE" us on Facebook, www.facebook.com/dynamicforcesinc, and follow us on Twitter, www.twitter.com/dynamicforces.
LADY ZORRO: BLOOD & LACE TRADE PAPERBACK
LADY ZORRO #1 (OF 4) RETAILER SHARED EXCLUSIVE VARIANT COVER
---
NEW! 1. 11/25/2020 - STEVE SKROCE
4. 11/16/2020 - RYAN O'SULLIVAN
5. 11/16/2020 - RYAN O'SULLIVAN