JIM ZUB

SEND THIS TO A FRIEND!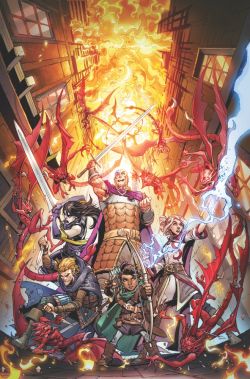 DF Interview: Jim Zub sends his heroes straight to Hell (literally) in Dungeons & Dragons: Infernal Tides
By Byron Brewer
A new Dungeons & Dragons adventure begins! Minsc and his friends are caught in the middle of devil-tainted corruption that has taken hold of Baldur's Gate. Unraveling the secret of its source will take our heroes to unexpected places and threaten the sanctity of their very souls. Even if they survive this perilous journey, there will be Hell to pay!


Infernal Tides continues the D&D comic odyssey written by Jim Zub (D&D: Evil at Baldur's Gate, D&D: Shadows of the Vampire, Avengers) with artwork by Max Dunbar (Avengers, D&D: Legends of Baldur's Gate). DF wanted the 411 from D&D so we chatted with scribe Z-U-B.
Dynamic Forces: Good news, Jim! IDW Publishing has reunited you with your Legends of Baldur's Gate artist, Max Dunbar, for an all-new adventure called Dungeons & Dragons: Infernal Tides. Tell readers how it feels to be working with Max and all about Infernal Tides, a five-issue miniseries debuting in November.
Jim Zub: Max and I have been attached at the hip for a few projects since that original D&D mini-series, namely Champions, Stone Star, and a short story in Alpha Flight: True North, so continuing that momentum and returning to D&D feels amazing.
Max and I have synced up well in terms of our storytelling and it really shows in the final printed pages. On top of that, Max's skills are growing by leaps and bounds. I loved the work he did in 2014 on Legends of Baldur's Gate, but his current work on Infernal Tides is absolutely jaw-dropping.
DF: How does your Infernal Tides mini connect with the adventure, Baldur's Gate: Descent into Avernus, which came out in September?
Jim Zub: It's extra special, since both Max and I worked on Descent Into Avernus directly with Wizards of the Coast. Max contributed a slew of character and creature designs for the project with lead Art Director Richard Whitters and I consulted on story with the development team headed by Adam Lee.
DF: You sure have gone big with Dungeons & Dragons, even as your star is definitely on the rise at Marvel. So how you feelin', pal?
Jim Zub: As almost everyone probably knows by now, Dungeons & Dragons had a formative effect on my life when I was younger, and I credit it with me wanting to tell stories now as an adult. Writing D&D over the past few years, first with the comics and now on some of the game material, is an absolute joy.
Three of the biggest things to me when I was young were D&D, Marvel Superheroes, and Conan the Barbarian. Getting the chance to work on all three of those, let alone at the same time, is absolutely surreal.
DF: For those that have not been keeping up with your D&D series at IDW (you know who you are!), can you please briefly introduce Baldur's Gate, its characters and give a brief synopsis?
Jim Zub: The Dungeons & Dragons comic series launched in 2014 alongside the new edition of D&D and since then we've had four mini-series, each one acting as a stand-alone story, but also continuing the adventures of our Baldur's Gate-based heroes.
The adventuring party is an odd mix: two rogues, a cleric of death, a wild mage, and a brain-addled ranger with a pet hamster. It's an eclectic set of personalities, which very much feels like D&D to me.
DF: Introduce Minsc to us. What is going on currently in Baldur's Gate that has Minsc in such trouble and the realm in such chaos?
Jim Zub: Minsc is a ranger who, alongside his hamster Boo, originally appeared in the Baldur's Gate video game series. He was a bit of a cult favorite among players, but since we brought him back in Legends of Baldur's Gate, Minsc has seen a real visibility boost, appearing in several other tabletop and video game products along with the comics.
In our latest mini-series, Infernal Tides, a devil-tainted mystery sends our heroes looking for answers and what they find will lead them straight to Hell. Literally, Hell! It's easily the most epic D&D story I've written yet, weaving elements from the Descent into Avernus adventure in with our comic cast, while Max and I get to show off the absolutely insane visual spectacle that is Avernus, the first plane of Hell.
DF: Jim, do something you do well: Talk about the talented Max Dunbar.
Jim Zub: Max is on fire with this project. I genuinely thought that Stone Star was the best-looking art I had seen from Max, but on Infernal Tides he's leveled up again! All that design work he did for the D&D crew is coming to life here and it's stunning. Even though I wrote the scenes and know what's coming, the way he takes it and pushes beyond my expectations is going to grab a lot of reader attention.
DF: Aside from Infernal Tides, what else is cooking in the outdoor zubathon pit?
Jim Zub: Black Panther and the Agents of Wakanda just launched and the response so far has been sharp.
Rick and Morty VS Dungeons & Dragons II launched the same day and is tapping a whole different weird-humorous side of the D&D canon.
The D&D Young Adventurers Guides are not comics, but they are definitely thematically appropriate and Book 3 of that series, Dungeons & Tombs, will be arriving in November.
Conan: Serpent War is a 4-issue sword & sorcery mini-series that brings some seminal characters from the mind of Robert E. Howard together alongside Moon Knight, and that has been an absolute whirlwind to be a part of.
All in all, it is a strong slate to finish a banner year.
Dynamic Forces would like to thank Jim Zub for taking time out of his busy schedule to answer our questions. Dungeons & Dragons: Infernal Tides #1 from IDW Publishing hits stores Nov. 20th!
For more news and up-to-date announcements, join us here at Dynamic Forces, www.dynamicforces.com/htmlfiles/, "LIKE" us on Facebook, www.facebook.com/dynamicforcesinc, and follow us on Twitter, www.twitter.com/dynamicforces.
PATHFINDER VOL. 1: DARK WATERS RISING HC - SIGNED BY JIM ZUB
PATHFINDER VOL. 3: CITY OF SECRETS TRADE PAPERBACK
PATHFINDER VOL.2: OF TOOTH & CLAW TRADE PAPERBACK
PATHFINDER VOL. 1: DARK WATERS RISING TRADE PAPERBACK
PATHFINDER VOL. 3: CITY OF SECRETS HARDCOVER
RED SONJA: TRAVELS VOL. 2 TRADE PAPERBACK
PATHFINDER VOL. 2: OF TOOTH AND CLAW HC
PATHFINDER VOL. 1: DARK WATERS RISING HC
---
NEW! 1. 02/10/2022 - SIMON SPURRIER
4. 01/31/2022 - TIM SEELEY & AARON CAMPBELL
5. 01/27/2022 - TYLER BURTON SMITH