TROY BROWNFIELD

SEND THIS TO A FRIEND!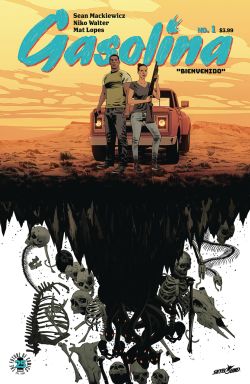 DF Interview: Troy Brownfield sets table for new chapter in Grimm Fairy Tales universe with Annual
By Byron Brewer
The Grimm Universe has been rocked by the death of Sela Mathers and her daughter Skye has barely had time to mourn before she is thrust into another nightmare. Has the death of her mother, Guardian of the Nexus, caused the entire Grimm universe to fall apart? Or is Skye just being tormented by the spirits of her mother's enemies?
To find out the answers, DF sat down with the author of Grimm Fairy Tales Annual, Troy Brownfield.
Dynamic Forces: Troy, you have certainly done your fair share of the building of the Grimm world. Tell us how you came to be a regular of the Zenescope team.
Troy Brownfield: Short answer: a bar. Serious answer: I'd interacted with some of the guys online several years ago in my capacity as columnist/reviewer/etc. at Newsarama. I became friends with former Zenescope writer Raven Gregory when he was set up in Artists Alley at Wizard World Chicago one year, and he later introduced me to Ralph Tedesco and others during a rather memorable evening that we won't discuss further. Sufficient to say that a good time was had by all. A little while later, Raven asked me if I wanted to pitch for a prospective Wonderland Annual for 2010. I sent over three plot ideas. They decided to take one of those and make it a full issue of Tales from Wonderland instead. That story was the "White Knight" issue (Tales #3) and my first credit for them. After that, I got offered an arc on Grimm Fairy Tales Myths & Legends (#18-21), and then the arc after that (#22-25). I've sort of stuck around on one assignment or another ever since.
DF: This Annual is the coda to the previous ongoing series, which ended with #125. Update us on what readers might need to know to enjoy this book.
Troy Brownfield: First, let me note that the grand Pat Shand did tremendous work on the book with its change of direction post-issue #100. The story refocused on Arcane Acre, a school for magically powered youth that were derived from the various Zenescope realms (Oz, Neverland, Wonderland, Myst) and prior continuity. Sela Mathers, former Guardian of the Nexus, and her mentor, Shang, were among those running the school, and Sela's daughter Skye emerged as a major character. After a cataclysmic battle in issue #125, the school remains, but a number of characters died, including Zenescope's long-running bespectacled flagship heroine, Sela.
DF: Yes. With Sela's death, what new challenges is her daughter Skye facing?
Troy Brownfield: Skye's first challenge is figuring out her place in the world. The Annual opens with that question. She's a character that's been defined in part by rotating mentors and absentee authority figures. During Pat's run, you saw her come into her own in a lot of ways, but the overall scope of the threats she saw was still new to her in some ways. A lot of what happens in this issue is Skye directly confronting her feelings and then rising face some surprising internal threats.
DF: Continuing with that line of questioning, since Sela was also Guardian of the Nexus, what does fate hold in store for the Grimm universe itself?
Troy Brownfield: For more on that, I direct you to the Grimm Fairy Tales: Apocalypse mini-series. It features the core remaining cast of Arcane Acre kids, including Skye, as well as other Z staples like Robyn Hood, Van Helsing and Hellchild. You should also check out the Wonderland finale, which sews up a few things regarding that corner of the universe. There's a lot going on.
DF: It is my understanding that not only is your Annual the end of the now-completed volume of Grimm Fairy Tales, but the prelude to a new chapter. Tell us a little about what readers can expect.
Troy Brownfield: I can tell you . . . not much. HOWEVER! I will promise a few things. There will be a new Guardian. Said new Guardian will immediately have two companions. One of those companions will be fairly predictable, given the events of the last couple of years. The other one will be a complete surprise to long-time Zenescope readers. It puts a lot of interesting things in play, particularly when you consider the history of all the characters involved. As to how we get to that point . . . that IS the Annual!
DF: Can you tell us if Skye will be a part of that future? And in what role?
Troy Brownfield: She has to make it through the Annual first! But Skye stands an excellent chance. She's gotten the chance to learn from characters good and bad, from Sela and Shang to Belinda and Venus. She's already had to master powers and make hard choices. This is about setting a new bar for her, and seeing if she can get there.
DF: Troy, any projects current or near-future you can tell us about?
Troy Brownfield: I just did Grimm Tales of Terror Vol. #12, which deals with a newer type of urban legends, the "predatory app". As you might expect, there's twistiness. Or twistedness. Lots of twisting.
I also wrote a segment of the forthcoming Grimm Fairy Tales Halloween 2016 Special. The set-up is that some of Zenescope's characters are telling stories, and I handled the one for one of my old favorites from my Myths & Legends run, Red (Riding Hood). Sam the Sham and the Pharaohs would be proud.
Dynamic Forces would like to thank Troy Brownfield for taking time out of his busy schedule to answer our questions. Grimm Fairy Tales Annual 2016 from Zenescope hits stores Oct. 5 … today!
For more news and up-to-date announcements, join us here at Dynamic Forces, www.dynamicforces.com/htmlfiles/, "LIKE" us on Facebook, www.facebook.com/dynamicforcesinc, and follow us on Twitter, www.twitter.com/dynamicforces
BLOOD QUEEN VS. DRACULA #1 (OF 4) Written by Troy Brownfield
BLOOD QUEEN VS. DRACULA #1 (OF 4) RARE JAY ANACLETO "VIRGIN ART" EDITION
THE BLOOD QUEEN #1 AUTHENTIX EDITION SIGNED AND REMARKED WITH A FINE-ART HAND-DRAWN SKETCH BY DYNAMIC ARTIST ALEXIS PERSSON! Written by Troy Brownfield
BLOOD QUEEN #1 RARE JAY ANACLETO INCENTIVE COVER SIGNED BY WRITER TROY BROWNFIELD
THE BLOOD QUEEN #1 DYNAMIC MIDTOWN EXCLUSIVE ULTRA LIMITED BLACK AND WHITE COVER!
THE BLOOD QUEEN ANNUAL 2014 Written by Troy Brownfield
---
NEW! 1. 11/25/2020 - STEVE SKROCE
4. 11/16/2020 - RYAN O'SULLIVAN
5. 11/16/2020 - RYAN O'SULLIVAN