DAVID BOOHER

SEND THIS TO A FRIEND!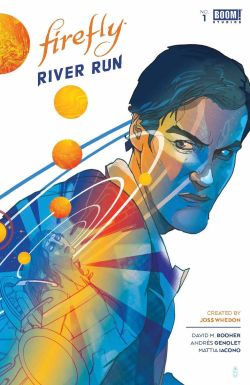 DF Interview: David Booher looks at a franchise's greatest sibling bond in the 'Firefly: River Run' one-shot
By Byron Brewer
How did Simon save River from the terrifying Hands-Of-Blue?
The great lengths Dr. Simon Tam had to go to in order to save his only sister, River, from her captors are finally revealed in this special one-shot, Firefly: River Run.
Follow Simon's "fall from grace" as he risks it all and races against time to save River... even as she struggles to hold onto her sanity.
The truth of River's life in the Alliance Academy facility, what really happened to her there, and the origin of one of Firefly's strongest character bonds is finally revealed by writer David Booher (Canto) and artist Andrés Genolet (Runaways).
A fan of Joss Whedon's Firefly and of David Booher, I sat down with the scribe to talk with him about the book.
Byron Brewer: David, as a huge fan of the Firefly universe, I thank you for sewing together these plot strands into this coming standalone book, River Run. How did this project from one of BOOM! Studios' most iconic franchises come about for you?
David Booher: The amazing Elizabeth Brei brought me on. She's the editor on Firefly at BOOM! She was formerly at IDW Publishing, where I publish Canto. We had never directly worked on a project together but you could say we were in each other's orbit. When she moved over to BOOM!, we chatted a bit about what she was working on. It turned out they had a Firefly slot open, and I was lucky enough to be in the right place at the right time.
Byron: For those living under a rock (even before the pandemic!), can you (sorry) please do a capsule summary on the relationship between Dr. Simon Tam and his sister, River?
David Booher: Simon and River are very close. Simon had a bright future ahead of him on the core planets. He was a top surgeon at the best hospital on Osiris. River was even more gifted than him. Their parents unwittingly sent her off to the "Academy," where the Alliance experimented on her. Simon knew something was wrong, but his parents refused to believe him. So Simon sacrificed his entire future to break River out of the Academy and find a safe place away from the Alliance. This book tells that story.
Byron: And both of the above lead to the query: Will this book be welcoming to new readers?
David Booher: I think so. At its core, this book is about the sacrifices siblings will make to keep each other safe. We intentionally embraced a universal message and set it within the Firefly 'verse. Of course, Firefly fans will have a gap in the continuity filled with what we hope is a compelling story.
Byron: For those who like me are Firefly-ophiles, what (spoiler-free) revelation may be most shocking once they have read River Run – or at least a clue to same?
David Booher: I think the biggest revelation is seeing what Simon had and how much he truly gave up. We also see the strained relationship between him and his parents, posing the choice of staying loyal to them or helping River.
Byron: Give us your take on Simon as a character, one of my favorites in the franchise.
David Booher: It's been fun to write Simon because he's so conflicted. He would make the same sacrifices for River a hundred times over, and yet he understands what he has given up. So I think he always has that tiny thought in the back of his mind about what could've been.
Byron: What was it like for you as a Firefly fan delving into River's life at the Alliance Academy?
David Booher: It was so much (disturbing) fun. There's something we do in the story that fits with River's character and the experiments on her, but it's done in a way we haven't really seen before. It truly establishes the sibling bond between her and Simon.
Byron: Talk about your collaboration with artist Andres Genolet.
David Booher: Andres is amazing. He took the script and ran with it. He understood what we were going for right out of the gate, so there was very little back and forth on it.
Byron: David, what other wonders from the Booher keyboard (and beyond) await us out there, inside and outside comics?
David Booher: Canto is still going strong from IDW with the movie in development. I just released a new series, Killer Queens, from Dark Horse, a space comedy with a queer angle from an all-LGBTQ creative team. And there are more things on the horizon that I can't wait to share when we're a little further along.
Dynamic Forces would like to thank David Booher for taking time out of his busy schedule to answer our questions. The Firefly: River Run one-shot from BOOM! Studios is in stores now!
For more news and up-to-date announcements, join us here at Dynamic Forces, www.dynamicforces.com/htmlfiles/, "LIKE" us on Facebook, www.facebook.com/dynamicforcesinc, and follow us on Twitter, www.twitter.com/dynamicforces.
---
NEW! 1. 12/06/2021 - VAN JENSEN & ERICA SCHULTZ
3. 11/29/2021 - DAVID ANDRY & TIM DANIEL