ERYK DONOVAN

SEND THIS TO A FRIEND!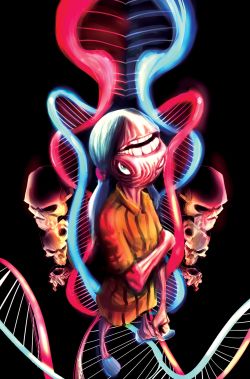 DF Interview: Eryk Donovan 'digs into people's heads' with Eugenic
By Byron Brewer
When a plague ravages the world, one scientist discovers the cure and becomes the savior of mankind. Hope is restored, and the world rebuilds. But then people who took the cure begin having children who are... unnatural, and the definition of "normal" is forever altered.
From the GLAAD award-nominated team of writer James Tynion IV (Dark Nights: Metal, Detective Comics) and artist Eryk Donovan (Constantine: The Hellblazer) comes Eugenic, a new vision of humanity's future in the vein of Black Mirror.
The limited series from BOOM! Studios is the third installment in the duo's Apocalyptic Trilogy, following 2014's Memetic and 2015's Cognetic. DF caught up with artist Eryk Donovan to get the 411 on the new book.
Dynamic Forces: Eryk, how exciting is it to be re-teamed with writer James Tynion IV for Eugenic? It must have been very gratifying to have your previous book, Memetic, nominated for the GLAAD Media Award.

Eryk Donovan: Absolutely! I love working with James, and we were really honored to be nominated. Eugenic is our sixth project together, and we've developed a really good working rapport; it's always exciting to get a chance to work with someone you get along with so well on a project.
For Eugenic, we've been taking a "plot first," script-driven approach, breaking the pages by scene rather than individual beats. James still spends a lot of time determining his dialogue, but plays much looser with the descriptions and actions, which sets the stage for me to pace the scenes, and what I choose to show. I really love this type of scripting with a good writer, because it allows me to figure out everything from how many panels are on a page, to figuring out what I want to focus on in the story visually. It really takes a level of trust to collaborate with someone this way, and compared to the work we did together on Memetic, it's a vastly different experience.
DF: So let's get into this third part of your trilogy. Give me the elevator pitch.
Eryk Donovan: Essentially, in a near-future world, a virus has decimated humanity. Along comes a hero who has a cure, but unfortunately there's some pretty serious side effects that mess with the genetic code of everyone who takes it, causing them to give birth to some very disfigured children which permanently affect the human race.
DF: Tell readers what you can about the storyline for the limited series.

Eryk Donovan: There's definitely A LOT more body horror in Eugenic than we had in Memetic or Cognetic. Memetic had some pretty disturbing visuals near the very end, but we open on them pretty early on in Eugenic. This story also takes place across 400-plus years, with each new issue offering a new piece of the narrative in the changing face of humanity, post the genetic disease. I think it works well and it's definitely some heavy stuff, but it's something that's really going to grab you.

DF: What can you tell us about the cast of Eugenic? Can you introduce them and tell us a little about them?

Eryk Donovan: The first issue of Eugenic mainly focuses on Doctor Cyrus Crane, who is the inventor of the cure for the Delta Virus, hailed as a hero for essentially saving humanity. He's young, gay, idealistic and charismatic. We primarily follow his perspective for the majority of the issue.
Amongst some of the other characters we meet, we also focus on Bertram Cole, the CEO of Gonring-Cole Pharmaceuticals, the company responsible for the manufacturing and distribution of the Delta Vaccine. Everything seems to be going well for him and his company up until the unforeseen side effects of the Delta Vaccine begin to manifest.
DF: As an artist, with this series or even in general, how do you go about creating the mood, the atmosphere that will likely become its own character, so to speak, in such a book as this?
Eryk Donovan: It really varies project to project. I definitely take inspiration from film and other comics, but a large deal of it comes from introspection and experiences from my own life. I'm well known to stare and study odd details of architecture and structures for what may be an inordinate amount of time. For Eugenic, I spent a good amount of time in my sketchbook (I make a new one for each and every major project I take on) developing the aesthetic of the Numan (New Human) characters we'll be following through a lot of the story.

My work has a cartoony sense of shape and expression to it, but I also weave that with a lot of loose, splatter-y, scratchy ink work, and some heavy blacks, so it creates what I think is an interesting dichotomy that hopefully engages people. I think it lends itself to horror and certain types of more gritty adventure comics.

DF: Talk about designing the characters for this series. Was there a particular one that was difficult, where your vision and James' might not have jibed? Do you have a favorite character or even, for issue #1, set piece?

Eryk Donovan: I'm very lucky that James and I have a lot in common relating to influences and such, so usually I have a really good sense of what is going to work with one of his stories, and what doesn't. That said, we spent a lot of time going back and forth about the Numan characters that we will be following throughout Eugenic. They are really the main character in many ways, so it was absolutely essential we got them just right.

I think what I landed on is going to make your skin crawl.

I really enjoyed drawing Cyrus. I infused a bit of myself and personal style into him, with the stretched earlobes, tattoos and glasses, all things I both enjoy drawing and I think look cool. There's also a long gross horror sequence that was just absolutely thrilling and satisfying to draw.

I think my favorite character for the series as a whole first appears in issue #2, though, just an absolute blast. Some of my favorite work I have ever done in a comic is in issue #2.
DF: Memetic was obviously acclaimed by many. What sets Eugenic apart in your mind from the other books on which you have worked?
Eryk Donovan: Honestly, as acclaimed as Memetic was, I sincerely think the topics and issues we deal with in Eugenic are going to shake people in a way they are not expecting. Both Memetic and Cognetic deal with outside forces that warp and twist humanity, but Eugenic deals with something much closer and personal, and I think it's going to dig into people's heads. I know ever since I've started working on it, it's got me thinking constantly, and I hope others will feel the same. James and I are making something that you may not exactly "enjoy" in the pleasurable sense of the word, but something that should thrill you, and make you want to revisit it again. I think that is the true power that Eugenic will have, and which will also give it lasting impact.
DF: What are some other projects you can tell readers about?

Eryk Donovan: I'm not exactly sure what I'm supposed to talk about and what's secret, but I think it's ok for me to say I'll have some more work coming out on a DC property in the near future. James, Ming Doyle and I worked on Constantine: The Hellblazer last year, which was very exciting, and it's gratifying to get called back for something else. I will also have a short story out in the upcoming MINE! anthology with writer Matt Miner, and I'll be writing and drawing a horror short for Webtoon!

All of these projects are a little different and challenging me in new ways, so I'm excited for all of them. If you're still looking for some more of my work after reading Memetic, Cognetic and Eugenic, I'd recommend checking out Quantum Teens Are Go, which I worked on with Magdalene Visaggio, and came out early 2017. It flew a bit under the radar, but it's a fun sci-fi adventure book that I think is worth your time.
I'm looking forward to seeing what you all think of the new apocalypse James and I create with Eugenic. Feel free to let me know on twitter @ErykDonovan. Thanks!
Dynamic Forces would like to thank Eryk Donovan for taking time out of his busy schedule to answer our questions. Eugenic #1 from BOOM! Studios hits stores today, Oct. 4th!
For more news and up-to-date announcements, join us here at Dynamic Forces, www.dynamicforces.com/htmlfiles/, "LIKE" us on Facebook, www.facebook.com/dynamicforcesinc, and follow us on Twitter, www.twitter.com/dynamicforces.
---
NEW! 1. 01/21/2021 - RORY MCCONVILLE
5. 01/07/2021 - DARICK ROBERTSON