TINI HOWARD

SEND THIS TO A FRIEND!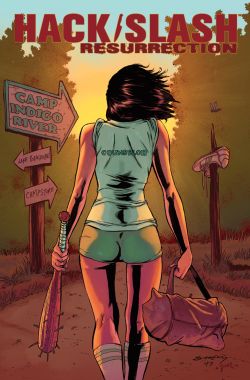 DF Interview: Tini Howard 'resurrects' Hack/Slash
By Byron Brewer
Tim Seeley's brainchild book, Hack/Slash, returns with a new writer, Tini Howard.
Cassie Hack has been living off the grid, but when a new monstrous threat arises to torment promiscuous teens, it's time for Cassie to pick up the baseball bat once again.
Gory, sexy, twisted and funny … Hack is back!
And to discover more about the series, DF hacked into a convo with new scribe on the block, Tini Howard.
Dynamic Forces: Tini, how does it feel to be captaining an iconic ship such as Hack/Slash, which returns to Image Comics in October with Resurrection?
Tini Howard: It feels amazing! A lot of writers started their comics reading as superhero fans as kids. I'm a huge superhero fan now, but I liked books with girls on the cover, especially angry goth girls with baseball bats. (Not that I was a kid when Hack/Slash started coming out. Don't want to make Tim feel old. Smiles!) So for me, books like Hack/Slash remind me more of my younger days than superhero stuff. It feels crazy that I'm behind the wheel.
DF: Creator Tim Seeley is doing an epic cover for the first issue. Will Tim be working with you on writing chores, overseeing the project, or is he involved at all?
Tini Howard: Tim is, essentially, my editor! He manages the project, and I send my scripts to him, he okays my pitches and ideas, etc. And he draws amazing covers as well.
DF: What is the first adventure under your pen that awaits the beloved (?) Cassie Hack?
Tini Howard: Well, Cassie has been off-the-grid, avoiding the supernatural, but they don't avoid her. She ends up taking a job at a summer camp for kids who have experienced the kind of trauma Cassie has and, of course, things don't go according to plan. Like, she meets a girl. Oops.
DF: As new writer, give us your take on Cassie as a character.
Tini Howard: Cassie's complex in a lot of ways. Tim and I have talked about her visual language, how she's 'sexy,' and Tim said something I really resonated with - she's not sexy to be eye candy, she's sexy because a lot of horror is inherently very sexual. From Rosemary's Baby to It Follows, sex is horror because both are visceral, both are naked, both are real.
As such, Cassie is very, very guarded as I write her. She's always been unpredictable – one of my favorite character notes is how she was a virgin for much longer than anyone expected -- but in my take on her, she's almost frustrating. People that get to know her (and maybe some old faces who knew her in the past) know her better than she knows herself right now. But we get to see inside her head. I love writing her captions.
DF: What (in a non-spoilery manner, of course) can you tell us about the "new monstrous threat arises to torment promiscuous teens"? C'mon!
Tini Howard: Hah! So, weirdly, they're not promiscuous teens, they're kids at camp! But I can tell you this: I do a lot with the idea of slashers, how people could manipulate and use that. The idea of manipulating fear and anger to make people into something monstrous isn't new -- it's classic horror. I'm just giving it the Hack treatment.
DF: Is it difficult to blend comedy and horror? Certainly, Tim has gotten to be a master of the writing style!
Tini Howard: Difficult for me? Nah. I write Rick and Morty! Writing horrifying stuff that's also funny is my WHEELHOUSE. I'm totally the type to make jokes when things go pear shaped. I hope Tim appreciates it. (Laughs)
DF: Why are artists Celor and K. Michael Russell right for this new iteration of Hack/Slash?
Tini Howard: Celor's art is so cool -- he fuses female bodies with action and strength and sexuality in a way that really reminds me of Babs Tarr. I think people are gonna go nuts for his art style, I really do.
K. Michael Russell NAILS the palette on this book. We all know what summer camp horror looks like, and he doesn't just snatch that palette, he elevates it. I use a lot of sunrise/sunset scenes in the scripts, and he does so well with them I don't plan on stopping!
DF: Tini, is it hard to believe that just a scant three years ago you were the winner of Top Cow's Talent Contest, and published Magdalena: Seventh Sacrament? How has the ride been so far?
Tini Howard: It's … incredibly hard to believe. Especially from here -- I see how hard it is to get here and I can't believe anyone thinks I'm good enough. Thank you. I mean that. This is the greatest job.
DF: What other projects would you like to tell readers about?
Tini Howard: Well, you may have heard that I'm doing a book called Assassinistas with Love and Rockets legend and Eisner Hall-of-Famer Gilbert Hernandez! It's coming out from IDW's new Black Crown imprint with legendary editor Shelly Bond, so that's cool. And I'm writing some Rick and Morty books too!
Dynamic Forces would like to thank Tini Howard for taking time out of her busy schedule to answer our questions. Hack/Slash Resurrection #1 from Image Comics hits stores Oct. 25th!
For more news and up-to-date announcements, join us here at Dynamic Forces, www.dynamicforces.com/htmlfiles/, "LIKE" us on Facebook, www.facebook.com/dynamicforcesinc, and follow us on Twitter, www.twitter.com/dynamicforces.
HACK/SLASH VS VAMPIRELLA #1 (OF 5) ATLAS COMICS SIGNATURE SERIES - SIGNED TIM SEELEY EDITION
HACK/SLASH #25 CHRIS GIARRUSSO VARIANT - SIGNED IN BLOOD RED BY TIM SEELEY!
HACK/SLASH #25 CHRIS GIARRUSSO VARIANT - SIGNED IN BLOOD RED BY CHRIS GIARRUSSO!
HACK SLASH / EVA: MONSTER'S BALL #1 - HACK SLASH / EVA MONSTER'S BALL #1 TIM SEELEY "BLOOD RED" HIGH-END EDITION
HACK/SLASH/EVA: MONSTER'S BALL TPB
---
NEW! 1. 11/30/2020 - SKYLAR PATRIDGE
5. 11/16/2020 - RYAN O'SULLIVAN