NICK ROCHE

SEND THIS TO A FRIEND!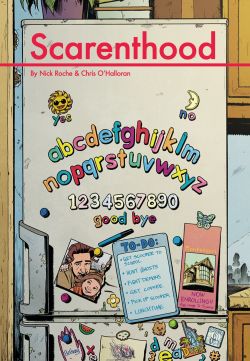 DF Interview: Nick Roche reveals the true terror of parenting in 'Scarenthood'
By Byron Brewer
TO-DO LIST: Drop kids at preschool/ Grab coffee with other parents/ Go ghost-hunting in woods/ Fight demonic entity/ Collect kids/ Naptime.
With their kids away on a field trip, a group of parents disturbs an ancient evil buried beneath the old Church Hall, unearthing a decades-old mystery about a missing child, and inviting something... hungry into their lives. Suddenly, their mornings go from playdates and peanut allergies to a battle for the souls of one broken family – and one child in particular.
What scares you the most: fighting demons, or letting your kids down? Nick Roche (Transformers: The Wreckers Saga, Spider-Man: Renew Your Vows) and Chris O'Halloran (Ice Cream Man) have the answers in the new limited series Scarenthood. And since we wanted those answers too, DF chatted up the coming comic with writer/artist Nick Roche.
Dynamic Forces: Nick, this Halloween-centric story is timed so well. It is rife with doubt and uncertainty and so is our world today, especially for children. Tell readers how this new 4-issue comic came to be in general, and I believe some haunts of your childhood growing up in Ireland in particular played roles.
Nick Roche: I was never really a Horror Guy, and have probably missed most of the big milestones in that genre. My folks kept me sheltered from it all, and when I came to get into it myself, I felt the time had passed. But once I became a father, I experienced a gnawing cold dread over the kids' safety, and about how others perceived my alleged "parenting" "skills". It turned out I'm not the only ill-prepared adult to feel this way, and that maybe others in the same boat might shell out some sweet cash to see their fears realized in comic book form.
When my first kid started pre-school, I was amazed at how quickly she was able to socialize with her peers, but that the parents at the gate were stuck in a death spiral of chat over house prices, swimming lessons and best places to get a Flat White. And rather than give myself over to their world, I imagined what I would like to be doing in the mornings instead of trading weak banter about "having a cheeky croissant LOL". And what I imagined was: GOING GHOST-HUNTING IN THE WOODS. The only thing stopping me would be having to collect my little girl at lunch time, so the idea of facing down the forces of evil on a tight schedule brought about Scarenthood.
Once I knew I wanted to tell a tale about poorly-equipped parents dealing with the supernatural, I realized that even growing up, the idea that there was an Otherness alongside our own world was rife in Ireland. Our school famously had statues that changed their poses, you were never ten minutes away from The Virgin Mary visiting someone, Satan DEFINITELY left an irreparable hole in the roof of that stately home, and you never, EVER damage a Fairy Bush. Everyone had such strong faith, either in fairies, religion, or a uniquely Irish mix of both together. So the idea of the strength of the people's faith being something that caused otherworldly things to occur in this country gave me everything I needed to get Scarenthood underway.
DF: Before we talk Scarenthood (who thought up that brilliant title?), tell us how a young man from County Wexford became equally proficient with a drawing pencil OR a writing keyboard. Is there any advantage/disadvantage to the storytelling of taking on both roles?
Nick Roche: Actually, the title came relatively late to me, and the script and art for the pitch was entirely different, but not catchy enough. Once I arrived at Scarenthood, it felt like I may have something on my hands…
With regards to my approach to storytelling, I never really knew that there was a difference. The comic that first lit a fire under me was Marvel UK's Transformers, and from the age of six to fourteen, I filled over a hundred blank school exercise books with numbered editions of my own Transformers universe. Plus I enjoyed writing short stories, and wrote a little bit for the stage, so I've been writing as long as I've been drawing. And I honestly only ever had an interest in drawing to create a narrative, rather than to necessarily express my emotions artistically. It was only when breaking into comics that I thought I needed to pick one or the other, but then IDW Publishing gave me the opportunity to write some of their Transformers books after I'd been drawing them for a while.
The advantage is being able to visualize the the stories as a whole, and work out the script side of things while thumbnailing the artwork. If there's any disadvantage, it's that drawing takes a loooong time, so I can't draw all the ideas for series that I want to write. So maybe I need to move my artist ego over, and work with some other creators while I write something for them. But then, I miss out on drawing it... so it's all a trade-off.
DF: Can you introduce us to your chief protagonists here?
Nick Roche: Cormac is our main character. He and his daughter Scooper are new-ish to the neighborhood, and she's just started at the local pre-school. They're both finding it hard to integrate to their new lives: he works for home, and has recently found himself as Scooper's sole parent, so is trying to juggle work with childcare. He hasn't got time for any distractions, but there's definitely something missing from his life, and he wishes he could click with the other parents.
Jen is one of the other parents, and is deathly bored with her life. Her husband has a lucrative job working away from home, meaning she doesn't need to work, and has tons of free time, but feels utterly trapped by it all. She has a bit of a Wild Child past, and resents letting her life become so cozy and suburban, and jumps at the chance to commit mischief in her spare mornings.
Flynno is a walking bullsh*t dispenser, who's never met a conspiracy theory he's not prepared to stake his life on. He's older than the other parents following a surprise pregnancy late in life long after his other kids have grown up. He thinks he has the solution to every mystery going, apart from the one that ties his own tragic childhood to the old Village Hall where the pre-school now stands…
Sinead is laconic with a filthy sense of humor and dirtier mouth, and likes to observe the friction amongst the others, while being the first to stir the pot and needle her friends. She's got a super-stable homelife, and is less emotionally invested in the occurrences that kick off events in the story, but it's this little bit of distance that causes her to notice things the others are maybe missing.
DF: So what's going on in Scarenthood? What is the overall story?
Nick Roche: It's basically about four parents who use their free time to investigate some supernatural happenings while their kids are in pre-school. The school is based in an the old Village Hall, which is rumored to have been built from materials reclaimed from a house that was destroyed in mysterious circumstances. Lots of suburban legends exist about the place, some of them tied into the disappearance of a child four decades previously. And while the kids are away on a field trip, our four parents disturb something underneath the Village Hall they shouldn't have. They bond together as their lives become disrupted, but the question remains: what's scarier – inviting a supernatural entity into your life, or remembering what time you agreed to pick up your kid? There's not much in it…
DF: Talk about working with the heavenly hues of Chris O'Halloran.
Nick Roche: Man, did I get lucky. I managed to trick Chris on board before he became "COMICS' CHRIS O' HALLORAN" and was in demand at every publisher. He's leveling up all the time, and is so versatile. I've seen him do neon-drenched sci-fi to bombastic superhero stuff, through to the different flavors of horror he employs on Ice Cream Man, and he's just an incredible talent. I needed someone who shared a shorthand for some of the distinctly Irish-tinged stuff in the series, so I knew Chris wouldn't need any hand-holding when working on creepy village halls and grannies' front rooms. But to have that creative luxury tied up with a rising star in the industry is a HUGE weapon to have in the Scarenthood arsenal. I can't believe I get to work with him.
DF: Nick, what other projects of yours, inside or outside comics, can you tell our readers about?
Nick Roche: I'm working on a four-pager for Stephen Mooney's Half Past Danger Christmas Special (https://www.kickstarter.com/projects/halfpastdangerxmas/half-past-danger-christmas-special?ref=nav_search&result=project&term=half%20past) but apart from that, and some sporadic cover gigs here and there, Scarenthood is all I can currently talk about! And as long as people buy my series about parental anxieties and paranoia about ancient occultism, hopefully I'll be talking about a lot more in the future.
Dynamic Forces would like to thank Nick Roche for taking time out of his busy schedule to answer our questions. Scarenthood #1 from IDW Publishing is slated to hit stores Oct. 21st!
For more news and up-to-date announcements, join us here at Dynamic Forces, www.dynamicforces.com/htmlfiles/, "LIKE" us on Facebook, www.facebook.com/dynamicforcesinc, and follow us on Twitter, www.twitter.com/dynamicforces.
---
NEW! 1. 11/30/2020 - SKYLAR PATRIDGE
5. 11/16/2020 - RYAN O'SULLIVAN