TEE FRANKLIN

SEND THIS TO A FRIEND!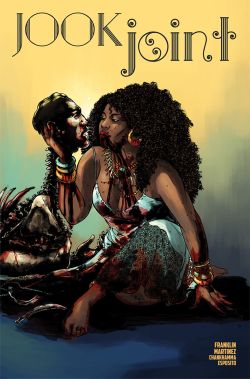 DF Interview: Tee Franklin touches on domestic abuse, racism and social inequality in Jook Joint
By Byron Brewer
Mahalia runs the hottest spot in all of 1950s New Orleans. The Jook Joint keeps the jazz popping, people bopping ... and the women? The women are to die for. There's only one rule: "Keep your hands to yourself." But some men think rules don't apply to them, and Mahalia and her coven of slain women enjoy reminding them that they most certainly do.
Writer Tee Franklin (Bingo Love) and artist Alitha E. Martinez (Black Panther: World of Wakanda) team up for a timely horror series from the Deep South. To learn more, DF sat down for a chat with our old Bingo buddy (so to speak), scribe Tee Franklin.
Dynamic Force: Tee, before we go forward, readers last saw you in this forum talking about your queer romance graphic novella, Bingo Love, as it came to Image Comics. Upon reflection, how important has Bingo Love been to your career and to your personal fight for inclusion in comics?
Tee Franklin: I never imagined Bingo Love taking off like this, ever. From being stopped in the street and the longest lines ever at conventions have been such a beautiful thing. I've had kids as young as seven years old cry in my arms, and Black grandmothers thanking me for telling their story.
Comics is getting a tad bit better about giving marginalized creators a seat at the table, but I wish they did more. We are talented people, with tons of stories waiting to be unleashed in the world, and people WILL buy these books. I truly believe Bingo Love, a story about Black queer grandmas, is proof of that.
DF: I think readers who know your work simply from Bingo Love will be shocked when they see the first issue of Jook Joint, to say the least. Without discussing it in detail, why the abrupt change in tone for this new series which features starkly violent and visceral horror writing at its most staunchly feminist?
Tee Franklin: Actually, my first published work, The Outfit in Nailbiter #27, was horror. So, technically, I went from horror to romance and now back to horror. The Outfit was extremely violent and full of blood and gore. Horror is my main squeeze. Many people don't know about The Outfit and it's a shame. That four-page story gave me the push I needed to continue on in this industry. If you're reading this, reach out to your local comic shop and pick up that copy.
DF: Introduce us to Mahalia.
Tee Franklin: Mahalia is the proprietor of the Jook Joint, a jazz brothel. She's also a Voodoo Goddess who has a coven of slain women as "bodyguards," so-to-speak. Mahalia has been around for a very long time.
DF: Tell readers more about these "coven of slain women"?
Tee Franklin: They are known as the Swamp Sirens. They have been killed and brought back to life by Mahalia. I can't delve too much into who these Swamp Sirens are, but as you see in the first few pages that they are deadly, powerful and badass women.
DF: Jook Joint takes place in 1950s New Orleans, a simply fascinating setting! I can easily imagine the city actually becoming almost a character itself (ala Gotham City in Batman). Tell us what research, if any, you and/or artist Alitha Martinez did to capture the flavor of this legendary hotspot during that era?
Tee Franklin: I spent a week in New Orleans this year and it was one of the best experiences of my life. I found myself so immersed in the culture that I'm seriously considering moving when my youngest goes to college in three years.
Unfortunately, we don't really see too much of the city of New Orleans in the series. We spend a fair amount of time within the Jook Joint, but that doesn't mean we won't see the city at all.
DF: What is the main storyline for this timely horror series?
Tee Franklin: There are two storylines going on at once. We have what's going on within the Jook Joint, the men and women who don't listen and follow the rules, and we have the story of Heloise, a young mother who has been given an opportunity to kill her abusive husband without it being traced back to her. These stories definitely intersect and we get to see the struggles of someone who's in an abusive relationship.
DF: Talk a little about the artwork of comics pioneer Alitha Martinez? How important is it this new comic Jook Joint is being created by two strong women?
Tee Franklin: I am truly honored and blessed to have Alitha on board for this project. She's such a badass! Her art? I'm just not worthy at all. AT ALL. Every time I get a page from her, these tears fill up my eyes. Alitha hasn't done horror at all, but let me tell you, she's a friggin' MONSTER!
Having two Black women on Jook Joint is intense. The whole creative team, minus editor Brendan Wright, are People of Color. Shari Chankhamma blesses us with her colors and Taylor Esposito is a wizard with the letters. Jook Joint is my first monthly series and I wanted the team to be People of Color. We aren't given many chances, so if I have a series or graphic novel, I'm going to insist that I have People of Color on any book I'm doing.
The Jook Joint team is extremely one of a kind. I hope that we can continue to have a majority of creative teams being People of Color, it's important. Inclusion is necessary.
DF: Tee, what is next for you? What projects are you working on, currently or in the near-future, that you can tell readers about?
Tee Franklin: Right now, Bingo Love: Jackpot Edition will be out on Nov. 7th; I'm truly looking forward to that. Marguerite Bennett, Gail Simone, Alyssa Cole, Shawn Pryor and so many other talented creators gave their all and created beautiful and heart-wrenching stories for the Bingo Love universe.
I'm currently working on some horror and romance stories that haven't been announced yet. Bingo Love Volume 2 will be coming in 2020 and I may or may not be working on some prose stories. I'm looking to expand outside of comics and I have some wonderful opportunities lined up.
I'm extremely blessed and thankful to everyone that picked up any books I put out. I hope to see y'all at NYCC, where I'll be all week at table D8 in Artist Alley. Also, come and see me at the Midtown Comics signing on October 4th at 8 p.m.!
Dynamic Forces would like to thank Tee Franklin for taking time out of her busy schedule to answer our questions. Jook Joint #1 from Image Comics hits stores Oct. 3rd!
For more news and up-to-date announcements, join us here at Dynamic Forces, www.dynamicforces.com/htmlfiles/, "LIKE" us on Facebook, www.facebook.com/dynamicforcesinc, and follow us on Twitter, www.twitter.com/dynamicforces.
---
NEW! 1. 11/25/2020 - STEVE SKROCE
4. 11/16/2020 - RYAN O'SULLIVAN
5. 11/16/2020 - RYAN O'SULLIVAN