SEAN PHILLIPS

SEND THIS TO A FRIEND!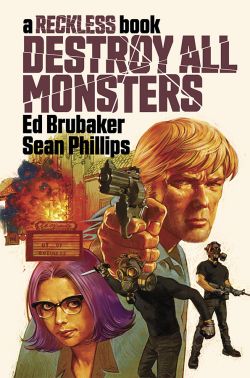 DF Interview: Sean Phillips talks his next 'Reckless' graphic novel, 'Destroy All Monsters'
By Byron Brewer
The next book in the red-hot Reckless series is on the way!
Bestselling crime noir masters Ed Brubaker and Sean Phillips bring us a new original graphic novel in hardcover format, Destroy All Monsters, starring troublemaker-for-hire Ethan Reckless.
I sat down with co-creator/artist Sean Phillips to discuss this next collaboration with Brubaker, together the award-winning team that brought us Reckless, Pulp, My Heroes Have Always Been Junkies, Criminal, and Kill or Be Killed.
Byron Brewer: Sean, tell us a little about the world Ed Brubaker and you have been building in the Reckless graphic novels.
Sean Phillips: We're taking you back to a world before mobile phones and the internet, where our hero has to rely on his wits and sometimes his fists, to help the people who need him. Under the sun-kissed streets of 1980s Los Angeles, Reckless peels back the hot, bleached facade to reveal the dirt and grime underneath.
Byron: Re-introduce us please to Ethan Reckless. Who is he as a man, as a character, as a private eye (if that is the correct term)? How, if at all, was he affected by the events of the last Reckless OGN? Where do readers find him at this point of his life as Destroy All Monsters begins?
Sean Phillips: A former Sixties radical, with the scars to prove it, Ethan is one part repo man, one part private eye, and one part wrecking ball.
This third [Reckless] book picks up a few years after the last one, and Ethan is starting to feel his age. His life of violence leaves him with aches and pains that are more noticeable the older he gets. His relationship with his assistant Anna is starting to unravel and he's finding it difficult to adjust to a more modern world. A new case takes his mind off of his problems for a while, but that brings even more things for him to sort.
Byron: And the storyline of this particular graphic novel?
Sean Phillips: It's 1988 and Ethan and his assistant Anna take on a strange case: digging up the dirty secrets of a Los Angeles real estate mogul. But what starts as a deep dive into the life of a stranger will soon take a deadly turn, and find Ethan risking everything that still matters to him.
Byron: What are the more enjoyable and/or challenging aspects of handling the art in Destroy All Monsters? Isn't your son Jake doing the colors for the book?
Sean Phillips: All the research is the biggest challenge! Not only do I have to draw
LA, a place I've only been to once, very briefly, I have to draw period LA and get all those 1980s details right. Ed supplies a lot of photo ref, and he lived there back then so he can give me lots of advice. Jake does a lot of the heavy lifting with the colors. He's so good at making everything look sun-bleached and hazy. I'm enjoying the change in
format. There's a different rhythm in drawing a graphic novel rather than a monthly comic. I don't have to stop every four weeks and draw a cover and layout and design a comic. I'm much more engrossed in this way of just doing story pages. Hopefully we get to put out our stuff in this way for a good while yet.
Byron: Talk a little about this years-long collaboration you've enjoyed – with much success – with Ed Brubaker.
Sean Phillips: Ed and I have been working together since 1999 and it just continues to get better. We have total control over what we do. I like what he writes, and he likes what I draw. We trust each other totally and leave each other alone to do our jobs. We've no plans to stop working together, we'll carry on until one of us is dead.
Byron: Sean, tell us what might be coming up for you in the way of projects.
Sean Phillips: Nothing apart from more Reckless. I'm half way through drawing the fourth book, and we already know what happens in the next one. Hopefully, we'll just be doing more Reckless for a while, although I have been idly thinking about something else we might do in a year or two. We did My Heroes Have Always Been Junkies and Pulp because I wanted to draw a romance and a Western, respectively. I've been thinking of another genre I'd like to try in the same format, but I haven't told Ed yet.
Dynamic Forces would like to thank Sean Phillips for taking time out of his busy schedule to answer our questions. The Reckless: Destroy All Monsters OGN HC from Image Comics is slated to be on sale October 13th!
For more news and up-to-date announcements, join us here at Dynamic Forces, www.dynamicforces.com/htmlfiles/, "LIKE" us on Facebook, www.facebook.com/dynamicforcesinc, and follow us on Twitter, www.twitter.com/dynamicforces.
HEART OF THE BEAST HC 20TH ANNIVERSARY EDITION - SIGNED AND REMARKED BY SEAN PHILLIPS, JUDITH DUPRE, AND DEAN MOTTER
HEART OF THE BEAST HC 20TH ANNIVERSARY EDITION - SIGNED BY SEAN PHILLIPS, JUDITH DUPRE, AND DEAN MOTTER
THE ART OF SEAN PHILLIPS HC - SIGNED BY SEAN PHILLIPS AND EDDIE ROBSON
THE COMPLETE RAISE THE DEAD TRADE PAPERBACK
UNCANNY COLLECTORS' SET TRADING CARDS - SIGNED BY ANDY DIGGLE
JAMES BOND: AGENT OF SPECTRE HC
UNCANNY VOL. 1: SEASON OF HUNGRY GHOSTS TPB
---
NEW! 1. 10/14/2021 - MATTHEW ROSENBERG
3. 10/07/2021 - CULLEN BUNN & HEATH AMODIO