CHRIS SEBELA

SEND THIS TO A FRIEND!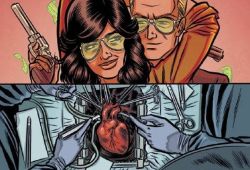 DF Interview: Chris Sebela talks Heartthrob comic being set up for TV
By Byron Brewer
Oni Press and Oni Entertainment recently announced that the comic book Heartthrob by Chris Sebela, Robert Wilson IV and Nick Filardi has been set up for television with Studio 8.
Oni Entertainment is attached as producers with Studio 8, alongside executive producers Riley Keough and Gina Gammell under their new Felix Culpa production company. Heartthrob creators Sebela, Wilson and Filardi will also be on board as co-producers.
DF wants to know more because we know YOU want to know more, so we sat down and had a chat with Heartthrob co-creator Chris Sebela.
Dynamic Forces: Chris, you are now in the second "season," as they call it, of Heartthrob as a comic book. How did its optioning for television come about and how does that feel for a hard-working writer?
Chris Sebela: It was pretty much all the work of Oni Entertainment, a part of our publisher, Oni Press. They believed in the book from the moment they said yes to my pitch, giving us a ton of room to tell the kind of story we wanted to tell and we gave Oni Entertainment the room to go shop it around and find the best fit for the book. Luckily a lot of Hollywood seemed to be really into the book, which is cool. It's gratifying when anyone likes your book, but especially when people in completely different mediums pick up your book and like it enough to want to spend what amounts to a ton of time, energy and money to try and bring it to a gigantic audience. So it feels good.
DF: Will you be involved with its adaptation to the small screen at all?
Chris Sebela: Robert Wilson IV and Nick Filardi and myself are all co-producers on whatever happens, which is about all I can publicly say. I want any show that appears to succeed so I'm not trying to throw myself all over it. I'd rather they do what they can to make it happen. Right now I'm mostly focused on outlining and scripting Season 3 with Robert.
DF: For the uninitiated, tell readers exactly what Heartthrob is as a comic, how you came up with the concept of this particular crime book, and what it later became, please.
Chris Sebela: Heartthrob is about a woman, Callie Boudreau, who grew up with a congenital heart defect. We catch up with her in the late 1970s after she's moved to California in hopes of getting what was then a much rarer procedure — a heart transplant. After she gets it, the doctors give her five years and she returns to a life that's exactly how she left it, boring mostly, except for Mercer. He's a guy who keeps popping into her life, sparks flying between them, until he eventually reveals he's her heart donor. Only she can see and hear him and they're in love. If that wasn't a big enough revelation, Mercer tells her before he died, he was a master criminal and he wants to teach her how to be one too. Hijinx then ensue.
I came up with the idea on a drive home listening a rebroadcast of an old Art Bell show where he was talking to someone about the phenomena of people who get transplants having their personalities change, memories that don't belong to them and other weirdness that could only really be explained by the idea of organs bringing along some essence of the donor with them. I'd been wanting to do a crime book and a romance book and somehow this was the bridge between the two I was lacking. By the time I got home, I had the idea and I'd written it all out by hand about half an hour after that. It's one of those rare stories that pop out of nowhere, complete. That never ever happens.
DF: Oni Press' Oni Entertainment division is on-board as a producer, I know. Still, I am sure there will be changes from the source material. There always are in such adaptations. (I remember the horrendous Captain America TV movie from the 1970s, ugh.) No matter what, as its creator what would you most like to stay intact in Heartthrob's translation? (No fair saying "everything," laughs.)
Chris Sebela: I'd love if it remained in the 1970s and kept the Fleetwood Mac. Fleetwood Mac, the music and the band, play a big part of our book, to the point where Callie picks one of their songs off "Rumours" as an internal stopwatch to make sure she's robbing places before police get notified. And then it gets bigger from there. I don't know, really. Our book is our book and the show is the show, so I'm trying not to conflate the two too much or make a wish list.
DF: Yessir, love me some Fleetwood Mac! My band. … So, conversely, what do you think might need to change for Heartthrob the TV show to be successful?
Chris Sebela: That I don't know. I love it just as it is. I think all our characters are grounded and real. They even look like actual people thanks to Robert who doesn't make Callie or any of the people in her world plastic dolls, but people with a little paunch on them, bad hair, bags under their eyes. And I think the world we built is easily adaptable. Despite our premise, everything is grounded, mostly. I guess if I had to pick one thing, Robert and I love to delve into magical realism at times, and things get a little fantastical through Callie's POV, so it feels like that might be more expensive than TV people would like. But it's also another integral part of the book. Like I said, the water gets a little muddy.
DF: Give me some writer's insight into the characters of Callie and Mercer. Who are they, and what needs to be altered about them for television, if anything?
Chris Sebela: Nothing, I don't think. We don't constantly focus on how Mercer is someone that only Callie can interact with. It's not like he's constantly walking through solid objects or floating. Callie loves him, and sometimes hates him, and he's real as anyone else to her. Even more so. Callie isn't the most likable character in the world, and I know people shy from that, but Studio 8 and Felix Culpa went with the book in large part because she's not a perfect person. She has a lot of issues and she doesn't necessarily deal with all of them in the best way. But who among us does? Like, maybe TV will get someone "sexier" for the roles and if that's the biggest thing we sacrifice, I can deal.
DF: Here's a phrase common to '40 and '50s Hollywood-centric movies: I am taking you to the casting couch. Who would you like to see in the roles of Mercer and Callie?
Chris Sebela: Robert and I have talked about it a little bit here and there but I cannot remember who we came up with. For Callie, I think we thought a lot about Allison Tolman, who was the main character in the first season of Fargo. I can't remember which Mercers we contemplated, but I think Sam Rockwell would be interesting, because he's just that good. I try not to cast this stuff in my head because the gulf between fantasy and reality is pretty wide most of the time.
DF: Chris, what other projects – inside or outside comics – are you working on that our readers may be interested in?
Chris Sebela: My run on Kiss/Vampirella is wrapping up, then some new stuff will start coming out like my Agent 47: Rise of the Hitman book and my run on Blue Beetle. I'm still working on my kickstarter book Short Order Crooks and am kickstarting a new one later this month called The Death Defying. Occasionally I sleep and play video games, but not if I can help it.
DF: Again, Chris, thank you and sincere congratulations.
Dynamic Forces would like to thank Chris Sebela for taking time out of his busy schedule to answer our questions. Stay tuned to DF News for more information on Heartthrob's journey to the small screen!
For more news and up-to-date announcements, join us here at Dynamic Forces, www.dynamicforces.com/htmlfiles/, "LIKE" us on Facebook, www.facebook.com/dynamicforcesinc, and follow us on Twitter, www.twitter.com/dynamicforces.
KISS/VAMPIRELLA #1 ATLAS COMICS SIGNATURE SERIES - SIGNED CHRIS SEBELA EDITION
AGENT 47: BIRTH OF THE HITMAN #1
AGENT 47: BIRTH OF THE HITMAN #2
---
NEW! 1. 11/25/2020 - STEVE SKROCE
4. 11/16/2020 - RYAN O'SULLIVAN
5. 11/16/2020 - RYAN O'SULLIVAN