CHRISTOS GAGE

SEND THIS TO A FRIEND!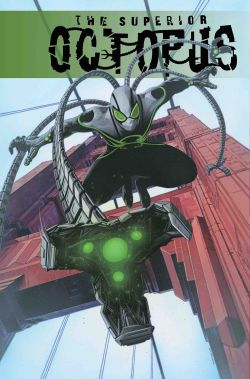 DF Interview: Christos Gage has a Superior Octopus for Ock-tober! The doctor is in!
By Byron Brewer
Doc Ock is back and has set up shop as San Francisco's protector, but you won't believe his methods. Some of Otto Octavius's new superhero strategies may make Spider-Man regret letting him free!
From the House of Ideas comes Superior Octopus, by writer Christos Gage (Amazing Spider-Man) and Mike Hawthorne (Deadpool). DF sat down with the scribe to discuss one of our all-time fave Spidey villains … and, er uh, we guess superheroes as well?
Dynamic Forces: Chris, as former Superior Spider-Man co-writer, what brings you back to the character of ol' Doc Ock? (Wellllllll, not really "old" Doc Ock …)
Christos Gage: I just love writing him so much. He knows precisely what the world needs, and everything would be perfect if everybody would just do EXACTLY WHAT HE SAYS! Who among us hasn't felt that way at some point? There's just something irresistible to me about writing someone who is trying to do the right thing, but their nature is to do the wrong thing.
DF: From what I understand, Superior Octopus is a one-shot and is a tie-in to the Spider-Geddon event. Let me ask about that connective tissue right off the bat and then get back to this new look at Otto Octavius.
Christos Gage: You're right. Superior Octopus sets the scene and shows us where Otto is following the events of Amazing Spider-Man #800 … which you don't have to have read to follow the story, but c'mon, who didn't read it? The one-shot also leads into Spider-Geddon, where Otto is a major player. Then Spider-Geddon leads into Superior Spider-Man #1. Again, you can pick up Superior Spider-Man #1 without reading any of the other books…we're treating it as a first issue. But they're all part of the journey of Otto Octavius.
DF: What can you tell us about the storyline of this book, about Doc Ock in the streets of San Francisco?
Christos Gage: After the events of Amazing Spider-Man #800, where Otto saved Aunt May from the Red Goblin, Peter Parker declared a clean slate between them. He's giving Otto a chance to pursue the good he knows is in him. So Otto is doing just that…as far away from New York and the multitude of weak, simpering "heroes" underfoot there as possible. Otto is going to be the hero San Francisco needs, far superior to past inferior champions like Daredevil and Spider-Woman. And he's going to do it his way. He also has a new, younger clone body and a new alter ego, Professor Elliot Tolliver.
DF: Can you give us a "gage" (LOL) on Doc's attitude and personality at this point in his life? Remorse looking for retribution? Slick and superior? Anti-hero? Tell us about the Ock you will be bringing readers.
Christos Gage: He's still trying to be a hero as he perceives it – a superior hero to the (in his view) dolts who normally take on that role. The difference is, he's no longer trying to be a superior Peter Parker – he's trying to be his own best self. Which, of course, includes having henchmen and utterly crushing all who oppose him. Because, duh. I'd say the biggest difference from the past is that this is an Otto who is willing to at least consider the possibility that he doesn't know absolutely everything. (But close.) He realizes he's made mistakes and has to do better. His biggest admission is that he was wrong to pursue a relationship with Anna Maria Marconi when his mind was in the body of Peter Parker, because he was depriving her of the ability to make choices about her life by lying about who he really was. So now here he is, trying to make amends…and lying about who he really is. But he's not trying to win back Anna's love. So that's…kind of progress? Except, of course, Anna Maria is a genius…and how long can it really be before she makes the connection between a guy calling himself the Superior Octopus in town and her toxic ex? And what will she do then?
DF: Your editor, Nick Lowe, says that in the book "every five pages you're going to see something that will shock you — it will either appall you or make you cheer". [Newsarama quote] Can you perhaps break that down a little by an example, or at least a hint? That's a lot for a one-shot!
Christos Gage: It's hard to answer that without spoilers, but just look at Otto's recent history. He joined Hydra! And now he's left them behind, and Hydra's not known for letting bygones be bygones. Also, Otto is now working at Horizon University with Anna Maria Marconi, the woman he loved, but who he deceived into thinking he was Peter Parker when he inhabited Pete's body. He tells himself he understands the wrong he did her, but if that was true, wouldn't he get far, far away from her? Ideally, this book will provide a similar feeling to watching Breaking Bad or The Sopranos…you root for the main character one moment, then are appalled by him the next. Oh, and when you see Otto's current plan for solving the pesky problem of being killed by his enemies, you will do a face-palm. Everyone will do a face-palm.
DF: Can you tell readers more about other characters to be in the issue? You say Ock – uh, Tolliver – will be working at Horizon University?
Christos Gage: Yes, definitely! He's teaching there under his new identity of Elliot Tolliver. Professor Tolliver is a fake identity Otto created for the clone body he now inhabits, a hybrid of his own DNA and Spider-Man's. The Horizon cast of characters, like Max Modell and Anna Maria, will be there. And the old Spider-Woman villains, the Night Shift, are around in San Francisco too. Mike and I are having so much fun with them. I love writing Digger, who talks like a horror comics anthology host all the time.
DF: What does artist Mike Hawthorne bring to this eight-legged OCK-tober fest?
Christos Gage: A heaping plate of awesomeness! He's really killing it. I had the pleasure of working with Mike on some issues of Amazing Spider-Man, so I knew he was great, but I'm still amazed when the pages come in. Action, character moments, he's equally great at all of it. Rounding out our art team of geniuses, we have superstars Wade Von Grawbadger and Jordie Bellaire, so it's a real all-star team. This is a beautiful book to look at. Everyone seems to be having a blast and bringing their A-game.
DF: Chris, what other projects, present or near-future, can you tell readers about?
Christos Gage: Well, the Spider-Man video game for PlayStation, which I wrote on for three years, is out now, which is super exciting! I also have issues of Incredibles and Ninja-K coming out. But aside from that and Superior, my wife and I are writing for the TV show Hawaii Five-O, so there's no time for anything else!
Dynamic Forces would like to thank Christos Gage for taking time out of his busy schedule to answer our questions. Superior Octopus #1 from Marvel Comics hits stores Oct. 3rd and then Superior Spider-Man (née Otto Octavius) #1 goes on sale Dec. 26th!
For more news and up-to-date announcements, join us here at Dynamic Forces, www.dynamicforces.com/htmlfiles/, "LIKE" us on Facebook, www.facebook.com/dynamicforcesinc, and follow us on Twitter, www.twitter.com/dynamicforces.
SUPERIOR SPIDER-MAN #32 CGC GRADED 9.8!
SUPERIOR SPIDER-MAN #27.NOW=#1 SIGNED BY JOHN ROMITA SR
SUPERIOR SPIDER-MAN #19 & 20 PAIR SIGNED BY JOHN ROMITA SR
SUPERIOR SPIDER-MAN #1 SIGNED & REMARKED WITH A SPIDER-MAN BABY SKETCH IN FULL COLOR BY KEN HAESER!
SUPERIOR SPIDER-MAN ANNUAL #1 SIGNED BY J. G. JONES
SUPERIOR SPIDER-MAN TEAM UP #4 FIRST PRINTING CGC GRADED 9.8!
SUPERIOR SPIDER-MAN #1 SIGNED BY JOHN ROMITA SR
SUPERIOR SPIDER-MAN #1 SIGNED BY STAN LEE
SUPERIOR SPIDER-MAN #1 SKOTTIE YOUNG BABY VARIANT CGC GRADED 9.8!
RED SONJA VOLUME SIX HARDCOVER
---
NEW! 1. 11/25/2020 - STEVE SKROCE
4. 11/16/2020 - RYAN O'SULLIVAN
5. 11/16/2020 - RYAN O'SULLIVAN