MAT HEAGERTY

SEND THIS TO A FRIEND!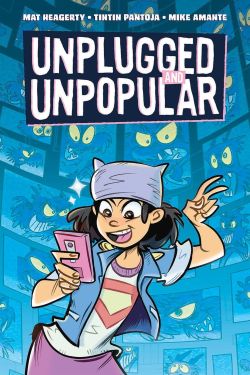 DF Interview: Mat Heagerty targets tweens with his sci-fi OGN 'Unplugged & Unpopular'
By Byron Brewer
Erin Song lives in a digital world. Everyone has a phone, a tablet, a computer – more screens than you can count. Even with a world of information at her fingertips, Erin can't figure out the secret to popularity at her clique-y junior high school. So when uber-popular Wendy asks for help cheating on a test, Erin jumps at the opportunity. This could be her big break! Unfortunately, she gets caught, and her parents ban her from all her devices. Suddenly, Erin Song is the only girl in the world who's not allowed to look at a screen.
And that's when Erin notices something funny: small, furry aliens making humans disappear with a weird device Erin's never seen before. No one else notices them, though – except Erin's grandmother and two old men who run the local library. They've discovered that the aliens are using screens to control the human race, tricking them into thinking they aren't really there – and that anyone who's been abducted never existed.
From Oni Press comes a new graphic novel, Unplugged & Unpopular. By writer Mat Heagerty and artist Tintin Pantoja, the OGN is an hilarious sci-fi tale for tweens. DF talked with scribe Mat Heagerty about the new book.
Dynamic Forces: Mat, I know you are very enthusiastic about this book. Tell us the genesis of Unplugged & Unpopular becoming a graphic novel.
Mat Heagerty: Enthusiastic, I am!! I could use a yearly allotment of exclamation points in a day! Especially when talking about comics! The initial idea for Unplugged and Unpopular came way back in 2015. Right after my awesome daughter was born, I started realizing I was on my phone way too much. I would often catch myself checking social media or email when literally the coolest, best person in the world was right in front of me. I think the instant gratification of smartphones is super anxiety inducing and probably not the healthiest thing. That was where the idea kind of started, then it somehow quickly turned into a story about social status, how our society doesn't value elders, and mean furry aliens.
DF: I know it's hard enough to write a "regular" comic or novel. What specifically do you have to do – or NOT do – to write an OGN with "tweens" as your target audience? How do you handle that as a creator?
Mat Heagerty: Naturally that is where most of the stories I want to tell have been ending up. I really relate to tweens and kids in general. I certainly don't feel like a real grown-up most of the time. I think I share a sense of humor and social awkwardness with a lot of tweens.
When writing for middle schoolers and high schoolers, one of my biggest rules is get the parents out of the way as soon as possible. Kids don't want to read a story with parents saving the day! They want to read about a kid who is in control of their own decisions and is able to save the day. Another thing I'm constantly asking myself is, what is it like for kids today? It's so very different from the late '90s when I was in middle school. Also, of course, number one rule: don't talk down to kids!! They're too smart, they'll put the comic right down.
DF: What can you tell us about the storyline? (No fair using Oni Press' solicit text, I am using it elsewhere.)
Mat Heagerty: U&U is about a status-obsessed 7th grader named Erin Song. Soon after she's grounded and banned from using any of her digital devices, she starts to notice aliens around town! But no one else notices them but her! That's because the aliens are using cellphones, tablets and computer screens as a form of mind-control while they slowly abduct humans! The only people who can help Erin stop these abductions? Her firecracker Grandma and a pair of elderly librarians! It's a story about Erin learning that there's a lot more to life than being popular or likes on a post. And about her forming a really sweet friendship with her Grandma.
DF: Introduce us to Erin Song and her parents.
Mat Heagerty: We first meet Erin a few years into the future, in an even more tech-obsessed world than we live in. She's attached to her phone and has only one goal in life, become popular enough to sit with the cool kids at lunch. Erin isn't necessarily unpopular, she does have friends, but she wants to be adored by everyone! Erin's actually pretty rude and selfish at times, but she's funny, tenacious, and has a giant heart that I hope will endear her to readers!
Erin's folks are very loving and supportive. Her dad's a music reviewer and her mom's a food blogger. Both of their jobs have them heavily online. Which means both of them are fully under the mind control!
DF: A girl denied her digital devices and she suddenly discovers that aliens are using screens to control the human race… ! How close is THAT to today's AI / web-attack / cyber-bullying headlines?
Mat Heagerty: We're in really uncharted territory with how fast technology is moving and how quickly we're integrating with it. There are no studies that show the long term effects of some of the newer things our society is dealing with. I think it's pretty apparent that while so, so many awesome things have come from smartphones and social media, they've also brought increased anxiety and even shorter attention spans. While I love the internet, and certainly am not a technophobe, it's pretty easy for me to imagine it as a negative force in a story.
DF: Talk about the wonderful art of Tintin Pantoja.
Mat Heagerty: Gladly!! Tintin is the BEST! She's such a thoughtful and talented collaborator. I originally pitched the book as just a writer. Oni offered up a handful of options for potential artists. Once I saw Tintin's work I instantly fell in love with it. Specifically her work on Who is AC? with Hope Larson. I feel super lucky she agreed to work with me! I love how much energy all of her lines have. The first half of our book isn't action-heavy, but she really managed to make it feel so much more visually exciting than what I had in the script. Her art works amazingly well with Unplugged and Unpopular's awesome colorist Mike Amante and letterer Hassan Otsmane-Elhao. I hope I get to make a gazillion more comics with Tintin!
DF: Mat, what other projects of yours can you tell readers about?
Mat Heagerty: I've written three more graphic novels that will be out in the next couple of years! They're all aimed at younger readers and are also being published by Oni Press.
Dynamic Forces would like to thank Mat Heagerty for taking time out of his busy schedule to answer our questions. Unplugged & Unpopular #1 from Oni Press hits stores Oct. 16th!
For more news and up-to-date announcements, join us here at Dynamic Forces, www.dynamicforces.com/htmlfiles/, "LIKE" us on Facebook, www.facebook.com/dynamicforcesinc, and follow us on Twitter, www.twitter.com/dynamicforces.
---
NEW! 1. 11/25/2020 - STEVE SKROCE
4. 11/16/2020 - RYAN O'SULLIVAN
5. 11/16/2020 - RYAN O'SULLIVAN