TATE BROMBAL

SEND THIS TO A FRIEND!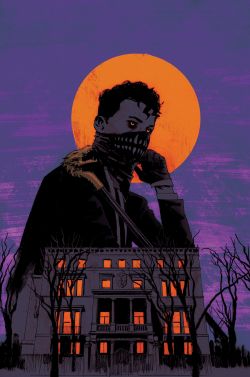 DF Interview: Tate Brombal looks back at 'Something is Killing the Children' lore in 'House of Slaughter'
By Byron Brewer
Discover the inner workings of the House of Slaughter in this new horror series exploring the secret history of the Order that forged Erica Slaughter into the monster hunter she is today.
You know Aaron Slaughter as Erica's handler and rival. But before he donned the black mask, Aaron was a teenager training within the House of Slaughter.
Surviving within the school is tough enough, but it gets even more complicated when Aaron falls for a mysterious boy destined to be his competition.
Dive deeper into the world of Something is Killing the Children in this first story arc by co-creator James Tynion IV (The Department of Truth, The Nice House on the Lake) and co-writer Tate Brombal (Barbalien), with art by rising star Chris Shehan (The Autumnal) and co-creator Werther Dell'Edera (Razorblades). I sat down with co-scribe Tate Brombal to chat about this coming prequel spin-off.
Byron Brewer: Tate, your new ongoing book House of Slaughter is in the same "world" as the incredibly successful for BOOM! Studios mag, Something is Killing the Children. What can you tell readers about this new horror series and how it came to be spun off the mother book, so to speak?
Tate Brombal: Yes! House of Slaughter is a direct spin-off of SIKTC, and, if people have been paying attention to that series, they've probably noticed that the world surrounding Erica Slaughter is only getting bigger and bigger (and scarier)! So what this series does is give us and readers a chance to explore that world even more — specifically surrounding the eponymous House of Slaughter, where Erica and some other monster hunters were raised and trained. The focus of this first arc will be on Aaron Slaughter (Erica's eventual handler and fellow Black Mask Hunter) and his early days at the House — particularly when we met his first, deadly romance.
Byron: For the uninitiated (you know who you are), can you summarize what Something is Killing the Children is all about, so as to add some understanding to the importance of House of Slaughter please?
Tate Brombal: Of course! Something is Killing the Children follows rebel monster hunter Erica Slaughter as she makes her way through a world not dissimilar to our own — except for the fact that the monsters that children fear are real… and are killing them! Erica is an operative of the Order of St. George, a centuries-old, secret organization that trains hunters to take care of monsters without the world knowing. Erica's chapter of the Order is the House of Slaughter, where she was raised as an orphan, but they don't have the greatest relationship. This new series delves right into that House but centers on Aaron Slaughter instead of Erica.
Byron: No spoilers here, of course, but can you pull back the curtain a little on the House of Slaughter. What/who is it, what is their mission, and any other clues, without touching more factually on its secret history that is the subject of the book?
Tate Brombal: Alright, there's some history I can't delve into quite yet… But I can share the gist of it! The House of Slaughter is a chapter of the Order of St. George that is located in the Northern U.S. in Chicago. Their task is to carry out the Order's mission of slaying monsters in secret and producing more monster hunters for an ever-dwindling population. This House trained Erica and Aaron and expects total fealty from them. But every shadowy organization has an even darker history, so this book gives us a chance to explore different time periods in that history as well as the characters who make up the House! We'll also get a better peek at the mechanics, cultures, and ceremonies of the Order. I think readers will be surprised (and excited) by how much we've fit into this book. If you're following SIKTC in single issues or trades, you definitely cannot miss out on this comic!
Byron: Many fans may know Aaron Slaughter as Erica's handler from the source material. But tell us about the teenager training within the subject House before he donned the mask. What is your take on this young Aaron, who is one of the key protagonists here?
Tate Brombal: Aaron wasn't always Erica's handler. He was once a scared, frustrated kid that trained alongside Erica. They were practically siblings! But Aaron was never a good fighter like Erica was, so he's never felt like he belonged in this world. He's a bit of a brat, and he doesn't know how to properly voice his emotions, but my hope is to better explain why he is the way he is. I love Aaron very much, and, by the end of this first arc, I think everybody else will too. He's just misunderstood and really needs a hug in a world where they hand you knives, not consolation.
Byron: What can you tell us about the "mysterious boy destined to be Aaron's competition"… as well as his love interest?
Tate Brombal: You're right, he is very mysterious, so all I can say is that he will definitely be leaving a mark on the series moving forward… Not only this one, but Something is Killing the Children too!
Byron: In this deep dive into the House of Slaughter, will readers be introduced to any of the other Houses within the Order of St. George? This is all very interesting!
Tate Brombal: I can't spoil too much, but there are many, many Houses out there… And they all have secret histories and tortured hunters of their own — all worthy of their own comic book series! In House of Slaughter, I will say there is one other House in particular that we'll get to know quite well by the arc's end.
Byron: So tell us the process here… co-writing with James Tynion IV as well as working with artists Werther Deli'Edera and Chris Shehan.
Tate Brombal: Yeah! James came to me with a rough idea of what he envisioned for this first arc of the series. He imagined it as an Aaron origin story with some star-crossed romance — so I took that prompt and pitched a story idea that only continued to grow and grow and grow! It's been super collaborative, and I've loved reading the lore and world-building that James has come up with for this world. The most exciting part is how much James and Werther have allowed me to add to the book's mythos! Werther designed all of the new characters I've come up with and then Chris is in the midst of drawing my scripts. They are both illustrating some beautiful, beautiful stuff! It's always a little nerve-racking entering an established universe, but everyone has been so welcoming. I don't know how they are letting me get away with so much! I love it!
Byron: Tate, what other projects, inside or outside comics, in which you may be involved can you tell readers about?
Tate Brombal: If you're looking to check out some of my other work before House of Slaughter releases, the trade collection of my comic Barbalien: Red Planet from Jeff Lemire and Dean Ormston's Black Hammer Universe recently came out! It may not be obvious yet, but House of Slaughter is a very natural continuation of many themes and ideas I play with in there. Check it out!
Otherwise, I actually can't tease any of my upcoming projects yet! But hold tight. I'm currently developing a few books, and there should be some announcements soon…!
Dynamic Forces would like to thank Tate Brombal for taking time out of his busy schedule to answer our questions. House of Slaughter #1 from BOOM! Studios is slated to be on sale October 20th!
For more news and up-to-date announcements, join us here at Dynamic Forces, www.dynamicforces.com/htmlfiles/, "LIKE" us on Facebook, www.facebook.com/dynamicforcesinc, and follow us on Twitter, www.twitter.com/dynamicforces.
HOUSE OF SLAUGHTER #1 FOIL VARIANT CGC GRADED - FEATURED ITEM!
HOUSE OF SLAUGHTER #1 FOIL VARIANT DUAL PACK!
HOUSE OF SLAUGHTER #1 FOIL VARIANT!
HOUSE OF SLAUGHTER #1 CGC GRADED
SOMETHING IS KILLING THE CHILDREN #17 25 COPY INCENTIVE VARIANT BY JUNG-GEUN YOO!
SOMETHING IS KILLING THE CHILDREN #17 COVER B GLOW IN THE DARK VARIANT BY OZGUR YILDIRIM - DUAL PACK!
SOMETHING IS KILLING THE CHILDREN #17 COVER B GLOW IN THE DARK VARIANT BY OZGUR YILDIRIM!
SOMETHING IS KILLING THE CHILDREN #16 CGC GRADED
---
NEW! 1. 10/21/2021 - JOE BENITEZ
3. 10/14/2021 - MATTHEW ROSENBERG
5. 10/07/2021 - CULLEN BUNN & HEATH AMODIO