CRAIG HURD-MCKENNEY

SEND THIS TO A FRIEND!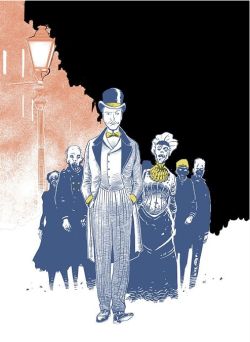 DF Interview: Craig Hurd-McKenney talks the 'Some Strange Disturbances: A Cold Winter's Eve' OGN, up now on Kickstarter
By Byron Brewer
Return to the acclaimed Some Strange Disturbances series with an all-new anthology, curated by Xeric Foundation Grant award-winner and Ignatz nominee, Craig Hurd-McKenney (The Brontës: Infernal Angria), which celebrates the Victorian tradition of Christmas ghost stories with a hauntingly fantastic collection of shorts. As the stories unfold, each crafted by a different comics creator, the night builds to the biggest shock of all!
From Headless Shakespeare Press comes a new graphic novel, Some Strange Disturbances: A Cold Winter's Eve – at least that is the goal of the ongoing Kickstarter campaign. To find out about the campaign and its target OGN, DF talked to Craig Hurd-McKenney.
Dynamic Forces: Craig, before we discuss this new Some Strange Disturbances anthology, tell readers about Headless Shakespeare Press and some of its goals regarding inclusion and differing voices.
Craig Hurd-McKenney: I started Headless Shakespeare Press back in 2000. I was learning the business of comic creation on a larger scale than my minis and zines, and I wanted an imprint for that. We did two issues of the Stalagmite anthology (one of which was nominated for an Ignatz Award that year), the first issue of the Xeric grant-awarded The Brontës with Rick Geary, and my own comic, The Magic If.
I took some time off from comics to go back to school, get married, raise a kid…and so when I came back, I was older, hopefully wiser. What I learned is that the industry had changed way more than I had, and I was thrilled for it. There were so many more diverse creators now! The more diverse we can make comics, the happier I am. The industry should look like the world around us. So now, when I'm partnering with designers, or artists, or letterers, I intentionally look for women, queer, and/or BIPOC creators with whom to partner. I'm not being exclusionary at all…heck, I am a white dude myself. But I'm also a queer white dude and I know what those doors being slammed in my face felt like. I'm over the gatekeepers telling us to shut up, or we're not ready, or we need an agent, or any other number of lies made up to limit who gets to do what they love and are amazing at doing it. Full stop: NO.
So Headless Shakespeare Press is a place for diverse creators, diverse stories and diverse opinions. It's a place of empowerment, of grass roots comics activism. I know it's likely too niche for some people, and I'm okay with that. But the books themselves are created with EVERYONE in mind. That's one reason why I made it very clear that the new book, Some Strange Disturbances: A Cold Winter's Eve, is set at Christmas, but you do not have to be a Christian in order to appreciate the stories within the book.
DF: Tell us about how this new proposed anthology you are "curating" came about, and why it's taking the crowd-funding route.
Craig Hurd-McKenney: Comic production is expensive. Readers don't see that part of it, and so the cost of a book is directly related to what goes into producing it. I wish it was different, but I've been doing it for 20 years and if you are self-publishing, that's just how it is.
I wish I could do it all on my own, but I can't. So what I do in the crowd-funding model is I use those preorder funds to pay the artists, the end. No one works for exposure at Headless Shakespeare Press. They are getting a going page rate. If we make more on the campaign, artists get a raise. From my day job wages, I pay for publishing: from book design to PR to printing. That's all on me. So truly, all of our supporters are giving directly to the artists and supporting new content.
DF: Who are some of the contributors for A Cold Winter's Eve which has, as I understand it, a Christmas theme?
Craig Hurd-McKenney: It's a cavalcade of Christmastime creators! We've got journeymen gentlemen, Peter Gross (Books of Magic, Lucifer at DC) and Vince Locke (The Unwritten, The Dollhouse Family with Peter at DC) on our frame story, which features the main Some Strange characters. Those characters will tell each other the ghost stories created by the rest of the team: Michael W Conrad, who recently co-wrote an issue of my favorite comic, Doom Patrol; Lauren Franklin, a recent Minneapolis College of Art & Design graduate; G Romero-Johnson, a current MCAD student; Melisa Jones, a Cornish College of the Arts grad who did a backup story for me for The Magic If version 2; Keni Thomas, this amazing artist whose work looks like it should be on the covers of Hunter S Thompson novels; and Kam White, another MCAD alum whose work I have admired for YEARS. Suffice it to say, this project gives me the opportunity to work with people whose work I deeply admire. All of this will be wrapped in a cover by the regular Some Strange cover artist, Tyler Smith Owings.
DF: Can you whet our readers' appetites with a little about one or two of the included short stories?
Craig Hurd-McKenney: All I can say is that Michael promises to horrify you. His most recent comic, The Strange Disappearance of Robert Lau, floored me. I allegedly threw up in my mouth a little. Allegedly. I immediately messaged him, "Dude, that splash page reveal…!" Suffice it to say, he and the other artists are all-in on taking over your nightmares and living inside your head. But the book has to get funded for you to see it, so…get to work! (Winks)
Seriously, though, I have told the creators to do what they want to do. I gave some guidelines, like no cell phones or obviously time-specific details, but beyond that, their work focus is up to them. What scares us all is different, and I think that will shine through in these stories.
I can't wait to see them, either. I have the incredibly challenging task of writing the frame story around them, as I want the ghost stories to be specific to which of the main characters is telling it. And if you've read Some Strange Volume 1, I can promise you that the Comtesse will be telling Michael's story.
DF: Why are such collections as A Cold Winter's Eve needed, in your opinion, especially in these recent chaotic days?
Craig Hurd-McKenney: My goal with Some Strange is to explore the very modern horrors of the world through a Victorian lens, i.e. London, England circa 1895. Societal forces create monsters, ghosts and ghouls, and we must acknowledge and discuss that in as open and honest a way as we can. I also think any opportunity we have to come together and show how diverse comics truly are, that we are in unison about what we want the comics world to look like, the better off we are. I know these times are financially tight for everyone. And I wanted to create a project that could maybe help people out with their bills too. Ultimately, I have gathered a team that I am extremely proud of, and I have a list for future books if this one takes off.
DF: Craig, tell readers about the Kickstarter campaign.
Craig Hurd-McKenney: A tradition now lost, telling Christmas ghost stories was a long-standing Victorian tradition. In Some Strange Disturbances: A Cold Winter's Eve, we take a break in the action and revisit that tradition, with the SSD characters sitting around a hearth and telling each other ghost stories on a cold, cold Christmas Eve. Where are those ghost stories coming from? From the wonderful contributors to this anthology book!
Pledge rewards include books for yourself, but also totes, riso-printed Victorian paper dolls, and some upcoming sticker sets. I also wanted to add some tiers with a socially conscious bent, so you can gift books to LGBTQIA resource centers/ libraries or to your favorite comic shops that might be struggling as a result of the global pandemic. I even have a retailer tier for those who want a deal on the book, getting in on the ground floor of this amazing book. At the end of the day, you can pledge as much or as little as you want. Every dollar helps make the project a reality, and we so appreciate the support.
You can visit the campaign at https://www.kickstarter.com/projects/headshake/some-strange-disturbances-a-cold-winters-eve
Dynamic Forces would like to thank Craig Hurd-McKenney for taking time out of his busy schedule to answer our questions. The Some Strange Disturbances: A Cold Winter's Eve OGN from Headless Shakespeare Press is up now on Kickstarter.
---
NEW! 1. 11/22/2021 - KURT BUSIEK
3. 11/15/2021 - DAVID M. BOOHER