TOM SCIOLI

SEND THIS TO A FRIEND!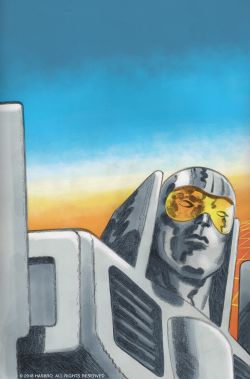 DF Interview: Tom Scioli brings back the Go-Bots, and the future is now
By Byron Brewer
The existence of Go-Bots on Earth has changed humans' way of life. They chauffeur us around. They protect us from harm. They do the jobs that are too boring or dangerous for us. They fight our wars for us. They are friends for the lonely. The only thing they don't do is dream for us… but that could change any day now. For a generation, Leader-1 and the Guardians have said that they were here to help us… but as they become more integrated into our society, the question must be asked: Are they here to replace us?
IDW Publishing and Tom Scioli, the visionary creator that brought readers Transformers vs. G.I. Joe, will unleash Tom's imagination on the wonderful world of Go-Bots! Launching this fall, Go-Bots will be the first story to feature classic toy and cartoon characters like Leader-1, Scooter, Turbo and Cy-Kill's Renegades in over three decades!
DF just HAD to find out more on this limited series, so we went to the creator: Tom Scioli.
Dynamic Forces: Tom, so what is it like being in on the 35th anniversary celebration of such a classic toy line as Go-Bots?
Tom Scioli: It's exciting. In this day and age, it's incredibly rare to find an 80's property that hasn't already been resurrected, re-imagined or rebooted. I'm stoked to get first crack at it. When I pitched the idea, I thought for sure they'd tell me, "We've already got plans for it." I was excited when I found out there were no plans for the Go-Bots property. Iconic is the right word for it. Even though it's been gone for 30 years or so, people still remember it. My goal is to make Go-Bots your all-time favorite comic.
DF: As a writer and artist, is it hard to know where to turn or what to do when creating in such an iconic sandbox as this one?
Tom Scioli: It's the "Challenge of the Go-Bots": I'll know if I succeeded if somebody makes a new line of toys out of this comic like KidRobot did with me and John's Transformers vs. G.I.Joe. As difficult as it is, it's actually way easier than creating something from scratch. So many decisions have already been made for you. There's nothing more intimidating than unlimited options. Working on Go-Bots, there's a cast of characters that are "real." You have something to build on. Working on Transformers was good practice for this. I learned a lot during that process and I'm applying all those lessons here. J.J. Abrams did Star Trek and then he did a Star Wars. I did Transformers and now I'm doing Go-Bots.
I'm not as intimidated by Go-Bots because, unlike Transformers, the franchise doesn't currently have a huge fan base. I'm going to make some beautiful mosaics and found-object sculptures from the amazing assets I'm digging around in. It also would've been a lot more intimidating if I were asked to do it. I wasn't asked to do a Go-Bots story. It was something that I just started thinking about one day. I worked on it for fun. I definitely had the thought that I'd eventually try pitching it, but it was something I started working on for myself. There was no pressure, which is the best way to create. By the time I pitched it, I'd already done a bunch of writing and thinking, so I had a whole story ready to go.
DF: What can you tell us about the storyline for this 5-issue mini-series?
Tom Scioli: The first two issues are Batman: Year One. The last three issues are The Dark Knight Returns. Some other poor soul can do the stuff that happens in-between.
Go-Bots are part of our everyday life. They're involved in every part of our culture. Some of them start to go rogue. We follow the stories of the Go-Bots and their humans at the dawn of an imminent Go-Bot revolution.
DF: We should know, some do know, but please, Tom, introduce us to our main cast.
Tom Scioli: There's Leader-1, the big silver fighter jet. Cy-Kill is the brutal motorcycle. Turbo is the bad-ass race car. Scooter is everybody's darling. Crasher is a fierce warrior and loyal follower of Cy-Kill. Spay-C is a Go-Bot spaceship… kind of like HAL-9000 from 2001, but with more warmth and charisma. There are humans in this story, too, but who cares about them? Mark Hunter races Go-Bots for a living. A.J. is a college student majoring in Go-Bots Studies.
DF: Is there a behind-the-scenes big-bad you can clue readers into?
Tom Scioli: It's Unicron! … Just kidding. Cy-Kill is bloodthirsty but he's also kind of a Spartacus figure. Among the Go-Bots, he's a revered figure and Leader-1 is seen as a collaborator with the human oppressors. Zod, the Go-Bot monster, is kind of like Jaws: an indifferent engine of death.
DF: I know it revolves around a toy line, but the days of robots – A.I.s – in our society is here in our world! Is there any subtext in this adventure about what the entrance of robots into our society means? For us, and for the robots?
Tom Scioli: It's not subtext. It's right there on the surface in this comic. I'm presenting them as just a couple of baby steps beyond where robots are in our world. It's not the 80's anymore. Machines can think for themselves now, but it's all happening inside a computer. Once they start putting them into autonomous robot bodies, the fun starts. I'm fascinated with machine learning. We basically live in a world of intelligent robots, but our fiction doesn't seem to reflect that this Artificial Intelligence is going through its adolescence. We keep hearing these stories about A.I.s that start cursing and going nuts. I'm exploring what happens once these A.I.s are inside autonomous bodies. The robot revolution is inevitable. Check out robotics.org. It's already started.
DF: Word has it you are writing, drawing, coloring and hand-lettering this book! Why the one-man band stance? Are there any advantages (or disadvantages) to the approach?
Tom Scioli: It's auteur comics. One creator. One vision. No compromise. There are a bunch of ways to make a comic. This one works best for me.
Dynamic Forces would like to thank Tom Scioli for taking time out of his busy schedule to answer our questions. Go-Bots #1 from IDW hits stores in November!
For more news and up-to-date announcements, join us here at Dynamic Forces, www.dynamicforces.com/htmlfiles/, "LIKE" us on Facebook, www.facebook.com/dynamicforcesinc, and follow us on Twitter, www.twitter.com/dynamicforces.
---
NEW! 1. 01/14/2021 - MARIA LIOVET
3. 01/07/2021 - DARICK ROBERTSON
4. 01/04/2021 - CONOR MCCREERY
5. 12/31/2020 - BRANDON GRAHAM