JON TSUEI

SEND THIS TO A FRIEND!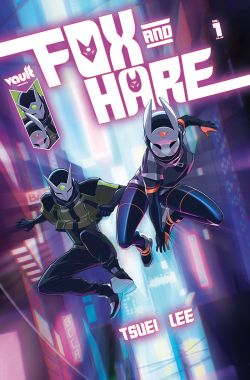 DF Interview: Jon Tsuei works to reclaim cyberpunk in 'Fox and Hare'
By Byron Brewer
When black market coder Aurora Yi uncovers top secret data that has tapped into the past lives of the citizens of Mazu Bay, her world is turned upside down. The mega corporation Synastry Designs wants its data back and is hot on her trail. Aurora has no choice but to turn to the Fox and the Hare, the most feared mercenaries in the city, for protection. Rebellion. Reclamation. Rebirth.
From Vault Comics comes Fox and Hare, a thrilling new cyberpunk series co-created by writer Jon Tsuei (Sera and the Royal Stars, Run Love Kill), and artist Stacey Lee (Marvel's Silk, The Unstoppable Wasp, Gwenpool). My interest was stirred immediately, and so I sat down with scribe Jon Tsuei to learn more.
Byron Brewer: Jon, for you and co-creator artist Stacey Lee, Fox and Hare is more than just an action comic about love and justice. For you, it seems to be about the reclaiming of the cyberpunk genre, so to speak… focusing cyberpunk through an Asian lens. Tell us about that.
Jon Tsuei: When you look back through the history of the genre in Western visual media (i.e., film, comic books and video games), there is a recurring, heavy-handed use of Asian aesthetics. Everything from traditional fashion, to language, and architecture has been used to bring a sense of ambiance to the works. But we rarely see this expression of Asian culture pushed beyond the superficial. I wanted to tell a story that not only embraces Asian aesthetics, but one that places Asian people, cultures, and themes at the forefront. But where do you even begin when you're talking about a place that's home to so many different people and cultures?
I started with the aesthetics that are interesting to me, which helped me uncover the characters that populate this world. Then I looked at the history of colonialism in Asia and its effects on not just people, but culture as well. From there things came together organically and I'm excited for readers to experience this story. I don't think this story speaks for all Asian people everywhere, no single story can do that, but this story speaks to a lot of the feelings I have inside of me.
Byron: Can you give readers some examples of how Fox and Hare is marching to a different type of drum with this genre without revealing spoilers?
Jon Tsuei: I think Fox and Hare fits very well into the traditional cyberpunk themes of future technology and rebellion, but we're trying to bring something new to the space. In telling a story about a futuristic Asian city, I didn't want to ignore Asia's history of European colonialism. The effects of foreign rule on a people, and the fight for autonomy, plays a central role in the story. I also wanted to bring Asian spirituality into the mix, so you're going to catch glimpses of Buddhism, Daoism, and Shinto beliefs. Even though we're dealing with some heavy topics, the story is filled with plenty of high-stakes action and deep character moments that Stacey brilliantly depicts.
Byron: What is the main storyline for the comic?
Jon Tsuei: The story takes place in the slums of Mazu Bay, a fictional Asian city that leads the world in technology advances. We follow mercenaries Keza (Fox) and Kita (Hare) who have taken it upon themselves to watch over the weak and vulnerable. When Keza and Kita's paths cross with programmer Aurora Yi they accidentally uncover a plot by the mega corporation Synastry Designs to control the citizens of the city. So, it's up to our three unlikely heroes to stop the most powerful corporation in the world before they seize control of everyone in Mazu Bay.
Byron: Introduce us please to Aurora Yi.
Jon Tsuei: Aurora is a "writer", someone who writes code. She has familial ties to Mazu Bay, but she is a recent immigrant to the city. Everyone born in Mazu Bay is outfitted with an uplink port behind their ear where they can insert program chips and upload programs directly to their brain. These programs can be used to give the user a drug-like high or they can give the user skillsets that they wouldn't have otherwise. Aurora is known as the best writer in the city and her programs are unparalleled. She also happens to be a mischievous adrenaline junkie. So she's always poking her nose where it doesn't belong.
Byron: Who are the titular duo Fox and Hare?
Jon Tsuei: Keza and Kita are the personification of the "low life, high tech" trope of cyberpunk. They're known throughout the criminal underworld for being the most skilled mercenaries in Mazu Bay. They steal and kill for money, but their own tragic history compels them to hold onto some semblance of morality. So they don't take contracts that target innocent people. As the story progresses, they become an urban legend. A myth that the downtrodden can believe in to give themselves a sense of hope in their dire circumstances. I see Keza and Kita as unwitting heroes who crave justice in an unjust world.
Byron: Will we be seeing some corporate espionage along the way in this story? I love that type of big corp spying that you hardly see anymore (except in the real-world news headlines).
Jon Tsuei: We'll see a little over the course of the story. The technology that Synastry Designs is planning to deploy has some mystery surrounding it. So the reveal of that technology is spread out across the series, and we'll get to meet various players that were involved in its inception.
Byron: Talk a little about the pulse-pounding art of Stacey.
Jon Tsuei: I first encountered Stacey's art when she was drawing Silk for Marvel, and I was struck by how dynamic and different it was from what we were seeing in the superhero space. We met at Rose City Comic Con in 2016. After we hung out and talked about storytelling, I knew that I wanted to work with her on a comic someday. So when it came time to find an artist and co-creator for Fox and Hare, Stacey was at the top of the list. The cover and character designs you see are just the tip of the iceberg. Whether it's a quiet character moment or a pulse-pounding action sequence, Stacey can draw it all. She's an amazing storyteller and readers are going to absolutely love what she's putting on the page.
Byron: Jon, what other projects are out there from you that readers need to see?
Jon Tsuei: My adaptation of Greg Rucka's Star Wars novel, Guardians of the Whills, was just released by VIZ. I think fans of Rogue One will really enjoy this comic and it has beautiful art by Subaru. My creator-owned title Search for Hu, that I co-wrote with Steve Orlando and drawn by the amazing Rubine, is coming out through AfterShock in September. It's an action thriller that blends Jewish and Chinese cultures into a new take on the genre. Readers who are familiar with my work will get something new and different from both of these titles.
Dynamic Forces would like to thank Jon Tsuei for taking time out of his busy schedule to answer our questions. Fox and Hare #1 from Vault Comics is slated to be on sale November 3rd!
For more news and up-to-date announcements, join us here at Dynamic Forces, www.dynamicforces.com/htmlfiles/, "LIKE" us on Facebook, www.facebook.com/dynamicforcesinc, and follow us on Twitter, www.twitter.com/dynamicforces.
SEARCH FOR HU #1 SIGNED BY STEVE ORLANDO
---
NEW! 1. 10/14/2021 - MATTHEW ROSENBERG
3. 10/07/2021 - CULLEN BUNN & HEATH AMODIO