SHELDON ALLEN

SEND THIS TO A FRIEND!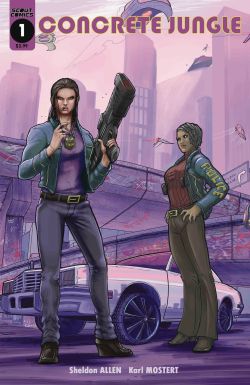 DF Interview: Sheldon Allen drops a sci-fi buddy-cop tale like none other in 'Concrete Jungle'
By Byron Brewer
When a rogue telepath begins hijacking unsuspecting minds and bodies to commit vicious crimes, crooked Detective Annie Brunson is charged with cracking the case with her new straight-laced telepathic partner, Faith Jones. Set among a backdrop of urban decay, exotic aliens, robots and genetic mutations, Concrete Jungle is a science fiction police story vividly brought to life by writer Sheldon Allen, artist Karl Mostert, letterer Matt Bowers, and colorist Warnia Sahadewa.
DF wanted to know more, so we sat down with scribe Sheldon Allen.
Dynamic Forces: Sheldon, before we begin on Concrete Jungle proper, tell readers a little about how you first became interested in writing. And comic book writing.
Sheldon Allen: I suppose I first became interested in comic book writing around the time Savage Dragon and the original Image books first dropped. The combination of those creators – Erik Larsen in particular -- breaking off and doing their own thing sparked that initial creative fire within. I had never read anything like those first initial issues of Savage Dragon or Spawn, and even though I had been a reader of X-Men, Spider-Man, Iron Man and Silver Surfer, I never had the urge to write stories with those characters. Savage Dragon was different. Matter of fact, the first comic character I ever created was for this Create-A-Character contest Larsen ran, which I of course didn't win (Jimbo Da Mighty Lobster – possibly the greatest creation of all time and I'll fight you on this -- was the winner), but that was the beginning for me.
My first pro work was an issue of Spider-Man Unlimited for Marvel back in 2004. I wrote the lead story illustrated by the great Jim Cheung. The guy who wrote the second story – Scott Gimple – went on to become showrunner for some show called The Walking Dead, so uh, yeah… I guess he's doing pretty well these days. Heard he's got a big movie coming out soon.
DF: Tell us about the genesis of Concrete Jungle, the concepts behind the book. Have anything to do with Miami being your hometown?
Sheldon Allen: The genesis of Concrete Jungle was sometime around my issue of Spider-Man Unlimited. I was always really into history, but shockingly, I didn't know much about the history of my own hometown of Miami. So I got to reading, and anyone who is familiar with the timeline of the 305 knows that the 1980s were a… special time and place.
You think Scarface. You think Cocaine Cowboys. You think Vice City. That's 1980s Miami. Just like Edo Period Japan, or the Wild Wild West, or Prohibition-era Chicago, 1980s Miami is a singular setting unlike any other. You mention that era and a flood iconic imagery comes rushing through the consciousness. Pastel colors. Crowded beaches. Exotic sport cars. Gloria Estefan. Dan Marino. The Miami Hurricanes. We had riots. We had presidential candidate affairs. We had crooked cop scandals. We had daylight shoot-outs in malls. We had cocaine. Boy, did we have cocaine. I wanted to tell a story that captured and played off of the new frontier chaos energy that reverberated from the city at the time.
DF: What can you tell readers about this world you and artist Karl Mostert are building? It may have the same vibe, but it is certainly not your daddy's Miami Vice of the 1980s.
Sheldon Allen: Definitely not your daddy's Miami Vice (which actually was one of my father's favorite shows). This Miami, dubbed Atom City, is populated by robots, aliens, and other assorted mutations. This place is dangerous. A cutthroat city left to fend for itself where power is the only guiding principle. Anyone familiar with Miami will instantly recognize the vibe, and those who aren't will wonder how the hell anybody ever lived in such chaos.
DF: Introduce us to Annie Brunson and Faith Jones. Who are they: as women, as characters, as cops?
Sheldon Allen: Detective Annie Brunson is a force of nature. To know her is to fear her. Nothing happens in the streets of Atom City without her direct knowledge or influence, and if something does happen to slip through her vice grip, Lord have mercy on the individuals foolish enough to go behind Annie's back.
Things get turned on their head when Annie unexpectedly gets paired with the analytical telepath, Detective Faith Jones, who is interested in solving the mystery behind a rash of crimes committed by another telepath hijacking bodies, whereas Annie is more interested in the damage the rogue telepath is doing to her rackets.
DF: What other characters may readers need to know as we crack open your first issue?
Sheldon Allen: This is Annie and Faith's story, though I would say be on the lookout for Mike and Kev, and a robot pimp named C-Note in issue #3.
DF: Talk about Karl and his collaboration here with colorist Warnia Sahadewa. What does the duo bring to Concrete Jungle?
Sheldon Allen: I'm just the writer. The true heavy lifting on this book was done by Karl, Warnia, and our letterer Matt Bowers. Karl's blown up and gone on to work for Aftershock and DC, and he doesn't really have time for me these days (I kid, I kid), but I believe Concrete Jungle was his first full comic book series. I still remember when I first spotted his work on an art site. What a revelation. It was only a few fantasy pages with a dragon, and I think even Karl would agree that those samples weren't representative of his abilities, but I could just tell there was something special about this guy. Once he sent me the first few pages of issue #1, I knew it was only a matter of time before he detonated on to the scene. I was star struck by what he did to my words. I'm biased, but I believe this is his best work.
Then, Warnia put the colors onto the pages. That's when I really realized we were cooking with some scorching flavor. This is my second time working with Warnia (we previously worked together on my first book for Scout Comics, Crucified) and I pitched her a totally different coloring style for Concrete Jungle, and not only did she accept, but she took it to another dimension. She really is the easiest person to work with and I am lucky to have her on the team.
The final garnish is always done by the irreplaceable Matt Bowers. I am a pain to work with when it comes to the script, and let's just say he makes my life easier when he doesn't have to, and as letterer, he's my right-hand man on all of our books. I literally would not be able to complete a book the way I wanted to without him.
DF: Sheldon, what projects might you have now or in the near-future that you can tell readers about?
Sheldon Allen: I've got a few creator-owned projects in the pipeline, one of which has already been acquired by Scout Comics and will hopefully be released next year (it's a crime story about hair – just trust me on this one), and I'm also working on the second volume of Crucified.
But for now, my main focus is on getting word of Concrete Jungle to the masses. I adore this book. It's the kind of book I'd slide to my friends whether they read comics or not. I honestly wish all 4 issues could come out at once so everyone could read it back-to-back-to-back-to back and then we could all talk about it online (by the way, follow your boy on twitter @SheldonWroteIt).
Dynamic Forces would like to thank Sheldon Allen for taking time out of his busy schedule to answer our questions. Concrete Jungle #1 from Scout Comics is slated to hit stores Oct. 14th!
For more news and up-to-date announcements, join us here at Dynamic Forces, www.dynamicforces.com/htmlfiles/, "LIKE" us on Facebook, www.facebook.com/dynamicforcesinc, and follow us on Twitter, www.twitter.com/dynamicforces.
---
NEW! 1. 11/22/2021 - KURT BUSIEK
3. 11/15/2021 - DAVID M. BOOHER