DAVE SCHEIDT

SEND THIS TO A FRIEND!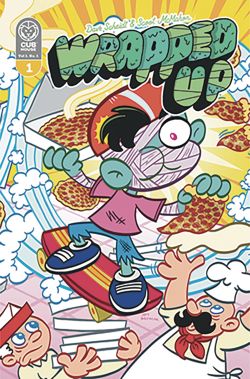 DF Interview: Dave Scheidt is putting the 'weird' back into all-ages comics with Wrapped Up
By Byron Brewer
Milo is just your average twelve-year-old boy. His loving parents are mummies, and his babysitters are witches. When Milo isn't busy at school or visiting the comic book store, he loves to hang out with cool teen vampires, play with magical kitties, visit a family of talking dogs, and avoid a love-crazed gorilla at all costs. You know, typical kid stuff.
Dave Scheidt, writer of Adventure Time, Munchkin and Trolls comics, debuts his own new monthly series with fun, kinetic art by Aw Yeah Comics! artist Scoot McMahon. To learn more about the book, DF spoke to scribe Dave Scheidt.
Dynamic Forces: Dave, you're widely known for Adventure Time and Munchkin, but the debut of Wrapped Up from Lion Forge is the first time we are seeing something wholly your own, correct? And if so, what was the catalyst?
Dave Scheidt: I wish I was widely known. Ha! But yeah, those books definitely helped get my work out there which I'm super grateful for. Wrapped Up is really my first ongoing series that I've written. I've done a bunch of collections of short stories for Dreamworks Trolls over at Papercutz but that's obviously someone else's world that I'm lucky enough to play around in. Wrapped Up is pretty much the most "Dave Scheidt" thing I've ever done so far. Wrapped Up is really just the comic I wish I had growing up, so Scoot and Sean and I made it.
DF: Wrapped Up will be one of the debuting comic book series in Lion Forge's new all-ages CubHouse line. Is there a responsibility that weighs on you here as creator of one of the premiere series in this line for an audience that many fear has lost its way to comic books?
Dave Scheidt: Not at all. If anything, we are super excited to lead the charge for Cubhouse for more great books to come because we are so proud of Wrapped Up. Probably the biggest readership in comics nowadays is children and it's a huge, gigantic honor to make comics for them. Lion Forge has been amazing with helping us shape Wrapped Up but still letting us do our thing creatively. Our amazing editors Andrea and Hazel really get what we're doing and have been so fun to work with because they are an integral part of our process. I legitimately love this book and it makes Scoot and Sean and I laugh so I think that sort of sincerity comes across in comics.
DF: So tell us about the fanciful world you are creating in this new ongoing.
Dave Scheidt: You know when you were younger and bored and kind of wish something cool or weird would happen just to pass the time? This happens every issue of Wrapped Up. It's about accepting what life gives you no matter how weird it gets, even if that means getting chased by a love-crazed gorilla or fighting giant kaiju on a school field trip or breaking up a party of mean frog jocks. It's about friendship and family and all that crazy stuff.
DF: Tell us about Milo. Who is he and is he his mummy's favorite? (Laughs. Sorry, I tried not saying that. Sorry.)
Dave Scheidt: Milo is a regular kid trying to just chill out and eat pizza but weird stuff just keeps happening to him. His best friend is an ex-con wizard that lives next door and always has to bail him out of trouble. Milo's step-sister and other best friend Jill loves vampires and eating chips and dresses really cool. Milo's mom is a youth librarian and remarried this dude Henry who is a hunky archaeologist who is like Indiana Jones but a lot more clumsy. Milo's dad has a very cool mustache and is very embarrassing but wants the best for his family. Sometimes he wears a fanny pack.
DF: What kind of stories can readers expect to see in Wrapped Up?
Dave Scheidt: We pack alot into Wrapped Up. We have killer pizzas, poorly trained tween witch babysitters, killer kewpie dolls, snack stealing sasquatches, hungry kaiju, evil cats, dad jokes! It's going to get WEIRD!
See, that's the coolest thing about Wrapped Up! Each issue is self-contained that includes an 18-page story by Scoot and I and then a six page back up that is drawn by guest artists like Jess Smart Smiley, Carolyn Nowak, Miranda Harmon, Kelsey Wroten, Coleman Engle, Yehudi Mercado and so many more.
DF: So is there a mental buffer you have to put in place to bring the creatures of horror into an all-ages book? (I hate the term "kids' comic.") I know we have had Casper and Li'l Hot Stuff for years, but still …
Dave Scheidt: I am basically an overgrown, hairy twelve year old so it's not hard to get in that frame of mind because that's basically where I'm at mentally at age thirty. All I think about is Halloween and pizza and monsters and bad jokes, so why not throw those all together? (Laughs) But yeah, back to what I said earlier, Wrapped Up is a book I would have loved to read when I was little so It was only right to carry on the tradition of keeping comics weird and funny, you know? I don't know what my sense of humor would be like if I didn't have comics like Ren and Stimpy and Mad Magazine growing up.
DF: What is it like working with Scoot McMahon? Talk about fun and kinetic panels!
Dave Scheidt: Working with Scoot is honestly a breeze and the most fun I've had working with someone creatively in a long time. Making comics can be really hard and stressful but I think we click so well with both our sense of humor and the type of work we like to do so it really doesn't even feel like work most of the time. He's one of the best cartoonists in comics right now and I can't wait for the world to see the insane work he's been doing. Sean Dove is coloring the book and he just brings this beautiful and goofy world to life so well with his super vibrant and unique color palette. Scoot and Sean together are such a fantastic art team. I'm so lucky to be able to make comics with such talented creators.
DF: Dave, do you have any projects current or near-future you can tell readers about?
Dave Scheidt: Totally! Dreamworks Trolls Volume 3 is out [this month] that I wrote a bunch of comics in as well as Nickelodeon Pandemonium Volume 3, both from Papercutz. Scoot and I are working on a new series as well and I have a few other projects I'm trying to get going. I also plan on eating a lot of snacks in the future.
Dynamic Forces would like to thank Dave Scheidt for taking time out of his busy schedule to answer our questions. Wrapped Up #1 from Lion Forge hits stores Oct. 18th!
For more news and up-to-date announcements, join us here at Dynamic Forces, www.dynamicforces.com/htmlfiles/, "LIKE" us on Facebook, www.facebook.com/dynamicforcesinc, and follow us on Twitter, www.twitter.com/dynamicforces.
---
NEW! 1. 11/30/2020 - SKYLAR PATRIDGE
5. 11/16/2020 - RYAN O'SULLIVAN