RYAN FERRIER

SEND THIS TO A FRIEND!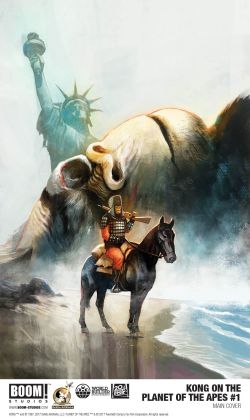 DF Interview: Ryan Ferrier brings forth a B-I-G mystery in Kong on Planet of the Apes
By Byron Brewer
Get set to take another journey to the Planet of the Apes, but this time you might find some of those apes to be giant-sized. Or is that KING-sized?
BOOM! Studios, DeVito Artworks LLC and Twentieth Century Fox Consumer Products are unleashing Kong on the Planet of the Apes, a comics series bringing together two of entertainment's biggest icons for the first time ever! Writer Ryan Ferrier (Mighty Morphin Power Rangers, Kennel Block Blues) and artist Carlos Magno (Planet of the Apes, Kong of Skull Island) team up for the six-issue series that promises to deliver an epic story starring the best-known primates in pop culture.
Following the events of the first Planet of the Apes film (1968), Dr. Zaius and General Ursus lead a small group of soldiers to the Forbidden Zone to destroy any remaining evidence of Taylor's time among them. To their surprise, they discover… a KONG! Now they must travel to Skull Island to discover the truth, but they may not survive the deadliest journey of their lives!
Well, we had to know more, so DF sat down with scribe Ray Ferrier.
Dynamic Forces: Ryan, as aesthetically pleasing as it is to this movie maven to have these iconic ape-centric franchises in one book, it still begs the question: how did this mashup come about? (And give that guy/gal who thunk it up a raise!)
Ryan Ferrier: I'm imagining there was some divine intervention or happenstance where someone set off a fluke Rube Goldberg-like sequence of events that resulted in a big gorilla toy falling into a barrel of monkeys and the light bulb turning on. But in actuality, BOOM! has done such amazing work with their crossover series that I know it's a lot more articulated and cared for than that. When they approached me about possibly writing the series, they were already so excited and all-in, so it's all them.
DF: Captain Obvious question before we really dig in: Are you a fan of either franchise, and to what extent?
RF: Oh, my lord, yes. Some people have Star Wars. Some people have Harry Potter. Some people have Batman. For me, that undying, number one fandom has always been Planet of the Apes. To me, it's the greatest science-fiction and time travel story ever told. I've adored it since I was a little kid poring over the VHS tapes. Even now, my apartment is full of Ape relics and treasures. Through that love, I also fell for King Kong, and it is just as adored. If it's ape-related, I'm loving it.
DF: What period in Planet of the Apes franchise time does the story take place?
RF: Kong on the Planet of the Apes takes place soon after the events of the original [POTA] film, within six months of Charlton Heston's character, Taylor, heading out into the Forbidden Zone. So, it is classic Apes, with Doctor Zaius, Cornelius, Zira, and General Ursus at the forefront, which I'm beyond excited about.
DF: What can you tell us non-spoilery about the storyline for the mini-series?
RF: I can tell you that the body of a dead Kong washes up in the Forbidden Zone, which results in our aforementioned Apes characters to chart an expedition into an unknown and dangerous land—Skull Island. What they find there, and what our characters intend to do with it, you'll have to pick up the comic to find out!
DF: Will there be any obvious "changes" in your iteration of King Kong?
RF: Our Kong mythos is based on Merian Cooper's film from 1933 and Joe DeVito's Skull Island story, so there is a little distinction in our Kong. In BOOM!'s fantastic Kong of Skull Island series, also illustrated by Carlos Magno, and wonderfully written by James Asmus, the history of the Kong is touched on nicely. The Kong are a race, a species of giant ape, not one singular character. Since Kong of the Planet of the Apes takes place thousands of years in the future, there are some differences, surely, and we're seeing Kong a little differently now.
DF: What else can you tell us about the featured characters?
RF: (As I mentioned), Zaius, Cornelius, Zira, and Ursus are our main roster of apes and with good reason: They are incredible, rich characters, and I love them! There will be a couple of others as well, including, but not limited to, the Ape Council, Milo, and a new character named Argus, whom I'm excited about.
DF: Ryan, in some sci-fi films, there is a master manipulator behind the scenes. Can you confirm that possibility? If so, any hints (orangutan, gorilla, chimp)? (laughs)
RF: This series dives so deep into science, faith, discovery and ideologies, from multiple perspectives, that it's hard to begin thinking about just one master manipulator. Between the apes, the humans of Skull Island, and Kong himself, there are many motives at play that are deeply rooted in belief. And those are all going to clash, change and converge in big ways.
DF: BOOM! Studios has been publishing Planet of the Apes comics since 2011, the longest-running comic book adaptation of the property. How does it feel to have this unique entry in that legacy?
RF: It is an honor, absolutely. Writing this kind of story is a dream gig, I very genuinely mean that. I have been such a big fan of the Apes and Kong series, so I'm still having to pinch myself. They are all incredibly great comics, and I'm up to the challenge while simultaneously freaking out.
DF: Talk about the art of Carlos Magno and what he brings to this table.
RF: To say I'm thrilled to be working with Carlos would be a vast understatement. He is absolutely incredible. Every page of our series that comes in I have to do a double-take. His attention to detail is, I'd say, unparalleled right now. It's jaw-dropping! Not only does he nail the likenesses and spirit of each character, and what they mean, but he's doing so while putting the storytelling at the forefront. He's able to convey such natural emotion and flow, while simply having such a unique and beautiful style. He is the true champion of this series, and I can't wait for people to lose their minds over each page.
DF: Ryan, any projects you'd like to tell our readers about?
RF: I've got a few announcements happening between now and the end of the year for some cool, big things. I'm very excited for what winter and 2018 will hold. I'm a lucky cat. But do keep an eye out for some new creator-owned stuff as well as stuff you already dig coming up.
Dynamic Forces would like to thank Ryan Ferrier for taking time out of his busy schedule to answer our questions. Kong on the Planet of the Apes #1 from BOOM! Studios hits stores Nov. 8th!
---
NEW! 1. 11/25/2020 - STEVE SKROCE
4. 11/16/2020 - RYAN O'SULLIVAN
5. 11/16/2020 - RYAN O'SULLIVAN