MARCO B. BUCCI & JACOPO CAMAGNI

SEND THIS TO A FRIEND!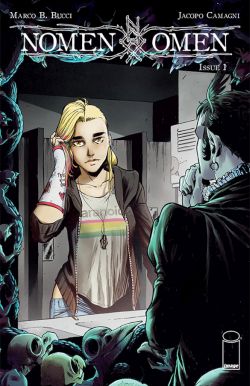 DF Interview: Marco B. Bucci & Jacopo Camagni mix dark witchcraft with suspense in 'Nomen Omen'
By Byron Brewer
No matter how fast you run, sooner or later your past will catch up with you. Enter Becky Kumar, a geeky twenty-year-old from New York City who is about to cross the veil between our reality and a realm of otherworldly truths. From writer and RPG creator Marco B. Bucci (Magna Veritas, Memento Mori) and artist Jacopo Camagni (X-Men Blue, Deadpool the Duck) comes a tale of witchcraft and secrets for mature readers that rewires the rules of urban fantasy.
#doyouwannaknowasecret? Well, DF sure did. To discover #theanswer, we chatted about this maxi-series with Marco B. Bucci and Jacopo Camagni.
Dynamic Forces: Tell me how you guys became involved with this project? What led to this fantastic collaboration for Nomen Omen?
Marco B. Bucci: Jacopo and I met almost twenty years ago and immediately began working together. In 2009, we visited New York for the first time as Jacopo attended New York Comic Con as one of the 12 Italian winners of the ChesterQuest, the scouting contest launched by C.B. Cebulski. One morning we were walking through Central Park and we saw… something odd, amazing and unbelievable. We decided not to talk about it to anyone, to keep it a secret between us. But eventually we built a story around that episode, and so Nomen Omen was born. In October, ten years later, we will attend NYCC to present the first issue of the series published by Image Comics. Looks like fate (and faith) put us together on this path.
DF: Marco, what can you tell us about the world that you and artist Jacopo Camagni are building for this series?
Marco B. Bucci: At the very beginningm the world of Nomen Omen looks just like ours, but shortly thereafter something strange happens. And then something even stranger happens after that: what happened to colors? Why is the world in grayscales? Well, apart from the supernatural (or should we say "magic"), which enters the pages of the series almost immediately, the absence of color has a very "in-story" explanation. Our entry point in the story is the main character Rebecca "Becky" Kumar, as we see the world as she sees it: in fact, she suffers from a medical condition called Achromatopsia, or Total Color Blindness. And yet, her reality is suddenly disrupted by flashes of color. And her dreams are even more colorful. So, there's definitely more to Becky than meets the eye.
DF: Tell readers more about Becky Kumar. Who is she as a character, a young woman and what challenges might she have faced before issue #1 hits stores?
Marco B. Bucci: The way Becky sees the world is quite peculiar. I can also add that she is a brilliant and creative "geek" with a bright career in front of her. Her story begins shortly after a tragic motorbike accident in which she and her best friend Nick are involved. She is the only survivor, and Nick's death will greatly affect her personality, and thus, her future.
DF: Can you tell us the basic storyline for Nomen Omen? Was there any inspiration for the book?
Marco B. Bucci: Nomen Omen begins with Meera and Claire in the late 1990s. We'll soon discover this is a prologue about Becky's two moms and that Becky herself is the true protagonist of this urban fantasy tale. Becky is a strong girl who makes her way in a world where magic, horror, action and a bit of anguish meet. I grew up with the tales the women of my family told me, with the ones I listened to on tapes my father bought me. And, well, Neil Gaiman. All of this found its way into Nomen Omen.
DF: Jacopo, did you get to design all the characters in Nomen Omen? Tell the readers, if so, a bit about that experience.
Jacopo Camagni: Like everything related to Nomen Omen, character design comes from a creative back-and-forth between me and Marco. Nomen Omen's characters are therefore born as my own or Marco's ideas and then transposed onto paper by my own hand. I like to draw characters that have strong traits (a detail, a somatic feature, a clothing accessory) but that are not excessive and too much over-the-top.
DF: Was there any one character or set piece that was either very challenging to design or that you put so much creativity in that he/her/it has become your favorite?
Jacopo Camagni: There's a few I love more than others, but I don't want to give too much away, since American readers are about to read the first story arc while I just finished drawing the third. I can say that one of my absolute favorite characters, one that I never get tired of drawing (both on the pages that live at conventions and even in my spare time) is Taranis, the main villain of our story. You'll see him soon enough. (smiles)
DF: Talk for a moment about how you use your artist's toolbox to do the "acting" of scenes, change emotions of characters, emphasize for the reader what Marco has asked for in his scripts.
Jacopo Camagni: Before working for Marvel, I spent several years working for the Italian indie market. I really like to express a character's emotion through his facial expressions and his body language. Most indie comics focus on the intimate world of the characters, on what's going on in their mind and in their heart rather than action. Working for Marvel hijacked me on a more action-based narrative made up of fights, vertiginous shots, movement. I like to think I brought my experience with more "down to earth" stories into my mainstream action gigs and that ultimately that resulted in a style which preserved the best from both worlds. And I hope you'll see what I mean while reading Nomen Omen.
DF: Each of you tell us about how it has been collaborating with the other.
Marco B. Bucci: Jacopo is a great artist. He's so good that he often picks up the crazy stuff I write and takes it up a notch or two. Unfortunately, he eats too much, speaks loudly and snores a lot.
Jacopo Camagni: Marco is one of the best storytellers I've ever met. He's been blessed with an out-of-scale imaginative capacity. Problem is sometimes it is so out-of-scale it must be contained or chained to prevent it from having the effect of changing the reality as we know it. Wanda Maximoff-style, if you know what I mean.
DF: Haha, I do! … Jacopo and Marco, each of you tell our readers some of your upcoming projects we can look forward to.
Marco B. Bucci: Besides my work on comics, I've writing for games (as in board games, tabletop and RPGs) for a while now. So in addition to working on my series of dark-fantasy/horror RPGs Memento Mori, I am writing an adventure for Historia, a newly-launched and hugely-successful Kickstarter for a Renaissance fantasy game with anthropomorphic animals. This is the prelude to the development of an official RPG based on Nomen Omen. Hopefully I'll have more on this matter in a few months… Speaking of comics, I have a miniseries and two graphic novels in the works and they'll likely all come out in 2020.
Jacopo Camagni: I am working on the fifteenth issue of Nomen Omen so I look forward to some well-deserved R&R. After that, I'll have more Nomen Omen tales to draw, some character design and cover work for another mini-series Marco and I are cooking up together. And then I have my own graphic novel to set up and maybe throw in a superhero gig or two. Yup, I try to keep myself busy.
Dynamic Forces would like to thank Marco B. Bucci & Jacopo Camagni for taking time out of their busy schedules to answer our questions. Nomen Omen #1 from Image Comics hits stores Oct. 2nd!
For more news and up-to-date announcements, join us here at Dynamic Forces, www.dynamicforces.com/htmlfiles/, "LIKE" us on Facebook, www.facebook.com/dynamicforcesinc, and follow us on Twitter, www.twitter.com/dynamicforces.
---
NEW! 1. 11/25/2020 - STEVE SKROCE
4. 11/16/2020 - RYAN O'SULLIVAN
5. 11/16/2020 - RYAN O'SULLIVAN