DEVIN FARACI

SEND THIS TO A FRIEND!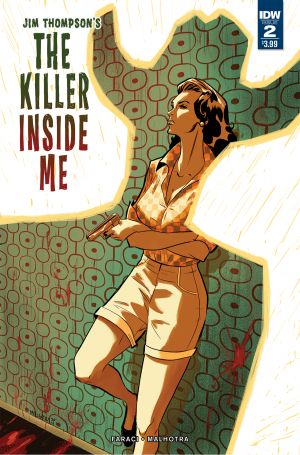 DF Interview: Devin Faraci brings Thompson's 'The Killer Inside Me' to comics
By Byron Brewer
Jim Thompson's sinewy, brutal and beloved novel is being brought to life as a five-part graphic noir by IDW Publishing. Adapted by writer Devin Faraci and illustrated with gut-punchingly vivid art by Vic Malhotra, The Killer Inside Me gives us a pitch-black glimpse into the mind of the American serial killer years before Charles Manson, John Wayne Gacy and Brett Easton Ellis's American Psycho.
DF wanted to get into the meat of translating the noir novel into a four-color classic in five issues, so we met with scribe Devin Faraci to discuss just that.
Dynamic Forces: Devin, the launch of this series is an element of IDW's Creator Visions event, this particular book celebrating crime novelist Jim Thompson. What is it like to step into these really big shoes (no one will get the Sullivan ref), you yourself being a longtime Thompson fan?
Devin Faraci: The creator we're celebrating here is Jim Thompson -- I'm just a guy helping to bring him to a new medium. With that in mind, it's kinda daunting because Thompson is one of the great 20th century writers, and his work is so important and so great that I'm very aware that I need to not screw it up!
DF: For those uninitiated to the crime genre, is it possible to give readers an overview of what The Killer Inside Me is about?
Devin Faraci: The Killer Inside Me is a story told from the point of view of Deputy Lou Ford, a lawman in a small city in West Texas in the early 1950s. Everybody thinks that Lou is a big dumb lunk, but he's actually a genius-level sociopath who spends his time trying to keep down "the sickness" that leads him to violence. An encounter with a prostitute who likes it rough opens the floodgates, and pretty soon Lou finds himself committing murder after murder just to cover his trail.
DF: With #1 already in stores, readers already have a taste of what you are bringing with this graphic noir. But as you first started dissecting Thompson's novel for adaptation, how did you decide what to emphasize, what gets left out, what (if anything) needs to be changed … Can you tell us a little about the process?
Devin Faraci: The process is all about finding the core of the story and the characters and then preserving that. A lot of the way Thompson tells this story is to have small details in the beginning that become huge problems for Lou later on, so I had to make sure to hit that stuff without confusing the readers as to why it's there in the first place.
As for what gets left out: sadly, about 90% of Thompson's gorgeous, muscular prose gets left out. If you like this comic at all, you simply MUST pick up the book to get the story in the original voice!
DF: Tell us what makes Lou Ford tick as a character, in your perception as a writer. Is it really possible to get "inside" such a mind?
Devin Faraci: What I like about Lou is that he's a cold-blooded, sociopathic monster who thinks he's smarter than everybody else. He's so sure of it that he spends a lot of time jabbing at people with crummy cliches and making them uncomfortable by playing dumb. He likes to see decent people squirm when confronted with a bore … but he really underestimates the people around him. That's what brings the tension as the series continues.
DF: There is certainly the feeling of noir here, but also a very well-done moody atmosphere of that area of Texas. Did you or artist Vic Malhotra do any additional research outside Thompson's novel to convey such a realistic portrayal of the setting (which is almost its own character)?
Devin Faraci: I sent Vic a couple of links to photos in the first issue script, but I will tell you what: he is always one step ahead of me. Vic is a great collaborator because he knows the book inside and out; sometimes I feel like I'm just the middle man between Vic and Thompson. Vic clearly sees Central City in front of him and just brings it to life on the page.
DF: Speaking of Vic Malhotra, whose work we have seen in Murder Book, the artist is certainly pulling no punches in his visualization of The Killer Inside Me. Script and art move seamlessly in issue #1.
Devin Faraci: I started writing issue #1 before I knew who the artist would be. It was my first comic book script, and I just didn't know how much detail I needed to put in there, what sort of info the artist would need. But as soon as Vic came on, it became clear that I was working with a terrific storyteller who was often taking my pages and making them better by adding or condensing panels and tightening things up. It's been such a joy working with him, and getting back his pencils and his inks are some of the best days I've had doing this!
Dynamic Forces would like to thank Devin Faraci for taking time out of his busy schedule to answer our questions. The Killer Inside Me #2 from IDW hits stores Sept. 28th!
For more news and up-to-date announcements, join us here at Dynamic Forces, www.dynamicforces.com/htmlfiles/, "LIKE" us on Facebook, www.facebook.com/dynamicforcesinc, and follow us on Twitter, www.twitter.com/dynamicforces
---
NEW! 1. 11/25/2020 - STEVE SKROCE
4. 11/16/2020 - RYAN O'SULLIVAN
5. 11/16/2020 - RYAN O'SULLIVAN