ZAC GORMAN

SEND THIS TO A FRIEND!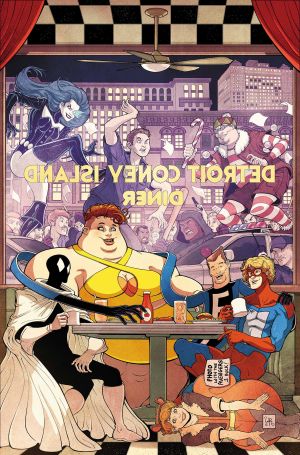 DF Interview: Zac Gorman re-'assembles' the Great Lakes Avengers
By Byron Brewer
"All New, All Different?" No, thank you! New things are bad and different things are scary! Instead, why not join everybody's least-favorite superhero team, the Great Lakes Avengers, in their brand new -- but not TOO brand new -- ongoing series, coming in October from writer Zac Gorman and artist Will Robson.
When the team gets reinstated as permanent members of the Avengers franchise and uprooted from Milwaukee to Detroit, the GLA has one more shot at superhero glory ... but can they answer the call?
To find out, DF met with Zac Gorman in an old Stark hangar … one that, like the GLA, is hardly all new or all different. Here's what the scribe told us.
Dynamic Forces: OK, Zac, why is this the right time for Great Lakes Avengers to have their first-ever ongoing?
Zac Gorman: If Squirrel Girl can do it, why not the GLA?! I think right now we're seeing a demand for books which are somewhere on that spectrum between the classic superhero action titles Marvel has hung its hat on for a long time and some more indie-spirited comedy titles, and I think GLA fits nicely into that niche. I'd actually say we might even lean a little more towards "classic superhero action" than SG but what passes for action may be highly debatable.
DF: Speaking of firsts, this is your first-ever book for the House of Ideas! Congratulations! Tell us how you and the GLA came together.
Zac Gorman: Thanks! I came to the book after another project I was kicking around for Marvel kinda fell through. It was fortunate timing though that Tom mentioned this project to me and I jumped on it right away. I still think it's somewhat surreal, honestly. I grew up reading Marvel Comics although at the time I wanted to be an artist.
DF: Of course, the GLA was created by John Byrne in West Coast Avengers #46 (1989) and the cover of your premiere issue carries a logo in the original style of Hawkeye's WCA. Whose brilliant idea was that?!
Zac Gorman: I actually have no idea! I really dig the logo but that was probably the brainchild of either Tom Brevoort or Alanna Smith.
DF: Introduce us to your cast and, for the uninitiated, tell us a bit about their powers.
Zac Gorman: Well, there's Flatman who can stretch his body to any size so long as it remains two-dimensional, Doorman whose body acts as a sort of living gateway between the Darkforce Dimension and our own (he's also a sort of Angel of Death but it gets a little complicated), Big Bertha who can alter the size of her body, and Mr. Immortal who can never die.
DF: Much has been made of the group carrying around a cardboard cutout of former member Squirrel Girl in teasers/promos. But as a PR guy myself, from their perspective I can understand it. But tell me, in her absence, in your opinion, who is gonna be the new stand-out star, and why?
Zac Gorman: I'm trying my best to spread the love amongst the whole team. I've said before in other interviews that I was really having fun writing Doorman, but then I did a Flatman heavy issue and now he's my favorite. After I write a Bertha-centric story, she'll probably be my new favorite. I hope people give the new characters we're introducing a chance as well. I'm trying to write as true of a team book as I can. If I can pull it off, I hope fans get to decide for themselves who's their favorite.
DF: This team throughout its history has mostly been written for laughs. But Detroit these days is no joke. How much will real-world Detroit be a part of this book, and how do you balance the comedy with the necessity of seriousness in the hero biz?
Zac Gorman: I think a lot of comedy comes from serious situations. If everything is presented as a joke all the time, the stakes are so low that there's not a lot of tension. I think a lot of comedy could be derived from that tension, that contrast. It's much funnier to be an idiot in a very serious situation than an idiot in a very silly one.
DF: Speaking of Detroit, doesn't Zac Gorman hail from thereabouts? How will this help you bring a uniquely Great Lakes feel to Great Lakes Avengers?
Zac Gorman: I do! I grew up in the area and I currently live in Michigan, although a bit farther from the city these days. I think Detroit has some unique issues, or at least ones that are magnified in a way you don't see in other cities. Detroit is experiencing this sort of revival the likes of which I haven't seen in my lifetime, but there are still so many problems especially at the city government level and I wanted to capture some of that. I wanted to present a picture of the city which is a little different from the played out, post-apocalyptic narrative that's been crammed down this city's throat for decades. That's not really indicative of the actual city of Detroit. There are problems, for sure, but they're not the ones that people in L.A. or New York like to project onto it.
DF: Can you tell us anything about the villains the GLA will be opposing?
Zac Gorman: There's a new guy named Nain Rouge who's inspired by the Detroit cryptid of the same name. He's sort of an entrepreneur supervillain. He's both doing good things for the city by building business and bringing in money but he's doing it in an awful way by driving people out of their homes. There are some other villains returning from around the Marvel Universe as well.
DF: What's it like working with artist Will Robson? What does he bring to the table here?
Zac Gorman: I think Will's art has a ton of energy. It's silly and over the top and I think that has really made an impact on the overall direction and tone of the book. When I was pitching the project it was a bit more subdued, more boring maybe, but I think being paired with Will encouraged me to loosen up a little bit and make some dumb jokes that I would've held back on otherwise. Also, for as many crowd scenes as I give him, he's yet to tell me off.
DF: Finally, any new members you can tell us about coming on board?
Zac Gorman: Good Boy is a nineteen-year-old girl from Detroit who can transform into her own fursona—which, if you're not familiar with the term, is a sort of anthropomorphic alternate identity. Hers just happens to be this huge, blue, man-wolf. She's really just a good kid who gets kinda pulled into their stupid adventures after her home is destroyed by supervillains. In the first few issues, we really only scratch the surface but her story becomes exponentially more important as the story progress through its first arc and beyond.
Dynamic Forces would like to thank Zac Gorman for taking time out of his busy schedule to answer our questions. Great Lakes Avengers #1 from Marvel Comics hits stores Oct. 12th!
For more news and up-to-date announcements, join us here at Dynamic Forces, www.dynamicforces.com/htmlfiles/, "LIKE" us on Facebook, www.facebook.com/dynamicforcesinc, and follow us on Twitter, www.twitter.com/dynamicforces
---
NEW! 1. 11/25/2020 - STEVE SKROCE
4. 11/16/2020 - RYAN O'SULLIVAN
5. 11/16/2020 - RYAN O'SULLIVAN