DAVID PEPOSE

SEND THIS TO A FRIEND!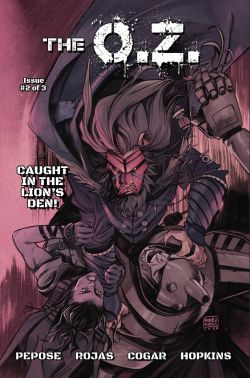 DF Interview: David Pepose leads us down a yellow brick road to 'The O.Z.' #2, now up on Kickstarter
By Byron Brewer
The O.Z. follows Dorothy Gale's granddaughter and namesake, a disillusioned Iraq War veteran who is swept up by a tornado and dropped into the war-torn land of Oz. Now leading the Resistance against the Scarecrow's regime, Dorothy must join forces with the Tin Soldier, the Prince of Lions and Jack Pumpkinhead if she hopes to locate the all-powerful Silver Slippers and bring peace to the Occupied Zone… or, as the locals call it, The O.Z.
The O.Z with its second issue returns to Kickstarter from multiple Ringo Award-nominated writer David Pepose (Spencer & Locke, Scout's Honor) and artist Ruben Rojas (Proton). Fans of Mad Max: Fury Road, The Old Guard, and Fables will love this action-packed fantasy adventure, available to order now on Kickstarter!
I was fascinated with this concept from the beginning and no less so now, so I sat down with writer David Pepose to discuss the ongoing crowdfunding campaign and the coming book.
Byron Brewer: David, before we dive into Number 2 (there IS a better way to phrase that, sorry, LOL), tell readers what your experience was with this book's predecessor, The O.Z. issue #1.
David Pepose: Sure! The last Kickstarter campaign for The O.Z. was… an overwhelming experience, to say the least. (Laughs) With more than 1,250 backers, we not only funded our first issue in two hours, but cleared over 700% our initial goals for our double-sized first issue. It was a tremendous opportunity to get to interact with our readership, while learning the ropes of crowdfunding, printing and distribution. I learned a lot during that Kickstarter, and those are going to be lessons I'll be utilizing for the rest of my career.
Byron: For those NOT in the know, what is the fantastic (IMHO) concept behind this labor of love for you, and how did you wind up choosing and then weaving the iconic Oz books into the mythos The O.Z. is becoming?
David Pepose: I like to describe The O.Z. as what if The Hurt Locker took place in The Wizard of Oz — it's the story of Dorothy Gale's granddaughter, a disillusioned Iraq War veteran who is caught in a tornado and finds herself stranded in the war-torn land of Oz. Learning the Wicked Witch's demise left Oz with a power vacuum that led to decades of brutal civil war, our new Dorothy has to navigate her grandmother's former friends — the Tin Soldier, the Scarecrow, and the Prince of Lions — if she hopes to bring peace to the Occupied Zone… or as the locals call it, The O.Z.
Byron: If it is not still considered spoiler (or even if it is), can you tell us how issue #1 ended and how we find our characters and in what situation(s) as issue #2 begins?
David Pepose: While our first issue was all about establishing Dorothy and her answering the hero's call as she learns why the land of Oz plunged into civil war, our second issue is going to raise the stakes in a big way, especially now that the location of the all-powerful Silver Slippers has been found. With Oz's closest equivalent of a weapon of mass destruction now up for grabs, Dorothy is going to have to ask for help from some unexpected players if she wants to keep our world safe from the Scarecrow's war machine.
Byron: Take a minute to introduce our key players please as they are in The O.Z.
David Pepose: For those who missed our first issue, our heroine is Dorothy, the granddaughter of the original who has since grown up to become an Iraq War veteran. Torn between her own trauma from her time overseas and her desperation to redeem herself by saving others, Dorothy will strike an uneasy balance as the de facto leader of the Resistance.
Dorothy's also joined by the Tin Soldier, a scrap metal behemoth who's had to leave his heart behind as the closest thing Oz has to a revolutionary folk hero, and Toto, whose intelligence and lifespan has been enhanced thanks to the magic of Oz.
We also have the villainous Scarecrow, who has fostered the land of Oz into a perpetual state of war, as well as his chief enforcer Jack Pumpkinhead, who will prove to be a thorn in Dorothy's side in this second issue. And finally, we have the enigmatic Prince of Lions, who will play a major role in this new issue — similar to Dorothy, he too grapples with the burden of responsibility and leadership. It's one thing to be brave when you're battling for yourself — but how does the calculus of courage change when you're the ruler of the Animal Kingdom?
Byron: What is the main thrust of the storyline in this second issue?
David Pepose: If our first issue was about Dorothy finding new purpose in the land of Oz, our second issue is all about escalation — in particular, the costs of Dorothy's return to action as the symbolic figurehead of the Resistance. Every war has casualties, and Dorothy is going to watch them play out right in front of her.
It's also about expanding our scope, and exploring new corners of the Occupied Zone – not only will Dorothy and company take a more globe-trotting bent on their adventures this go-round, but we'll also be diving deeper into a larger cast of characters, as we learn more about Scarecrow and Toto, and introduce the Prince of Lions and Jack Pumpkinhead into the mix, as we finally cement our core team.
Byron: Can you spotlight any new characters you may have created that are not a legacy counterpart to those of the L. Frank Baum books?
David Pepose: We've actually been pretty faithful to the L. Frank Baum books! With a mythology as sweeping and revolutionary as his, we've been able to draw our entire roster from the original Oz series, or their successors in the case of our new Dorothy.
Byron: Talk a little about the jaw-dropping art of Ruben Rojas.
David Pepose: Ruben is just one of the most talented artists I've ever had the good fortune to work with. He's a naturally gifted designer and world-builder, very much in the same vein as Dan Mora and Sean Murphy. Ruben's favorite genres are post-apocalyptic and low fantasy, which means he's having the time of his life on The O.Z. — we're really upping the ante in terms of action and scale, so if you thought our first issue was a show-stopper, you ain't seen nothing yet.
Byron: David, tell readers about the Kickstarter campaign.
David Pepose: We've been so blown away by the response to our second campaign, as we funded in literally 40 minutes — now we're rolling out a host of stretch goals, including an extra 200 pages of bonus comics from a cavalcade of indie creators, as well as bonus prints, cards, enamel pins and more. And if you missed our first campaign, we've got you covered as well, with digital and print catchup tiers, as well as discounted bundle sets featuring all nine covers we've released thus far.
But for me, my favorite tiers are the premier tiers with our Kickstarter-exclusive rewards. We have Skype sessions with me, original commissions from series artist Ruben Rojas, a chance to get drawn into the book, as well as a limited edition set of 14 Ranger Scout merit badges from my AfterShock series Scout's Honor. It's the perfect time to become a Yellow Brick Road Warrior, so join us in the trenches of The O.Z.!
https://www.kickstarter.com/projects/theozcomic/the-oz-2
Dynamic Forces would like to thank David Pepose for taking time out of his busy schedule to answer our questions. The campaign for The O.Z. #2 is currently ongoing on Kickstarter. Keep tuned to DF News for further developments with The O.Z.!
For more news and up-to-date announcements, join us here at Dynamic Forces, www.dynamicforces.com/htmlfiles/, "LIKE" us on Facebook, www.facebook.com/dynamicforcesinc, and follow us on Twitter, www.twitter.com/dynamicforces.
---
NEW! 1. 10/21/2021 - JOE BENITEZ
3. 10/14/2021 - MATTHEW ROSENBERG
5. 10/07/2021 - CULLEN BUNN & HEATH AMODIO