JIM ZUB

SEND THIS TO A FRIEND!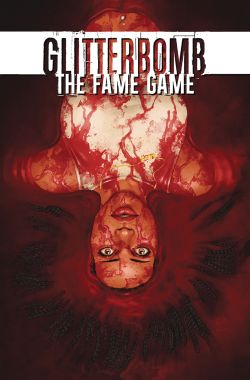 DF Interview: Jim Zub continues to explore fame & failure in Glitterbomb: The Fame Game
Byron Brewer
Kaydon Klay wants to be famous. She wants it more than anything else she's ever known. The dream is hers for the taking, and all she has to do is embrace the national tragedy that's put her in the spotlight!
Writer Jim Zub (Wayward, Uncanny Avengers) and artist Djibril Morissette-Phan (All-New Wolverine, Ultimates) continue their twisted exploration of fame and failure in a sequel mini-series from Image Comics, Glitterbomb: The Fame Game!
DF spoke with Jim Zub about this continuation of his fan-favorite comic.
Dynamic Forces: Jim, the finale of the previous Glitterbomb mini-series was so uncomfortably devastating that it reminded me of the shoot-'em-up years ago on TV's Dynasty, where you weren't sure who was left alive and didn't know where the series was going next season. How does your Hollywood mass murder figure into this new book?
Jim Zub: That horrific massacre is the starting gun to everything that happens in our second mini-series, The Fame Game. Hollywood has been rocked to its core by what Farrah did and it creates a media frenzy that pulls in Kaydon Klay, Farrah's former babysitter.
DF: So how does Kaydon cope with an event that may have put her in the national spotlight?
ZUB: In the first mini-series Kaydon made it clear that she wanted to be a celebrity and she's about to get her wish but, as you might expect, not at all the way she expects. Being famous for your skill as a performer/entertainer is very different from the kind of tragedy-spotlight Kaydon's been pulled into. The world wants to know her relationship to Farrah, to try and understand what drove her to commit such a destructive act.
DF: Fame and failure were certainly prevalent themes in Glitterbomb. Do those themes continue in this series (well, by the title I guess at least one does, laughs)? Is there anything of that fame and failure analysis reflective of a real person, someone who was your muse?
ZUB: Fame and failure are still at the heart of Glitterbomb, but we're focused on a different aspect of it. Someone young and naïve gaining notoriety for something she didn't "earn", a whirlwind of attention she's not at all ready for.
When I first thought of this second arc, I thought it would just be looking at celebrity from the perspective of someone young, but as I dug in I realized that the media was an intrinsic part of this story too. The relentless 24-hour news cycle's obsession with turning emotional turmoil into entertainment and ratings. It's fertile ground worth exploring, especially when it's amped up with our particular mix of supernatural horror-tragedy.
The Fame Game isn't built from one particular real person or story. It's an amalgamation of news stories, celebrity downward spirals, and my own frustrations splayed across the page.
DF: So what can you tell us about the storyline for The Fame Game?
ZUB: Kaydon Klay is the media's only link to Farrah Durante after a massacre that killed over 40 of Hollywood's best and brightest. She's going to get the fame she always wanted, but at a cost she never realized she'd have to pay, and the creature that haunted Farrah is close at hand to fan the flames of hate and destruction.
DF: Will we be seeing any of the old characters return?
ZUB: Absolutely. Isaac Rahal, the detective from the first mini-series, is wrapped up in this as well. Mitch Zhang, Cliff's former agent, has become Kaydon's agent, and he's looking for a way to maximize the attention being paid to his new client. Farrah's son Marty also has a role to play.
Also, Kaydon's mother is involved. She's struggling to understand what has happened and maintain some sense of normalcy in their lives, but that's not going to last long.
DF: Any interesting new characters coming in? If so, can you introduce them briefly? How do the insecurities, desires and fears of entertainment affect their lives?
ZUB: We're going to get a glimpse at Kaydon's life in high school and there's a friend of hers there named Martina who wants to be as close to Kaydon as possible now that she's in the news and people on the street recognize her.
Chelsie Megs is an entertainment reporter looking for an exclusive scoop with Kaydon. She takes some risks to make that happen and it'll have repercussions for everyone involved.
DF: How does it feel to be re-teamed with artist Djibril Morissette-Phan for this second Glitterbomb go-round? BTW, how did you guys happen to come together for the first mini-series anyway?
ZUB: I feel so fortunate that we have the whole team back again for the second mini-series. Djibril on line art, K. Michael Russell on colors, Marshall Dillon lettering, and Holly Raychelle Hughes writing back matter essays about Hollywood. It's such a pleasure to work with this team. I feel like we're all growing together, building our skills with each issue.
I met Djibril at Montreal Comicon back in 2015. Marguerite Sauvage, a wonderful artist friend of mine, introduced us and I could immediately see that Djibril was a diamond in the rough. He's young but has storytelling and drafting skills are well beyond his years and I jumped at the chance to assemble a pitch with him and take it to Image. Eric Stephenson, Image's Publisher, saw the potential in Djibril's stunning artwork as well and we were off to the races.
DF: Jim, what are you working on now and what's coming up in the near-future you can tell us about?
ZUB: In addition to Glitterbomb: The Fame Game, I'm still writing Wayward for Image, Dungeons & Dragons for IDW, and Uncanny Avengers at Marvel. Lots of fun projects I'm so proud to be a part of.
Dynamic Forces would like to thank Jim Zub for taking time out of his busy schedule to answer our questions. Glitterbomb: The Fame Game #1 from Image Comics hits stores Sept. 20th!
For more news and up-to-date announcements, join us here at Dynamic Forces, www.dynamicforces.com/htmlfiles/, "LIKE" us on Facebook, www.facebook.com/dynamicforcesinc, and follow us on Twitter, www.twitter.com/dynamicforces.
PATHFINDER VOL. 1: DARK WATERS RISING HC - SIGNED BY JIM ZUB
PATHFINDER VOL. 1: DARK WATERS RISING TRADE PAPERBACK
RED SONJA: TRAVELS VOL. 2 TRADE PAPERBACK
PATHFINDER VOL. 2: OF TOOTH AND CLAW HC
---
NEW! 1. 11/30/2020 - SKYLAR PATRIDGE
5. 11/16/2020 - RYAN O'SULLIVAN