SKOTTIE YOUNG & AARON CONLEY

SEND THIS TO A FRIEND!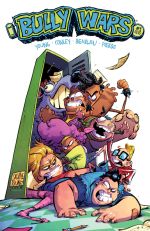 DF Interview: Skottie Young & Aaron Conley declare Bully Wars
By Byron Brewer
Rufus, the biggest bully in Rottenville since kindergarten, suddenly goes from bully to bullied on the first day of high school. He's forced to make a shaky pact with his favorite geeks: Spencer and his twin sibling besties, Edith and Ernie. Together they'll have to find a way to survive the Hunger Games-like contest known simply as the Bully Wars – where the winner will rule the school!
I Hate Fairyland and Deadpool writer Skottie Young and artist Aaron Conley (Sabertooth Swordsman, Rocket Raccoon & Groot) team up for Bully Wars, a hilarious all-new, all-ages series from Image Comics.
DF definitely wanted to get the full 411, so we unstuffed outta the lockers creators Young and Conley. Here's what they told us after we gave 'em a couple of swirlies.
Dynamic Forces: Skottie and Aaron, give us your take on the issue of bullying, which has been around as long or longer than public schools, and seems to be reaching a fever pitch today, even extending to the internet.
Aaron Conley: Phew, that's a tough one. I don't support bullying in any way, obviously. I do, however, think that at times everyone can be a bit of a bully when they don't even mean to be. We can't be perfect all of the time, all you can do is to try and be present and empathetic, and put more love out there than hate.
Skottie Young: Yeah, I agree with Aaron. I think bullying sucks and as a parent, it's my worst fear. But I also remember it being a slippery slope when you're a kid. Bullying exists in ways we don't even realize when you're a kid, whether it's at school or at home with your siblings or even between parents and kids. But yeah, that's a big question and hard to unpack sometimes. Like I said, as a parent, I think about it a lot.
DF: Were you guys nerds or bullies in school? Did any of your personal experiences find their way into this great comic?
Aaron Conley: I was into comics and drawing them, so I was definitely a nerd. I would say Spencer's room is a lot like mine as a teen, maybe still.
Skottie Young: I was a basketball player early on, so a bit of jock on the surface. But I drew, read Archie and Mad Magazine and listened to music non-stop, so I was nerd at heart. Later in life, I traded in my basketball for a skateboard and went full comic kid. So ultimately, I embraced my inner nerd.
I think the thing I've put in here from my experience is how you can find friendships with all kids in different places and on different sides of the line that you think you will. Life is unpredictable and people can change. That's something I've seen in my life, for sure.
DF: There seems to be quite an '80s vibe in this series. Am I mistaken?
Aaron Conley: I'm a huge fan of the drippy, gross, Ninja Turtle, slimy, Madball, garbage pail '80s, so I think a good helping of that always shows up in my work. However, Spencer has a modern computer and there are things flowing all around in the book from the last 40 years, I just kind of pick what desks, school buses or shoes I like best and throw them in there. Hopefully on some level it gives it a bit of a timeless feel.
Skottie Young: You're not wrong there. Aaron and I both grew up in the time. I didn't specifically write any time period, but I think the themes show up a lot in '80s movies and Aaron threw a lot of cool flavor from that era in there. Hopefully it's a nice blend of modern and throwback and is timeless in the end.
DF: What can both of you tell me about this little world that is being built here in Bully Wars?
Aaron Conley: Skottie has left the world pretty open for me so I have room to throw a lot of crazy stuff in there, stuff you wouldn't see in your normal high school drama. Rottenville isn't disgusting, but it has a lot of cracks, rotting pipes, and weirdies lurking in every corner, so keep an eye out!
Skottie Young: Yeah, I think visually. I write with visuals in mind. And Aaron's artistic interpretations of things are always so fun that I suggest more than I dictate. I want to see where his brain is and let him build that world
DF: Skottie, can you introduce the cast of characters to our readers please? Maybe tell us a little about them?
Skottie Young: Haha. Well, I'll give a bit, but it's more fun for you to get to know them in the book!
Rufus is our main bully. He wants to rule high school like he has elementary and middle school. But he has to face some hard truths on the first day. it's not as easy as just wanting it.
Spencer is our pro active kid. He doesn't want to spend four more years getting bullied so he's studied everyone and has a plan to defend himself. Like Rufus, his plans don't work out exactly how he thought they would.
Edith and Ernie are twins and Spencer's best friends. Edith is the strong-willed type, not afraid to put you in your place, and Ernie is a bit of a goofball. We wanted to show that it's not about being "nerdy." All types can get bullied. But most of all, we wanted to show characters who have learned to stand up for themselves.
DF: Aaron, did you do all the character designs for Bully Wars? If so, tell me, is there a character and/or set piece that has been your favorite … OR your biggest challenge?
Aaron Conley: Yep, I designed everything in Bully Wars. I was sending Skottie stuff every day for a while there, and he would shoot out little ideas and suggestions, but they are all by my hand. I just got comp copies for #1 in the mail and I'm pretty proud of the whole end sequence of that issue, where Rufus is in the bathroom. I think the biggest struggle of the book is that Skottie likes to write like I like to draw and that's by cramming a lot of funny in there, so the struggle for me is about filling those panels with fun visuals, but also making sure I'm telling Skottie's story clearly, and leaving room for all the hilarious dialogue that Skottie loves to throw down. There have honestly been parts where I was cracking up as I was drawing.
DF: Skottie, you said you do have kids. Can you share any of their stories of bullying in school today? Did any of these find their way into your material somehow?
Skottie Young: I have two kids, but only one is school age. He just started third grade. Honestly, I'm just now at the place where I'm trying to keep my eyes out for it. I want to give my son the space to learn and live and grow, but also make sure that he's OK. It's an interesting balance. You want your kid to be liked and to feel safe and have fun. But you also have to loosen up on the leash. It's tough balancing. I have NO answers on this.
DF: Aaron and Skottie, tell readers about some of the other projects you may be involved with, now or in the near-future.
Aaron Conley: Well Skottie and I did an issue of Rocket Raccoon and Groot together that you can seek out. That was a bit of the beginnings of Bully Wars. I did a graphic novel a few years back that is still available from Dark Horse called Sabertooth Swordsman, and I have a whole second Sabertooth book laid out that should see the light of day at some point. However, Bully Wars is looking like its gonna be around for a little while, so all of my love is going into that for a good bit of the future!
Skottie Young: I just wrapped up my 20-issue run on my Image comic, I Hate Fairyland. And on top of Bully Wars, I'm launching Middlewest in November with artist Jorge Corona. It's a story of a boy named Abel who goes on a journey through a magical-like midwest landscape to escape the monster that is his father, and try to keep from becoming the monster he fears is inside him. You know, real light stuff. Haha! Oh, and I write that Deadpool guy with Nic Klein and Scott Hepburn on art.
Dynamic Forces would like to thank Skottie Young & Aaron Conley for taking time out of their busy schedules to answer our questions. Bully Wars #1 from Image Comics hits stores Sept. 5th!
For more news and up-to-date announcements, join us here at Dynamic Forces, www.dynamicforces.com/htmlfiles/, "LIKE" us on Facebook, www.facebook.com/dynamicforcesinc, and follow us on Twitter, www.twitter.com/dynamicforces.
DEADPOOL #1 RARE RETAILER VARIANT BY SKOTTIE YOUNG!
VENOMIZED #1 RARE SKOTTIE YOUNG VARIANT!
INFINITY GAUNTLET #1 SKOTTIE YOUNG VARIANT!
SPIDER-GWEN #1 FIRST PRINTING RETAILER INCENTIVE BY SKOTTIE YOUNG!
STAR WARS: PRINCESS LEIA #1 SKOTTIE YOUNG RETAILER VARIANT SIGNED BY SKOTTIE YOUNG!
STAR WARS: DARTH VADER #1 SKOTTIE YOUNG RETAILER VARIANT SIGNED BY SKOTTIE YOUNG!
SPIDER-MAN 2099 #1 SKOTTIE YOUNG VARIANT GOLD SIGNATURE SERIES SIGNED BY PETER DAVID!
DEATH OF WOLVERINE #1 SKOTTIE YOUNG RETAILER INCENTIVE VARIANT CGC GRADED 9.8!
ROCKET RACCOON #1 - SKOTTIE YOUNG RETAILER VARIANT COVER SIGNED BY SKOTTIE YOUNG!
ELEKTRA #1 RARE RETAILER VARIANT COVER BY SKOTTIE YOUNG CGC GRADED 9.8!
AMAZING SPIDER-MAN #1 RARE RETAILER VARIANT COVER BY SKOTTIE YOUNG CGC GRADED 9.8!
PUNISHER #1 SKOTTIE YOUNG RETAILER INCENTIVE COVER SIGNED BY JOHN ROMITA SR!
---
NEW! 1. 11/25/2020 - STEVE SKROCE
4. 11/16/2020 - RYAN O'SULLIVAN
5. 11/16/2020 - RYAN O'SULLIVAN