TONY S. DANIEL

SEND THIS TO A FRIEND!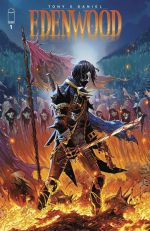 DF Interview: Tony S. Daniel launches new war-torn fantasy epic, 'Edenwood'
By Byron Brewer
An eons-long series of multiversal wars between demons and witches has found Earth as its latest and final battleground. The battle pits Necronema, the ever-expanding demonic land that supplanted the Midwest 20 years ago, against Edenwood, the witchcraft-controlled land that acts as a barrier against the war zone and the rest of the U.S. Rion, a young Demon Hunter, is thrust into the role of hero and leader after defeating a magical demon called a Gather, a transient demon with the power to cross any barrier or dimension.
Summoned by the Witch War Council, Rion must assemble an elite team of Demon Hunters tasked with annihilating a list of targets within the demon-controlled lands. The men and women he selects happen to be the most famous and revered Demon Hunters of all time, dating back to the 1700s.
I sat down with artist/writer Tony S. Daniel to discuss this expansive adventure mag.
Byron Brewer: Tony, what can you tell readers of the inspiration, your muse for your latest comic, Edenwood? Certainly sounds like an epic long-story mag, so I am glad it is an ongoing.
Tony S. Daniel: My inspiration comes mainly from what I would want to read as an enthusiast for fantasy and action with lots of interesting characters I can get lost into. I loved the TV show Lost when it came out. So though my story isn't anything like Lost I will have flashbacks with the characters and what Edenwood brought to them. The story really takes its time setting things up, a different approach than a cut and dry five issue limited story would be. It's a freeing feeling to not feel that I have to cram the whole story into the first 20 pages. So this being an ongoing series, I have a vision where this all leads and ends in the future even if I haven't written those issues yet. It will be fun for me to weave in and out along the way with Rion, the central character, and his friends and even his foes sometimes.
Byron: I know this war-torn saga has existed on many planes, but in this first arc Earth seems its prime battleground. Tell readers what you can about Edenwood vs. Necronema, its history and its participants,
Tony S. Daniel: About three years ago, right before I tag-teamed with Scott Snyder to create what became Nocterra, I had this concept that I started developing, and this concept of a war on an epic level, a very large scale, but with fantasy and witchcraft and demons fighting to conquer each other but here on Earth, in the Midwest in particular, in a magical place called Edenwood.
The main takeaway for the battle being fought is that Necronema is a stronghold of the Demon Kings (there are multiple). They spread from different planes and planets, conquering and taking over lands and people. Necronema is well-hidden inside Edenwood. Paths that previous soldiers have taken to get there have lead them to death, or just a Lost Place. I have a backstory of one of the witches which explains how Necronema picked Earth as its latest conquest – that was one of my earliest concepts actually, so I'm looking forward to putting that on paper. We'll learn that witches have always fought off the demons here on Earth, but obviously not on such a large scale. This is full-scale invasion but the story isn't a traditional war story in that sense. It's not going to be an All Quiet on the Western Front-type of story, though we'll have our share of battle scenes for sure. The story of Rion and his Demon Killer friends takes place within the backdrop of this massive war. Their best chance for survival is to stay out of the fray if they can avoid it and to somehow find their way to Necronema, which is their mission.
Byron: Introduce us to Rion: who he was, who he has become around the time we meet him, and where it seems fate may be taking him.
Tony S. Daniel: Rion is a bit of an outcast when we meet him for the first time, he's an unlikely hero with his bruises and bandages from being beat up by his fellow classmates. We see his journey start in the first issue and we actually see he is a brave kid. Or maybe a bit reckless. In any event, he's put himself on a collision course with his destiny where he has to adapt or die. This series' theme is all about choosing your paths, and how one change in path can have significant life-changing consequences. I made a wrong turn 20-something years ago when I was driving, that's how I met my wife. So Rion and his friends don't have crystal balls, they go with instinct, or by mistake, like we all do in life. But in Edenwood, every path leads to someplace else. I don't want to give away too much here.
Byron: Can you please spotlight some of the many interesting characters that we may encounter herein – if not in the first issue, perhaps in this first arc?
Tony S. Daniel: In the first issue, we meet much of the main cast. Rion, of course. His girlfriend, Adelai, who goes missing in Edenwood and sets off this whole adventure. Their friends, Lexington ( a girl from Wales), Pea Wee Meeks, Yoli, Chum, Rion's best friend, and Elias, Adelai's brother,who's somewhat of an adversary to Rion. We'll have other characters we'll meet in issue #2 and beyond from the Witch War Council. We have representatives from the U.S. government who are working with the WWC and special task force military members. There'll be members of the DKU, Demon Killer Ultra program which prepares citizens to become soldiers inside Edenwood. So there will be a few Demon Killers on this side of Edenwood protecting the borders against demon incursions. They'll be fun and brutal to draw and write.
Byron: Talk a little, if you can, about Rion's mission in this arc as presented to him by the Witch War Council. What is this august body?
Tony S. Daniel: Rion will be tasked with going inside Edenwood to lead an elite task force of Demon Killers in search of the path to Necronema and to overthrow the Demon Kings. Along the way, he must locate missing Demon Killers who have gotten lost in Edenwood and could prove very valuable to his mission. So lots of fun characters we'll meet along the way.
Byron: Without spoilers, can you name a few adventures that will be forthcoming in future chapters of Edenwood, even if by title or description?
Tony S. Daniel: Ha ha, that's a bit hard for me not to spoil as each adventure means they finished the one before them. But I can say that the first arc has a lot to do with finding his eventual team within Edenwood that he'll ride or die with. And there will be lots of dying along the way.
Byron: I always ask this of creators who become the majority of a creative team, like yourself as writer/artist here: Did Artist Daniel have any trouble with the creativity of what Writer Daniel originally wanted? Did Writer Daniel change any legs of story after seeing the epic pages by Artist Daniel? (The pleasures AND pitfalls of self-collaboration.)
Tony S. Daniel: I think for me it's all part of the same creative energy output coming from my brain. So when I'm thinking of it in my head, I'm actually seeing it on the page. And then I try to get the images on paper as best I can to match what my mind envisioned. The trouble really is what it has always been: time. This book has deadlines, and I have to stay on top of these so that means I can't spend a week on a two page spread, although that might be what it takes to really get the image out of my head. I have picked my moments when to really go all out and keep that schedule in mind, and understand I can't be a perfectionist. Because the perfectionist will never get the book out on time.
So I do the best I can to be aware of that. I make sure to remind myself why I chose to do this book, what my priorities were when I decided to do this. And the main thing I wanted for myself was to have fun. Copious amounts of it. I want to go BIG. I want fun and crazy characters that are exciting for me and the reader to get into and love or hate it. And I didn't want to worry about Hollywood. I didn't want to limit my ideas to whether or not this would make a great streaming show or movie. This is our movie, this is our show, and I'm the director, the actors, the set designer. This is all I need.
Byron: Tony, what other projects in which you are involved can you tell readers about?
Tony S. Daniel: Edenwood will have me all booked up for the next couple of years at least. It's an ongoing series and I hope to continue this as long as the readers support it. I love working on this story and I have so many other characters and the storylines are endless with what I've created in Edenwood that I can see this going for quite a long time. That's my dream, so I'm happy to keep living it.
Dynamic Forces would like to thank Tony S. Daniel for taking time out of his busy schedule to answer our questions. Edenwood #1 from Image Comics is slated to be on sale September 27th!
For more news and up-to-date announcements, join us here at Dynamic Forces, www.dynamicforces.com/htmlfiles/, "LIKE" us on Facebook, www.facebook.com/dynamicforcesinc, and follow us on Twitter, www.twitter.com/dynamicforces.
---
NEW! 1. 12/05/2023 - JASON LOO
5. 11/08/2023 - OLIVIA CUARTERO-BRIGGS