IAN BOOTHBY & GISELE LAGACE

SEND THIS TO A FRIEND!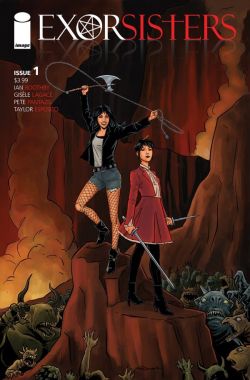 DF Interview: Ian Boothby & Gisele Lagace summon ExorSisters for fall
By Byron Brewer
Did you sign a deal with the Devil? Has your fiancé been dragged to Hell? Then Kate and Cate Harrow should be the first ones you call for timely soul retrieval at a reasonable rate! But why are these identical twins so different? Is there a darker secret?
Eisner Award-winning writer Ian Boothby (The Simpsons, MAD Magazine) teams up with artist Gisele Lagace (Ménage à 3, Archie Meets Ramones, Jem & the Holograms, Betty Boop) for an all-new ongoing series – ExorSisters – launching from Image Comics this October.
DF caught up with the dynamic duo (Ian and Gisele, not Kate and Cate) and sat down for a chat about the book.
Dynamic Forces: Ian & Gisele, what can you tell readers about how this new series ExorSisters came to be? Is it something that has been simmering in the cauldron of your minds for awhile?
Ian Boothby: I've always enjoyed horror and comedy mixed together like in Evil Dead 2, Ghostbusters or The Frighteners. I'd just seen a movie that ended with demons winning and it didn't sit right. This is among other things an answer to that. Evil to me isn't clever or original, it's small-minded. Like mobsters who when they saw The Godfather started acting like characters in the book and movie, in our world demons have based themselves on the ideas people have come up with of them. They want us to suffer and feed off our pain but have no creativity and Cate and Kate use that to their advantage to hopefully put things right.
Gisele Lagace: I've been wanting to collaborate with Ian on a project for some time. When Ian gave me the pitch for ExorSisters, I fell in love immediately, and knew it would be my next big project. I'm glad it worked out 'cause bringing ExorSisters to life with comics is a lot of fun.
DF: Ian, the title sounds foreboding, but this actually (from what I have been able to see) looks like it will be a fun book as well. Is this horror, high-jinks or a hybrid of both?
Ian Boothby: It's two sisters who have literally been through Hell dealing with what happened to them by trying to help others. It's about redemption and deception, there's even a lie in the title of the book and my previous sentence.
DF: What is the first storyline for this ongoing? What can you tell readers to whet their appetites for ExorSisters?
Ian Boothby: We start with a day in the life of Cate and Kate Harrow, showing how their job works, solving a mystery both on Earth and in Hell while trying to save a soul. They seem like opposites: Cate does things in a straightforward, organized way and Kate on the surface appears to be a hot mess. Both are dealing with the past in their own way, from trying to control all aspects of their lives to getting blackout drunk on a regular basis.
DF: What other characters are important to this series?
Ian Boothby: Mothers, damned ex-boyfriends, fallen angels and a discarded part of God show up in the first story arc causing trouble. Oh, and there's a demon from the lake of fire that lives in a fish tank of flames on Kate's desk.
DF: Gisele, I know you best from your incredible work on Dynamite's Betty Boop. You truly brought that '30s toon into the comic book pages, atmosphere and all. What challenges do you face here in ExorSisters?
Gisele Lagace: Glad you liked Betty Boop. That was a fun project. As for your question, creating a new world is always a challenge since everything is new. As you create new characters, you have to build a wardrobe for them. It's not as easy as one might think. The world they live in needs to be set. Based on personality, you have to figure out what they'd drive as a car, for instance. It's a whole bunch of stuff like that you have to think about. With ExorSisters, I think my biggest challenge will be to always come up with fun designs for the demons and monsters that will show up in these stories. It's a challenge I'm looking forward to, though, so bring it on!
DF: Sidebar: Ian, what did you think of Simpsons Comics ending, one of the longest-running comic books that has never been renumbered, in publication since 1993? I know you have had a bit of history with the toon family.
Ian Boothby: Working at Bongo changed my life, was a constant for most of my career in comics and gave me too many amazing experiences to mention. I worked for Matt Groening whose comic strip Life in Hell was a huge inspiration. I got to jam with Sergio Aragones, do a comic with my wife Pia Guerra, crossover The Simpsons with Futurama for the first time with James Lloyd and win an Eisner for my short story with Nina Matsumoto who I now do the Sparks! books with for Scholastic's Graphix line.
DF: Any other projects, in or out of comics, that you can tell readers about?
Ian Boothby: As I mentioned above, I just did a book with Nina Matsumoto called Sparks! for Scholastic's Graphix line about two cats that want to be heroes but no one takes cats seriously as heroes so they dress up as a dog in a robotic suit and save the world from an evil alien baby. We're working on the next one now.
Gisele Lagace: Other than ExorSisters, I'm still working on completing two ongoing webcomics I produce: Ménage à 3 and Sticky Dilly Buns. Both should be complete early 2019. Udon has started to release Ma3 as new 2-in-1 editions, so the property is finding new fans in bookstores. Up to now, I had focused on self-publishing my own editions using Kickstarter to fund the printing. I don't know what's in store yet in regards to webcomics once I'm done with those, but I'm sure I'll figure it out. I tend to keep pretty busy. (smiles)
Dynamic Forces would like to thank Ian Boothby and Gisele Lagace for taking time out of their busy schedules to answer our questions. ExorSisters #1 from Image Comics hits stores Oct. 17th!
For more news and up-to-date announcements, join us here at Dynamic Forces, www.dynamicforces.com/htmlfiles/, "LIKE" us on Facebook, www.facebook.com/dynamicforcesinc, and follow us on Twitter, www.twitter.com/dynamicforces.
---
NEW! 1. 11/28/2023 - CULLEN BUNN
4. 11/08/2023 - OLIVIA CUARTERO-BRIGGS
5. 11/02/2023 - ETHAN SACKS & NAOMI SACKS