JIM ZUB

SEND THIS TO A FRIEND!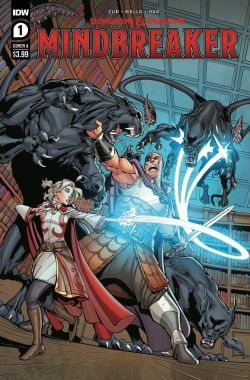 DF Interview: Jim Zub mini 'Dungeons & Dragons: Mindbreaker' packed with action and adventure, also acts as prelude to coming video game
By Byron Brewer
Changed by their experiences in Avernus, Krydle, Shandie, Delina, Nerys, Minsc, and Boo return home to Baldur's Gate to find that something much more insidious has taken root... what could be behind the odd behavior of the Head Librarian of the Knowledge-Hold?
From writer Jim Zub and artist Eduardo Mello comes Dungeons & Dragons: Mindbreaker, a five-issue mini-series which both updates the adventures of Zub's usual D&D suspects and also serves as a prelude to the much-anticipated video game, Baldur's Gate III! An old D&D hand from waaay back, I got in touch with scribe Jim Zub and we chatted about the coming book.
Byron Brewer: Jim, what you as a writer have done with the Dungeons & Dragons franchise in comics is becoming as iconic as the role playing and video games themselves. Before we deep dive into your latest D&D outing, recount a little about how you came to write these D&D comics in general, and the Baldur's Gate chapters in particular.
Jim Zub: I appreciate the high praise but, given how huge D&D is right now, bigger than it's ever been, I'm just doing my best to hold onto the rocket just as much as everyone else. It's a thrill to be able to contribute to the lore and characters of my favorite game and hobby.
Back in 2014 I was plugging away on the Samurai Jack comic series for IDW and it was going really well. Ted Adams, who owned IDW at that point, stopped by my table to see me. He told me how Jack was one of his favorite books they were publishing at that point and that he wanted me to write more books for IDW. He asked what properties they had that I was interested in and immediately I told him it would be great to bring Dungeons & Dragons comics back. A new edition of D&D was going to launch that Fall and I was definitely interested in launching a D&D comic if we could do it right around the same time as the fifth edition game launch.
Ted and John Barber set up a conference call and we hashed out the details with Wizards of the Coast. After the reps at WotC checked out Skullkickers and enjoyed the irreverent air it had, they had the idea that I should set the series in Baldur's Gate and find a way to bring back Minsc and Boo, fan favorite characters from the video game series. That got the whole thing rolling.
Since then, I've written five D&D mini-series and co-written two Rick and Morty crossovers and the Stranger Things and D&D mini-series as well. It's been such a fun ride working with the teams at IDW and WotC.
Byron: That brings us to Dungeons & Dragons: Mindbreaker, your five-issue comic mini-series from IDW Publishing with events that lead into Baldur's Gate III, the highly-anticipated video game. What is our general storyline here with this mini, and does it tie into your other Baldur's Gate tales?
Zub: In terms of the overall storyline, it's the sixth D&D mini-series with the Baldur's Gate heroes, continuing the plotlines and characters established in the previous minis, but it also foreshadows dark forces to come in the new Baldur's Gate III video game at the same time.
Since the BG3 trailer has shown it already, it's not a spoiler to say that mind flayers are an important part of the upcoming game and they're causing chaos here in Mindbreaker as well.
Byron: What adventurers are among your protagonists for Mindbreaker?
Zub: The Baldur's Gate heroes in this mini-series are Minsc, the brain-rattled Ranger and his loyal hamster companion Boo, Krydle and Shandie, a pair of trouble-making Rogues, Nerys, a death Cleric, and Delina, a Wild Mage. It's an eclectic crew that doesn't follow the typical balanced party that's been used in a lot of past D&D stories because I wanted a weirdly balanced crew that reflected the kinds of adventuring groups I see when I play the tabletop game.
Byron: Will readers see any of your regular crew changed by their experiences in Avernus... or is that "too continuity" for this mini-series? If not, how have some changed?
Zub: The Avernus adventure our heroes survived in Infernal Tides has definitely left its mark upon our heroes and that will be referenced in ways that nods back to our previous mini-series without leaving new readers confused. Every good story arc should give readers all the info they need to appreciate what's gone on before and that's definitely the case here.
At the end of Infernal Tides, Krydle accepted a devil's pact and that is weighing heavy on his mind and soul. At the same time, Minsc's memory was almost wiped clean by the waters of the River Styx and he's rediscovering all kinds of things he doesn't remember anymore. Mix in other tethers and obligations for Delina and Nerys, and Mindbreaker really does feel like an ongoing campaign full of drama and complications.
Byron: So, in a non-spoilery way, can you tell readers wassup back home for Minsc & Co.? Why is the Head Librarian of the Knowledge-Hold behaving so… oddly?
Zub: In a non-spoilery way, there are forces maneuvering behind the scenes in Baldur's Gate, moving people like chess pieces and setting up their machinations. Our heroes have been away from the city long enough that they haven't been caught up in it all…until now. The events taking place at the Knowledge-Hold are just one piece of the bigger puzzle.
Byron: Talk a little about the pulse-pounding art of Eduardo Mello and why it is good for our D&D bunch of wanderers.
Zub: Eduardo's work hits a perfect balance that feels really animated, but doesn't sacrifice any detail. His characters are big and boisterous, but the environments are really rich and bring the city alive. I'm having a blast working with him and know readers are going to love what he's putting together for the series.
Byron: If you would, Jim, can you give us a little clue into what will be happening with Dungeons & Dragons' Baldur's Gate III and anything you are allowed to mention about what threads from Mindbreaker will extend into the coming D&D video game?
Zub: I'm sworn to keep my lips zipped on the deeper secrets of Baldur's Gate III but, just based on the Early Access version of the game already available, I can say that the powers of the Absolute and their True Soul followers are frighteningly potent. The city of Baldur's Gate has endured many trials before, but this threat is dangerous in jaw-dropping ways that I know players are going to freak out about.
Byron: What else can you tell readers about coming projects in which you might be involved?
Zub: Mindbreaker isn't the only D&D I have on deck. I'm developing another book in the D&D Young Adventurer's Guide series, but the specific title won't be revealed until later. I also have other consulting and writing work I'm doing for D&D at WotC.
On the comic front, the 25th issue of Conan the Barbarian is also Legacy #300 so we have a big anniversary issue arriving in September. Tech-On Avengers runs through the Fall and into Winter, and World of Darkness: Crimson Thaw is a three-issue event I'm co-writing at Vault based on the popular Vampire: The Masquerade tabletop RPG.
Good times all around. Lots of fun stuff in the pipeline.
Dynamic Forces would like to thank Jim Zub for taking time out of his busy schedule to answer our questions. Dungeons & Dragons: Mindbreaker #1 from IDW Publishing is slated to be on sale October 20th!
For more news and up-to-date announcements, join us here at Dynamic Forces, www.dynamicforces.com/htmlfiles/, "LIKE" us on Facebook, www.facebook.com/dynamicforcesinc, and follow us on Twitter, www.twitter.com/dynamicforces.
PATHFINDER VOL. 1: DARK WATERS RISING HC - SIGNED BY JIM ZUB
PATHFINDER VOL. 3: CITY OF SECRETS TRADE PAPERBACK
PATHFINDER VOL.2: OF TOOTH & CLAW TRADE PAPERBACK
PATHFINDER VOL. 1: DARK WATERS RISING TRADE PAPERBACK
PATHFINDER VOL. 3: CITY OF SECRETS HARDCOVER
RED SONJA: TRAVELS VOL. 2 TRADE PAPERBACK
PATHFINDER VOL. 2: OF TOOTH AND CLAW HC
---
NEW! 1. 02/10/2022 - SIMON SPURRIER
4. 01/31/2022 - TIM SEELEY & AARON CAMPBELL
5. 01/27/2022 - TYLER BURTON SMITH