CHRISTA FAUST

SEND THIS TO A FRIEND!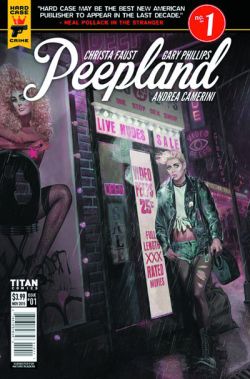 DF Interview: Crime author Christa Faust makes her comics debut in Titan's neo-noir Peepland
By Byron Brewer
Times Square, 1986: the home of New York's red light district where strip clubs, porno theatres and petty crime prevails.

When a chance encounter for Peepbooth worker Roxy Bell leads to the brutal murder of a public access pornographer, the erotic performer and her punk rock ex-partner Nick Zero soon find themselves under fire from criminals, cops, and the city elite, as they begin to untangle a complex web of corruption leading right to city hall.
Wanna know more? Us too, so DF sat down with crime novelist and Peepland co-writer (with Gary Phillips) Christa Faust.
Dynamic Forces: Christa, I believe this is your first foray into the world of comic books. You are certainly starting off with the proverbial bang, in Titan Comics' new Hard Case Crime line. I hear Peepland has been five years in the making for you?
Christa Faust: Yeah, this is my first time, so be gentle.
Back when I first conceived the idea for Peepland, I was thinking of pitching it as a TV series and had written a pilot script. Oddly enough, it was originally called The Deuce, but as we all know, that title was later snapped by someone much more famous and talented than me. Anyway, in the end it turns out that Peepland is a more evocative and appropriate title, so I'm not at all sorry I had to make that change. And I personally can't wait to see how the other Deuce turned out.
When I first considered going the comic book route instead, I started bugging my friend Gary Phillips for advice, because he knows that world much better than I do. The more we talked about it, the clearer it became that he would be the perfect person to collaborate with on something like this.
We tossed around some ideas about where to pitch the project but nothing seemed quite right and we were both so busy with other projects. Then, when Charles Ardai approached me about his plan for a Hard Case Crime comics line, it was like some crazy kinda noir destiny. Ardai's a crackerjack editor and has worked with me on what I consider my best fiction to date, so needless to say he didn't have to ask twice.
DF: Peepland also seems to be, as you explain it, "the most personal and autobiographical thing I've ever written." Tell us about that.
Christa Faust: I grew up in Hell's Kitchen, on 45th and 9th just two blocks west of Times Square, so that setting is deeply personal to me. I'd always wanted to write about my time working in the peep booths in the late 80s, because I had never seen that environment portrayed in a way that accurately reflected and resonated with my own experience. I wanted to share all the little mundane details, like the way the yuppies would flip their tie up over their shoulder so it wouldn't get stained or how we'd use folded slips of paper stuck through the loose window frames inside the booths to sneak extra tips from the clients. To portray the daily grind and all the quirky characters. Many of the characters in the series are based on real people I met back then, including legendary Times Square sleaze fixtures like Ugly George and Al Goldstein, and even a young Donald Trump. I know older New Yorkers like me will get a kick out of all the little references and in-jokes.
DF: This project is very personal for you, it seems. How is it working with another writer, Gary Phillips, on the series? What has this tag team partnership meant to you?
Christa Faust: While it's true that he is a West Coast guy, Gary and I are close to the same age and so he remembers a lot of the same things that influenced and inspired me growing up. Like the famous Central Park "Wilding" case, in which four black teenagers and one Hispanic kid were railroaded for a brutal attack on a white female jogger that they didn't commit, from which Peepland borrows heavily. Plus, a lot of his previous work deals with the same themes that I wanted to explore, such as gentrification and corruption. Add in the fact that he's really good at writing comic scripts while I didn't have the first clue how to make funnybooks before I got my ass thrown in the deep end. We just clicked and filled in each other's blanks so we ended up with a much better story than either one of us could have created alone. I like to say that he's the crafty veteran while I'm the mouthy, impulsive rookie and together we make a great tag team. I never could have done something like this without him.
DF: Peepland is described as a neo-noir saga with a punk edge. What can you tell us about the storyline of this limited series and its characters? Is there a POV character that readers might recognize as Christa Faust?
Christa Faust: A free-roaming public access pornographer inadvertently captures a high profile murder on video and hides the VHS tape in scrappy punk protagonist Roxy Bell's peep booth just minutes before his death. She has to reunite with her ex-boyfriend, punk guitar player and grindhouse theater usher Nick Zero, to get to the bottom of the case, but when her best friend and fellow peep girl Aiesha Nichols' teenage son is framed for the murder, things get personal. Their stories intertwine with corrupt cops, a baby butch lesbian headed down the wrong path in life, a theater queen dying of AIDS and a mysterious Haitian janitor with a dark past. Not to mention the unscrupulous real estate developer with a hard on to "clean up" Times Square and, of course, make a killing in the process.
Roxy is obviously the character most like teenage me in a lot of little ways. She's a tomboy working in an ultra-feminine job and trying to figure out her own sexual identity. Like her, I lost an "uncle" (in my case a close family friend rather than a biological relative) to the AIDS epidemic of the 1980s. But the way in which this project feels most autobiographical to me is in the setting. New York in the late 80s, specifically Times Square, is in my DNA. Those seedy, sleaze streets are like a part of me.
The whole point of this particular story was to share my memories and experiences from that place and time. So many young people have only ever known the Disney-fied, Starbucks-infested, gentrified outdoor mall version of Times Square. This series is like a love letter to my New York City, the city that raised me and made me the person that I am today. This is a story that couldn't have been set in any other time or any other city.
DF: Speaking of those Time Square memories, how as writer would you say artist Andrea Camerini has done in portraying on the comic page the world you are trying to exhibit, a world you yourself were part of?
Christa Faust: Andrea has been a dream to work with, even though I can't say the same for myself. He's amazingly patient with my obsessive, control-freak nit-picking and attention to every tiny period detail. He even put up with my terrible drawing skills in the goofy diagrams I created to show him the actual layout of the place I worked and how the booths operate.
We had our choice of some really amazing, talented artists, any one of whom could have done a bang up job, but the reason I ultimately wanted to go with Andrea was his gritty, realistic city streets. Other artists could do cool, atmospheric, film noir style street scenes, but I didn't want everything to look abstract and set-like. I wanted real streets. Specifically 80s New York streets. Andrea delivered that, in spades.
DF: You have a novel character named Angel Dare, a former porn star. Is there any character in Peepland reminiscent of Angel?
Christa Faust: No. Angel is an LA woman, by way of a rough start on the South Side of Chicago. Also, she was all about the spandex and Aqua Net back in the 80s. Anyway, she's got her own third book in the works, so she could sit this one out.
DF: Christa, what other projects in or outside comics current or near-future might you be working on?
Christa Faust: That book I just mentioned, the third Angel Dare book, has completely eaten my life for the past two years. It's called The Get Off, and it's set in the world of rodeo bullfighters. I spent a lot of time following those guys on their rounds and getting to know them and their world, something about which I knew less than nothing when I started. It's set to be published by Hard Case, assuming I ever finish the damn thing.
Dynamic Forces would like to thank Christa Faust for taking time out of her busy schedule to answer our questions. Peepland #1 from Titan Comics hits stores Oct. 12th!
For more news and up-to-date announcements, join us here at Dynamic Forces, www.dynamicforces.com/htmlfiles/, "LIKE" us on Facebook, www.facebook.com/dynamicforcesinc, and follow us on Twitter, www.twitter.com/dynamicforces
G.I. JOE: FRONTLINE: ONE-SHOTS TPB Writing by Gary Phillips
---
NEW! 1. 11/25/2020 - STEVE SKROCE
4. 11/16/2020 - RYAN O'SULLIVAN
5. 11/16/2020 - RYAN O'SULLIVAN