DANIEL WARREN JOHNSON

SEND THIS TO A FRIEND!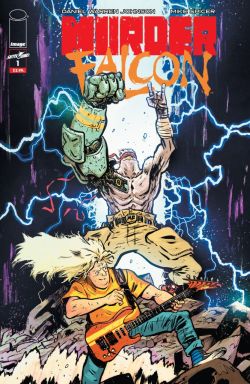 DF Interview: Daniel Warren Johnson gets us ready to shred in Murder Falcon
By Byron Brewer
From artist/writer Daniel Warren Johnson, creator of the Eisner-nominated series Extremity, comes Murder Falcon! The world is under attack by monsters, and Jake's life is falling apart: no band, no girl, no future... until he meets Murder Falcon. He was sent from The Heavy to destroy all evil, but he can't do it without Jake shredding up a storm. Now, with every chord Jake plays on his guitar, the power of metal fuels Murder Falcon into all-out kung fu fury on those that seek to conquer Earth.
It's time to shred! And to help you do that, gentle reader, DF has extracted the rest of the 411 from the creative team: Daniel Warren Johnson.
Dynamic Forces: Daniel, music seems to be as big a part of your life as art. Tell us how you got interested in both. As it seems in Murder Falcon, is Metal the thing that brings you the greatest listening joy?
Daniel Warren Johnson: It certainly is. Ever since I was a kid, I loved aggressive music. I'll never forget the first time I heard a Metallica song. Once those tunes entered my brain, there was no going back. I was home-schooled as a kid, so I was a bit sheltered when it came to movies and music, but I would sneak in punk rock CDs into the house whenever I could. Sometimes I would disguise them by putting them in my Christian CD jewel cases. There was no stopping me. I also remember reading Calvin & Hobbes comics in the library when I was very young, way before I got into any sort of music. Watterson's cartooning started me down a path that eventually lead to me making Murder Falcon, a book inspired in many ways by my love for all things comics, art and heavy metal. I listen to a lot of different kinds of music, but I'd say metal is something that I enjoy more than most genres. There's something totally freeing and fun about hearing sweet riffs that make me want to punch evil in the face.
DF: Who are some of your favorite performers/bands, now and of all time? Are any of these given a nod in the new book?
Daniel Warren Johnson: Good question! My favorite band of ALL time would have to be the rock group mewithoutYou from Philadelphia. I was listening to them in my early days of college, when I had to come to grips with my own faith traditions growing up, and how they matched up to me as an adult living in the real world. For the most part, Christian music felt (and feels) very fake to me, but mewithoutYou dealt with those issues in a heartfelt way. Rather than being marketed as a faith band, they just kind of did their thing and made good art, first and foremost. I'm forever thankful to them for that. Then of course there are the metal bands that give me so much inspiration. Some of my favorites out of the MANY are Power Trip, Gatecreeper, Eternal Champion, Horrendous, Pallbearer, Converge, Racer X, Iron Maiden. There are so many more, but those are some of the tops for me. A few bands are given nods, including Khemmis and Power Trip, but you'll have to read the book to see the many more metal Easter eggs.
DF: At what point did you decide to bring your love of art and of music together into one comic? Had this been peculating in the Johnson noodle for awhile? Tell us the genesis of this new Skybound/Image book, please.
Daniel Warren Johnson: The story came exclusively from the name. My little brother, Timothy, was part of the Mass Maelstrom B team in Massachusetts, and when he had to come up with a cool name for his skating character, he was texting me tons of different ideas. One of these ideas was "Murder Falcon" and I immediately texted him back to say that he couldn't use that one, because I was taking it! The entire story came to me that night before I went to sleep. That being said, I was very hesitant when I first thought of the idea for Murder Falcon because it was so zany and because I was unsure if I could do a relatively good job conveying the power of heavy metal on a 2D comic page. It took the confidence I had in the characters to really bring the story to life, and hopefully just the image of Murder Falcon on the printed page says all that needs to be said when it comes to the glorious music of shred.
DF: Can you run down the storyline for readers without retyping the solicit here? (Mostly because I stole it and used it elsewhere in this interview.)
Daniel Warren Johnson: Sure! Our story revolves around a down and out metal head, Jake, who is having a really rough go of things. His guitar is broken, his band has broken up, and his significant other is gone. He's just about ready to give up when the spirit of Murder Falcon comes down to Earth and transforms his broken guitar into a super strat shredder, and the better that Jake plays this sweet instrument, the better Murder Falcon fights evil. BAM!
DF: Introduce us to Murder Falcon and Jake.
Daniel Warren Johnson: Murder Falcon is the visual representation of the healing power of music. I'm sure it looks different for everyone, but for me, that's who MF is. Even though in the story MF is a separate character, I almost envision him as the spirit animal of Jake, who even though might seem normal and a bit messed up on the outside, he's got the heart of a sweet falcon, ready to do what's right.
DF: No spoilers, sure, but what can you tell us of the "monster invaders"? REALLY monsters, ugly aliens … what?
Daniel Warren Johnson: Not too much without spoiling, but I will say that the main bad guy looks SUPER cool, and has an AWESOME name. Stay tuned!
DF: This looks like a book that is just gonna be fun to read. How much fun was it to draw? As a one-man band here, can you tell us a bit about your creative process?
Daniel Warren Johnson: It was CRAZY fun to draw, and I think that's one of the things that's going to make this book special. I love seeing comics where I can tell that the creative team was having FUN, and this is especially true for me while making Murder Falcon. My process goes something like this:
1. Inspiration for a story. This has got to be strong, especially because the act of making a new comic is so hard. It's an idea that I have to be confident enough to rely on that it'll be fun the whole way through.
2. Make an outline. Usually I start very specific in the beginning, and as I go through the story, things get murkier and murkier. This allows me to have something solid enough to start writing on without getting stuck later on, but at the same time gives me a very loose road map to where the story needs to go, especially when it comes time to end it. This is the most difficult part of the creative process for me.
3. Script!!! My scripts are basically very simple screenplays, with very specific dialogue and loose action explained on each page.
4. Thumbnails. This is the part that is challenging but very rewarding. It's where the visual storytelling decisions come into play, and I can really get creative with how characters emote and the kinds of action I get to draw.
5. The finished page! Pencils and inks, on old school Bristol board. Then scan it in and upload for MIKE SPICER to color! Woo!
DF: It wouldn't be a Daniel Warren Johnson interview unless I asked wassup with your webcomic, Space-Mullet.
Daniel Warren Johnson: On hiatus for right now. I don't want to make it when I feel like it's a burden, which it would be if I worked on it currently. I need to have some more time so I can re-approach it with a healthy mind and attitude.
DF: Daniel, what other projects present or near-future can you tell us about?
Daniel Warren Johnson: I've always got something brewing, maybe a new mini-comic about gundams, or maybe not! Mostly right now I'm just trying to make Murder Falcon the very best it can be.
Dynamic Forces would like to thank Daniel Warren Johnson for taking time out of his busy schedule to answer our questions. Murder Falcon #1 from Skybound/Image Comics hits stores Oct. 10th!
For more news and up-to-date announcements, join us here at Dynamic Forces, www.dynamicforces.com/htmlfiles/, "LIKE" us on Facebook, www.facebook.com/dynamicforcesinc, and follow us on Twitter, www.twitter.com/dynamicforces.
---
NEW! 1. 11/25/2020 - STEVE SKROCE
4. 11/16/2020 - RYAN O'SULLIVAN
5. 11/16/2020 - RYAN O'SULLIVAN