SEBASTIAN GIRNER

SEND THIS TO A FRIEND!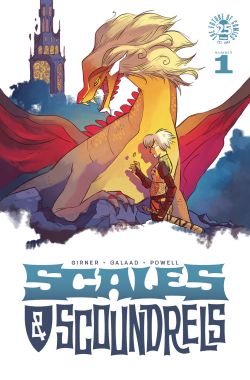 DF Interview: Sebastian Girner brings a welcoming fantasy realm to life in Scales & Scoundrels
By Byron Brewer
It's hard to make an honest living in a land brimming with magic and mystery, and treasure hunter Luvander is tired of being a penniless adventurer. Ever in search of gold and glory, she sets off for a fabled dungeon, "the Dragon's Maw," an ancient labyrinth, at the bottom of which slumbers endless wealth... or certain doom! But what starts out as a road to riches becomes the first step on an epic journey to destiny, for Luvander holds a secret in her heart that will shatter the chains of fate and bring light to a world encroached upon by an ancient darkness.
Writer Sebastian Girner (Shirtless Bear-Fighter) and artist Galaad are proud to present Scales & Scoundrels, a colorful and exciting new monthly fantasy adventure from Image Comics, for scoundrels of all ages!
More info, you say? DF says: Read on!
Dynamic Forces: Sebastian, you've been in the comics industry for some time, having begun in the House of Ideas, Marvel. But Scales & Scoundrels, your new book for Image Comics, is (along with Shirtless Bear-Fighter) your first project as a comic book writer. What made you decide to take up that challenge?
Sebastian Girner: Yes, I'm heading into my 10th year working in comics, more than half of that as a freelancer, none of which I expected, so I'm in a constant state of shock and wonder, which probably isn't a bad mindset to be in creatively. Making the transition from editor to writer was always in the back of my mind, when you're editing books and helping writers and artists solidify their creative visions, you're naturally going to get blasts of ideas or a spark of intuition that you can't find purchase for in the project you're working on. Multiply that by several years and you get a sense of how I was feeling around the time Jody [Leheup, co-creator/co-writer on Shirtless Bear-Fighter] was feeling at the time we started that project. Galaad and I started talking and quickly hit it off right around the time scripting work on Shirtless was wrapped, so I had created a structure for myself to do some writing for myself every day, and Scales & Scoundrels quickly took that slot.
DF: Writers sometimes seem to have a love of language. I know I do, and Stan Lee's was legendary. I heard you are fluent in several languages. Tell us about this talent and do you see that enhancing your profession as a comics writer ?
Sebastian Girner: I'm German born, American-raised, and I speak, read and write Japanese and (rudimentary) French. If anything, I think my languages have always helped me explore more and different kinds of comics. Learning languages for me always began with wanting to read comics in that language. My parents gave me Calvin & Hobbes to read when we moved to the States to get a leg up on learning English, I got into Japanese through manga and (Samurai flicks) and I was always a much better French student when reading Lanfeust de Troy or La quête de l'oiseau du temps (The Quest for the Time Bird) than any text book.
In Scales & Scoundrels, I think my languages help me in small ways, even in the naming of fantastical characters and places, where I have more language, history and cultures to draw from than just the English-speaking ones. For example, one of our character's, the young dwarf Dorma Ironweed, her last name is just the literal translation of "Eisenkraut" which sounds threatening (what doesn't in German?) but it's a healing plant (and also my favorite kind of tea).
DF: What was the muse for creating this new fantasy adventure series?
Sebastian Girner: That muse is all Galaad. His art unlocked a part of my heart and soul that I've long had lain dormant, like an old attic you toss things you don't need right now but also don't want to just outright throw away. Thanks to Galaad I get to venture back into that attic now, and dust off some of these old, cherished memories and dreams. It's a rare opportunity to explore the kind of fantasy stories I grew up reading and that were massively influential in making me the kind of person I am today.
DF: What can you tell us about the storyline of this new monthly?
Sebastian Girner: When we open in #1 we're introduced to Luvander, our leading lady and hotheaded treasure hunter. She's hit some rough times rambling from place to place, and she's just not as rich or famous as she sincerely believes she should be, so she makes tracks to a legendary dungeon, an underground labyrinth that no one has ever been to the bottom of. But all stories tell of endless wealth and treasure down there, and that's more than Luvander needs to motivate her.
DF: Give us your take on Luvander as a character. What challenges does she face in Scales & Scoundrels?
Sebastian Girner: Lu is my favorite type of hero: A homeless rogue, quick to step up and never back down, who comes and goes like the wind and whom you're never quite certain about. She guards her thoughts and her true intentions well, but every now and again they slip out. There is, of course, MUCH more to her than meets the eye, and a lot of the first arc, and that dungeon adventure, is the reader getting to know Lu by going on this crazy caper with her.
DF: Any other interesting characters readers should be on the lookout for in this fruitful fantasy?
Sebastian Girner: Plenty! At the end of #1 Lu comes upon a group of adventurers beset by bandits and lends a helping hand, and this crew will be our main cast for a good number of issues. There is Prince Aki, of the Scarlet Sands Empire, a young royal who travels on a rite of passage. In his culture the children of royals are sent out on a quest to prove their worth to sit on the throne one day. He's accompanied by his royal "Shadow" and bodyguard since birth, Koro, who is no-nonsense, all-business and exactly the kind of person someone like Lu can't help but poke fun at. And to round the group out we have the aforementioned Dorma Ironweed, who was hired by the prince to guide them to the ancient dungeon, but who has reasons all of her own to want to descend into the nameless darkness.
DF: Talk more about the art of Galaad. What does this artist bring to the table here?
Sebastian Girner: Galaad is the star of Scales & Scoundrels, and I couldn't be happier that he's making his comics debut with a story and world that will allow him to really show off his skills and passion. When we started working together, every page and panel he sent in made this world and these characters come to life before my eyes. His style, his attention to details, the humor and compassion he brings to our characters, and his breathtaking palette of colors, it made me feel less like the writer of this comic but the chronicler. As if this world and these stories existed long ago, and I was an architect unearthing them. Our series letterer and designer, Jeff Powell, is also instrumental in tying the look and feel of the book and story together. His lettering is so organic and has a lovely softness to it, it feels like an extension of Galaad's art. I'm so lucky and blessed with the creative team of this book.
DF: Sebastian, Scales & Scoundrels is targeted for a fandom faction peculiarly overlooked these days in comics, IMHO: the all-ages audience. And this just doesn't necessary mean "for kids only," obviously. What can you tell us about writing with an "all-ages" responsibility?
Sebastian Girner: "All-Ages" to me means "All-readers", something that readers of the widest possible age bracket can read and get enjoyment out of. I count comics like Jeff Smith's Bone, Akira Toriyama's Dragon Ball, Hal Foster's Prince Valiant and Carl Barks' work on Donald Duck and Uncle Scrooge to the masterworks of "All-Ages" comics, and all these titles are big inspirations for Scales & Scoundrels and how I try to approach telling a story that can appeal to both kids, teens and adults.
Ultimately, I don't hold myself to too strict a style or concept of writing for an all-ages audience. Some of the things we do may go above the heads of younger readers, and some others may feel a bit goofy for an older audience, but all of it meshes and feels natural in the world and story we're creating.
And we feel a good story and good characters will appeal to a broad audience, regardless of the subject matter, films like we get from Pixar and Studio Ghibli are another good example of that. We challenge ourselves to be creative in the way we may approach certain themes or topics, as we don't want to depict any gratuitous violence for example, but neither Galaad nor I intend to shy away from difficult or darker subject matter. Scales & Scoundrels will have moments of heroism, adventure, fun and humor just as it will deal with themes of loss and tragedy.
By the end of the first volume (#1-5), readers will get a good cross-cut of the kinds of stories and themes we intend to tackle.
DF: So what is on the comic book (or any other projects/media) horizon for you that you can tell us about?
Sebastian Girner: Starting in September, Scales & Scoundrels is a monthly ongoing series, the first for both myself and Galaad, so that will be the biggest project for us for the foreseeable future. Shirtless Bear-Fighter will wrap its first volume in October. Aside from these writing projects, I'm still editing a slew of great books like Deadly Class, Seven to Eternity and Southern Bastards and will continue to do so as long as I can juggle both. There are, of course, other pitches and concepts I'd like to write, and I'm hoping that with the strides I've taken as a writer in 2017 to have a chance to explore some of them in the future.
Dynamic Forces would like to thank Sebastian Girner for taking time out of his busy schedule to answer our questions. Scales & Scoundrels #1 from Image Comics hits stores Sept. 6th!
For more news and up-to-date announcements, join us here at Dynamic Forces, www.dynamicforces.com/htmlfiles/, "LIKE" us on Facebook, www.facebook.com/dynamicforcesinc, and follow us on Twitter, www.twitter.com/dynamicforces.
---
NEW! 1. 11/30/2020 - SKYLAR PATRIDGE
5. 11/16/2020 - RYAN O'SULLIVAN