GAIL SIMONE

SEND THIS TO A FRIEND!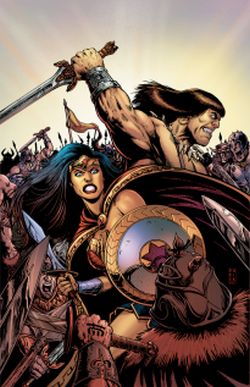 DF Interview: Gail Simone brings two legends together in Wonder Woman/Conan
By Byron Brewer
What makes one a legend? How do legends carve their names into history, when countless others are forgotten? Wonder Woman and Conan the Barbarian are destined by the fates to be legendary, but when their stories collide, will both emerge victorious, or will the fickle gods cut their lives short?
From DC Comics and Dark Horse Comics comes the answer to those questions! Writer Gail Simone and artist Aaron Lopresti clash titans in Wonder Woman/Conan, a mashup of historic proportions.
DF wanted more answers, so we sought out that red-tressed she-devil with a sword! No no, not THAT one. Gail Simone!
Dynamic Forces: If you are writing a character, I would say at this moment Wonder Woman is a good one to be penning, eh? Gail, how does it feel – as a pacesetter in bringing in female creators into this industry as well as championing strong female characters – to see the reception the public and critics have given the recent Wonder Woman film?
Gail Simone: Well, see, for me, it's a little different. I love the movies, I enjoy some of the comics-related TV shows. But they're not the THING. The thing for me is always the comics. I don't get excited to write Wonder Woman because she's in a hit film, or because suddenly she's everyone's favorite. I get excited because I love her and always have, in comics form. Writing a Wonder Woman story was ALWAYS a huge thrill for me, well before Hollywood made her explode.
That said, I do love that film, I saw the very first showing our small town theater had, and the very last showing. I loved it to pieces. And sure, it does feel like vindication, because I've been saying all along how amazing she is, but I don't think that's purely a gender thing. Phil Jimenez and Marc Andreyko and many others were just as vocal for an even longer period.
DF: So how came you to be involved with this fantastic but curious crossover?
Gail Simone: After the New 52, I took a bit of a break from superhero comics, for a number of reasons. It had been really important to me that I try to be a force for positive change, I wanted there to be more material out there that might appeal to people who didn't feel as well-served by eighty grim vigilantes saying the same tired one-liners every month.
But I did that for a good long time, and put my own stories and characters pretty much on hold for the entire first act of my career. I'm not complaining, it's an honor and a joy to write Batgirl and Red Sonja and all of those characters I love so much. But I did take a step back.
The thing is, Dan DiDio in particular knows my weakness is crossovers. Other writers hate them, but I deeply love them, I can't help it. I love reading them, I love writing them. There's something very primal and fun about them to me. So Dan talked to me about it, the editor, Kristy Quinn, asked me about it, and it made me realize, this would be historic…the first-ever meeting of Conan and a DCU character.
So I took about four seconds and signed on.
DF: What can you tell us about the storyline herein and the circumstances, in a strictly non-spoilery manner, that brings these two heroes together?
Gail Simone: These things tend to have a formula, there's a lot of connect-the-dots plotting. But I am a fan of both characters and I would genuinely feel terrible if it felt even remotely phoned in, that's not in my nature anyway. But it's WONDER WOMAN and CONAN and there's a lot of giant footprints in their history.
So we came up with something very different. I have never had people on a book asking "WHAT HAPPENS NEXT" as much as we have had with this one. We start at a time when Conan, as a child, meets a mysterious young girl, and becomes slightly obsessed with her. From there, our story is a bit of an emotional roller coaster. I guarantee you, it's not the plot you would expect. We are very proud, all of us on the book, we feel like we've caught a tiger by the tail.
DF: You probably have never been asked this before (laughs) but give readers your take on each character: the princess and the Cimmerian.
Gail Simone: The thing they share in common, and we talk about this a lot in the book, is that they both have moved right out of the typical character stage and right into legend. They are the legends of their universe in a way that few characters created in the past century have managed. And it's in the stories and outside the stories as well. CONAN. WONDER WOMAN. You know, those are names not to be trifled with.
That's what they have in common.
We are also dealing with another issue that's interesting, which is perception. If you only know Conan from the comics, you miss that in the prose stories, he's articulate, uses slang, he's more fiercely intelligent and not just the brooding, mythic barbarian.
Same with Wonder Woman, if a reader mostly knows her from the film, this is only going to add to their enjoyment, I hope. This is one of the deepest of the icon characters, and we want them both to present with their glorious complexities intact.
DF: I may be mistaken but I think, in their dealings with gods and godlike beings as well as wizards, Wonder Woman and Conan may even share a few foes. Can you tell us – hint if necessary – anything about the big bad(s) in this franchise mashup?
Gail Simone: I don't want to say too much, suffice it to say, we turned up the sex appeal pretty freaking high in this one.
DF: Both of these sometimes headstrong heroes have been or will be royalty at some point in their lives. How difficult – maybe not? – was it to develop a chemistry between them?
Gail Simone: This is well before the King Conan era, and it's at a point where Wonder Woman really has no interest in the trappings of being a princess. I love the timeline of both stories, I use Conan as meta-example of how these stories can be told. There are stories of Conan from his youth to his old age. Robert E. Howard didn't tell them chronologically, and I love telling stories at different points in a hero's journey.
Chemistry was not difficult, it's more difficult to keep it from burning up too quickly, there's a lot of heat on the page.
DF: Talk a little about the art of Aaron Lopresti. Why is he right for this team-up?
Gail Simone: Oh, man. First, he's an Oregon boy, so I like him already.
Aaron was the artist for a lot of my run on Wonder Woman. I have this thing I do, where I ask every new artist I work with what they LOVE to draw and what they HATE to draw. Aaron didn't blink, he asked for two things that maybe were a little tricky. He wanted to draw barbarians, and he wanted to draw monsters. So I immediately wrote stories to fit that, and he just NAILED them, the love was right there.
So when this came up, they asked if I had an artist in mind, and I thought right away, "Oh, man, Aaron Lopresti's not available, is he?"
He was, and he jumped on it, it's all his favorite stuff, and even he says the pages are the some of the best of his career. I love that he is dying to know what comes next, it's just refreshing when you are that invested. LOVE that guy.
DF: Gail, which of the many, many projects now or in the near-future would you like to tell our readers about?
Gail Simone: Well, there's this, and then our current Image series (with artist and co-creator Cat Staggs), Crosswind. It's one of my favorite projects ever, a crime and body-switch story, it just makes me so happy.
I don't think I can talk about the other stuff yet, sorry!
Dynamic Forces would like to thank Gail Simone for taking time out of her busy schedule to answer our questions. Wonder Woman/Conan #1 from DC Comics and Dark Horse Comics hits stores Sept. 20th!
For more news and up-to-date announcements, join us here at Dynamic Forces, www.dynamicforces.com/htmlfiles/, "LIKE" us on Facebook, www.facebook.com/dynamicforcesinc, and follow us on Twitter, www.twitter.com/dynamicforces.
Gail Simone goodies:
SENSATION COMICS FEATURING WONDER WOMAN #1 CGC GRADED 9.8!
GAIL SIMONE'S RED SONJA 2016 WALL CALENDAR
BATGIRL #15 SIGNED BY GAIL SIMONE!
BATGIRL ANNUAL #1 SILVER SIGNATURE EDITION SIGNED BY GAIL SIMONE!
SWORDS OF SORROW #1 RARE J. SCOTT CAMPBELL "VIRGIN ART" - SIGNED BY J. SCOTT CAMPBELL
SWORDS OF SORROW #6 (OF 6) RARE EMANUELA LUPACCHINO "VIRGIN ART" EDITION
SWORDS OF SORROW #1 RARE J. SCOTT CAMPBELL "VIRGIN ART" EDITION
SWORDS OF SORROW: THE COMPLETE SAGA TRADE PAPERBACK
Wonder Woman goodies:
WONDER WOMAN '77 MEETS THE BIONIC WOMAN TRADE PAPERBACK
WONDER WOMAN 77 BIONIC WOMAN #1 SIGNED BY ANDY MANGELS
WONDER WOMAN #32 BOMBSHELLS VARIANT CGC GRADED 9.8!
WONDER WOMAN #600 - SIGNED BY GEORGE PEREZ
BATMAN 66 MEETS WONDER WOMAN 77 #1 GOLD SIGNATURE SERIES SIGNED BY JEFF PARKER!
SUPERMAN/WONDER WOMAN: FUTURES END #1 - 3-D MOTION EDITION CGC GRADED!
Conan goodies:
CONAN THE AVENGER #1 SIGNED BY FRED VAN LENTE!
RED SONJA / CONAN #1 (OF 4) RARE ALEX ROSS "VIRGIN ART" EDITION
RED SONJA / CONAN #1 (OF 4) AOD COLLECTABLES ARIEL OLIVETTI EXCLUSIVE
RED SONJA / CONAN #2 (OF 4) RARE ED BENES "VIRGIN ART" EDITION
---
NEW! 1. 11/30/2020 - SKYLAR PATRIDGE
5. 11/16/2020 - RYAN O'SULLIVAN