MARK RUSSELL

SEND THIS TO A FRIEND!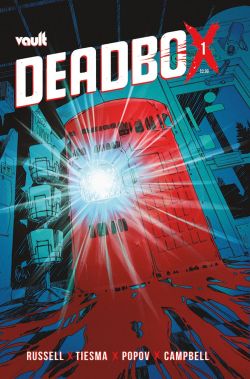 DF Interview: Mark Russell presents a haunted DVD kiosk that unlocks a whole town's darkest secrets in 'Deadbox'
By Byron Brewer
Welcome to the town of Lost Turkey, where the main source of entertainment is a cursed DVD machine that seems to know more about the fate of its citizens than they do.
From writer Mark Russell (Billionaire Island, Exit Stage Left: The Snagglepuss Chronicles, The Flintstones) and artist Benjamin Tiesma (Dead Body Road, Captain Canuck) comes Deadbox! To gather more on this offering from Vault Comics, I chatted with scribe Mark Russell.
Byron Brewer: Mark, wow, I've read your words over many genres and many of those were very dark, but if memory serves Deadbox is your first actual horror tale, correct? Why is this the right time to exercise your writer's muscles in this sandbox?
Mark Russell: That's right. This is my first foray into horror. Although, in my opinion, horror is probably the closest genre to satire, which is a sandbox I've played in many times, so it didn't feel that strange to write a horror story. But, as far as the why is concerned, it's not that I decided to write a horror comic so much as I had this idea for a story and, as I got deeper into writing it, it occurred to me that this is a horror story. And that's the way I like to work. Not worrying so much about the genre or staying within certain conventions, but just saying what it is you have to say and then defining it afterward.
Byron: I'm betting I know the answer, but are you a movie buff? It is seemingly important to Deadbox, so it was probably pretty important to you?
Mark Russell: I am. And I think if I could have any job in the world, it would be to write those low-budget straight-to-Redbox movies. Because there's no pressure to make them good (i.e. predictable) by Hollywood standards. And, because they're low budget and there's no expectation of them being conventional Hollywood blockbusters, you're free to actually do something interesting, should you choose to do so. And the cursed films that appear in Deadbox are written to be movies in fairly conventional Hollywood genres, like rom-coms, animated kids' movies, etc., but which go wildly off the rails. To me, that's what a good straight-to-video movie would be like.
Byron: I remember when the DVD kiosks started to be THE really big entertainment thing in my neck of the woods, even as, one by one, the Mom & Pop video rental stores, and even the Blockbusters, were starting to shutter their doors and windows. What can you tell readers about the mysterious DVD rental machine in this book?
Mark Russell: This is kind of a spoiler, but the Deadbox is stocked with movies that were never meant to be released. In fact, these DVDs were on their way to being destroyed forever when there was a horrible trucking accident which ended up unwittingly releasing them into the world like a virus. As such, they were always destined for a community like Lost Turkey, where because of their isolation and spotty Internet access, they have few other options for entertainment.
Byron: For issue #1, introduce us to and spotlight our key cast.
Mark Russell: The main character of the series is Penny, a college student who's basically had to drop out of school to tend the family convenience store and take care of her father, who is dying from a mysterious affliction. Add to that Bobby, a surprisingly erudite and learned employee of the local gravel pit. The one person in town that Penny feels an affinity for, but whom she also sees as a cautionary tale. As her likely future if she doesn't get out of town. Then there's Buck, the owner of the local gun shop, who makes sales by actually pulling a gun on someone and then tries to sell them the gun that he bets they wished they'd had when they thought they were going to die a few seconds earlier.
Byron: Every salesman of anything I've ever experienced is Buck, LOL! ... Can you tell readers the general storyline for your haunting first issue?
Mark Russell: Other than introducing the reader to the cast and the dead end town of Lost Turkey, the story centers on Penny's alienation from her hometown, her father's mysterious illness, and her selection from the Deadbox machine turns out to be a dark metaphor for their futures.
Byron: I understand that each issue will feature a different movie genre in and of itself with the art reflecting the style of those films. Tell us more about this innovative storytelling device. Sounds awesome!
Mark Russell: This is me living out my dream of being a straight-to-Redbox movie writer. And yes, every issue is half about what's happening in the town of Lost Turkey, and half telling the story of one of the Deadbox movies, each one being a different genre, and each one betraying an otherworldly knowledge of the life of the person who's watching it. As I mentioned earlier, there's one issue that revolves around a rom-com, another one that's like a Pixar animated film, and another that's a sort of unauthorized sequel to a very popular sci fi film. In the promotion for this comic, I wanted to release a series of fake movie posters for the movies in the Deadbox.
Byron: Speaking of art, what can you say about your collaboration on Deadbox with artist Benjamin Tiesma?
Mark Russell: When we started planning this series, Vault showed me the samples of several artists they thought would work for this series and something about Benjamin's art just clicked. And it wasn't just that he looked like he could handle stylistically altering his aesthetic to handle drawing different movie genres, but that his characters seemed to have this depth, this emotional life behind their eyes. And that's what drew me to his work, because this story is very much about people hiding deep wells of tragedy they can't really discuss, so they channel it into other things like entertainment, religion, and anger. Going into this series together, we had some discussions about the sensibility of the characters and what the town of Lost Turkey looks and feels like, but I didn't want to impede too much on Benjamin's creativity, because he's got a very well-defined vision of his own.
Byron: Mark, as we wrap, tell readers about what projects, inside and outside comics, is coming up for you and when they might be able to enjoy those?
Mark Russell: Well! Right now I've got three other series on the shelves. Fantastic Four: Life Story for Marvel, Second Coming: Only Begotten Son for AHOY, and Not All Robots with AWA, all of which I'm very happy with. Also, there are several hitherto unannounced projects with DC in the offing. I hope you read them all.
Dynamic Forces would like to thank Mark Russell for taking time out of his busy schedule to answer our questions. Deadbox #1 from Vault Comics is slated to be on sale September 8th!
For more news and up-to-date announcements, join us here at Dynamic Forces, www.dynamicforces.com/htmlfiles/, "LIKE" us on Facebook, www.facebook.com/dynamicforcesinc, and follow us on Twitter, www.twitter.com/dynamicforces.
CAPTAIN AMERICA: MARVELS SNAPSHOT #1 - SIGNED BY MARK RUSSELL
RED SONJA VOL. 3: CHILDREN'S CRUSADE TRADE PAPERBACK
KILLING RED SONJA TRADE PAPERBACK
RED SONJA VOL. 2: THE QUEEN'S GAMBIT TRADE PAPERBACK
RED SONJA VOL. 1: SCORCHED EARTH TRADE PAPERBACK
THE LONE RANGER: THE DEVIL'S ROPE TRADE PAPERBACK
RED SONJA: BLACK, WHITE, RED #1- AMANDA DEIBERT & CAT STAGGS SIGNED ATLAS EDITION
KILLING RED SONJA #5 - BRENT PEEPLES LIMITED VIRGIN "ROB LIEFELD HOMAGE" VARIANT
RED SONJA #1 - FRANK CHO "BLACK AND WHITE" COVER CGC-GRADED
RED SONJA #1 - AMANDA CONNER COVER CGC-GRADED
---
NEW! 1. 10/21/2021 - JOE BENITEZ
3. 10/14/2021 - MATTHEW ROSENBERG
5. 10/07/2021 - CULLEN BUNN & HEATH AMODIO