TOM BRENNAN

SEND THIS TO A FRIEND!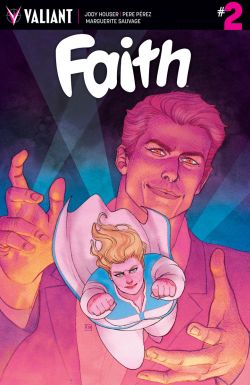 DF Interview: Faith editor Tom Brennan talks the hero's first super-villain, her new social media status, and … Hillary Clinton?
By Byron Brewer
Valiant Entertainment's super-character Faith is one of the hottest heroes around these days. Subject matter everywhere from the Internet to the Today Show and NPR, the flying Faith Herbert has the world abuzz.
To get more of an inside look at the character, her popularity and what may be coming up in Faith's brand new book, DF sat down with the comic's editor, Tom Brennan.
Dynamic Forces: Tom, Faith has been a staple of the Valiant Universe since being created in 1992 by Jim Shooter and David Lapham for the acclaimed Harbinger series. What has happened to make her the talk of comic shops and social media since her best-selling (and sold-out!) miniseries? Why is now Faith's time?
Tom Brennan: I won't try to understand why it's her time from a sales or popularity standpoint. I've worked on many numbers of books; some hit, some don't. However, I will say creatively it was her time because of Jody Houser. Jody showed up with the right point of view for the character, the right passion and voice for the character, and the right stories for the character. We've always loved Faith up here at Valiant but wanted to find the right story for her debut. Jody came in with a thousand right stories and the character is all the better for it.
DF: Not only was the first issue of Faith's four-issue miniseries in January lauded heavily by comic and mainstream media, but it achieved a much-vaunted FIFTH printing! As the editor, what did that feel like?
Tom Brennan: As an editor, it's exciting to see the creators you've worked with succeed, particularly when you know the book is great, and as an editor I read it before any of you—so I *knew* this was great. Jody nailed the story, and Francis and Marguerite brought it to life. I'm thrilled so many people loved it because it's truly some great work: Classic comics with a modern sensibility.
DF: Issue #1 of Faith's ongoing series is already in stores, but for the uninitiated (those who might have been under cyber-rocks, lol) tell us who Faith is and why she is a hero to so many.
Tom Brennan: Faith Herbert's a lifelong comic and genre fan who discovered she had the power of flight. So, basically a dream come true for us nerds, right?! She's a psiot – someone with the potential for incredible abilities based in their minds. She's had a tough life -- her parents died when she was a child -- but she's always kept an incredible level of optimism. She looks for the best in the world, and has since she was a member of the Renegades—a team of heroic Psiots—all the way to her current status as a solo hero fighting crime in Los Angeles
DF: Right out of the box (well, kinda), I have to ask about the upcoming Faith #5. Democratic Presidential hopeful Hillary Clinton will appear in that issue (and on its cover!) in a special election-edition issue that will hit newsstands real and digital on November 2nd. What can you tell us about that issue?
Tom Brennan: Comics have a long history of playing in the real world, and between Faith capturing the imagination of the public in outlets where most superheroes don't even come close to appearing (The Today Show, NPR, The Atlantic) and a historic election that's capturing the attention and imagination of the entire planet, it just seemed like the right time for Valiant to join that proud tradition. We're uniquely suited as a company to do that...world leaders show up in Valiant books all the time, U.S. President Barack Obama and Russian President Vladimir Putin. We're thrilled to have an industry legend like Louise Simonson join us for a special story where Faith comes face-to-face with Mrs. Clinton and this historic election.
But THAT'S NOT ALL! Starting with issue #5, Vertigo superstar Meghan Hetrick joins the main book as our lead artist in a story that's setting the stage for a huge Faith event, and Rafer Roberts and icon Colleen Doran jump in for a short story that will serve as a prologue to Harbinger Renegades. This issue's really a Faith event with huge implications for the entire Valiant Universe.
DF: Faith is, like many of us, an avid comic book collector. Were you a comic collector as a kid, and what titles did you collect?
Tom Brennan: I wasn't, really -- I loved Spider-Man, Guy Gardner and Bone. But I wasn't a collector -- I loved the medium more than anything else. It was so cool to me that you could merge the connectivity of film and TV through the visual art with the intimate experience of reading a novel.
DF: In Faith #2, our beloved Zephyr (with a book named Faith, how long will she hold onto the "Zephyr" moniker?) takes on her first genuine super-villain, and pre-publication hype says that foe's identity when revealed will be shocking! Any non-spoilery comments on how Faith will meet this challenge straight from her beloved comics, now in real life?
Tom Brennan: I do not want to spoil it ... but I'll say we've met him before and he's had a huge influence on Faith's life and career. He's been waiting in the shadows.
DF: Tom, we talked about writer Jody Houser. How is it working with artists Pere Perez and Marguerite Sauvage?
Tom Brennan: Great artists make an editor's job easy -- the work shows up on time, perfectly drawn and ready for publication. They go the extra mile to make sure a credible world is created. Pere and Marguerite are great artists, and always make my life easy.
We've been fortunate enough to work with a bunch of great artists in the Faith-Verse beyond Pere and Marguerite. Francis Portela set the tone in the miniseries, while colorist Andrew Dalhouse and letterer Dave Sharpe followed that lead to make a complete package we're so proud of. Colleen Doran and cover artists Jelena Djurdjevic and Kevin Wada have also really brought their A-Game to create the visual vibe Faith needs to become the premiere superhero of 2016.
I couldn't be prouder of this team.
Dynamic Forces would like to thank Tom Brennan for taking time out of his busy schedule to answer our questions. Faith #2 from Valiant hits stores Aug. 24th!
For more news and up-to-date announcements, join us here at Dynamic Forces, www.dynamicforces.com/htmlfiles/, "LIKE" us on Facebook, www.facebook.com/dynamicforcesinc, and follow us on Twitter, www.twitter.com/dynamicforces
---
NEW! 1. 11/25/2020 - STEVE SKROCE
4. 11/16/2020 - RYAN O'SULLIVAN
5. 11/16/2020 - RYAN O'SULLIVAN