MATT EMMONS

SEND THIS TO A FRIEND!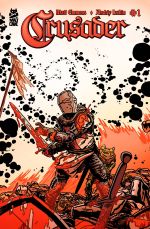 DF Interview: Matt Emmons weaves a righteous adult fantasy series in 'Crusader'
By Byron Brewer
A Templar Knight finds himself transported to a dangerous realm known as the Beastlands. With sinister entities known as The Masters hunting him down, all he has is his sword and a weird, goblin-like creature named Grimbel to guide him through this strange new world.
Writer/artist Matt Emmons (Gardener) and Ukrainian letterer Andriy Lukin (Lower Your Sights) team up for Crusader, a new beautifully illustrated action and fantasy series. I sat down with Matt to discuss the coming mag.
Byron Brewer: Matt, you have some really specific goals for this little chestnut of a miniseries. Tell readers about what your expectations of your four-part Crusader mag are.
Matt Emmons: My main hope with Crusader is that people have fun reading it. I wanted to make something pulpy and fun, but make sure I'm giving some depth to characters too. This is the first book I've made that focuses on two particularly violent characters facing one another, so my goal is to make sure they face that part of themselves and come to terms with their own shades of morality.
Byron: What was the inspiration for this fun fantasy saga? I understand, at least in part, the comic was something you have been wanting to do for quite some time.
Matt Emmons: I grew up on pulpy 70's - 80's horror and fantasy movies, and what always drew me in were the interesting, weird side characters that only had a few moments. As with most of my work, I want to make stories centered around characters that look more like those than the traditional heroes.
And yeah! Crusader was an idea I've had brewing since around 2019, though it took until 2021 for me to really get close to the right look for the secondary antagonist (and my personal favorite character in the book), Pilgrim.
Byron: For the uninitiated (and you know who you are!), give us a sense of the times, the world you build here and the canvas on which we will be set down in September with issue #1.
Matt Emmons: I prefer not to over-explain a setting, so most of the information about The Beastlands and its current state are shown in the backdrop. The Crusader isn't exactly one to care about learning about this new place, so he's only taking in what he needs to move forward.
Because of that, what he fails to notice is that the region has long since fallen into ruin. It's essentially wild, ungoverned land because some certain undead entities have destabilized any organized civilization well before the Crusader's arrival. The people and creatures he meets along the way are either trying to tap into the natural resources left behind for outside parties, or simply survive.
Byron: Introduce us please to your titular hero. Who is he when we meet him in issue #1, where is he headed, and what are his challenges now and perhaps in the future?
Matt Emmons: Above all, the Crusader is a goon, meant to be one of many – it's why he doesn't have a name throughout the whole book. He's someone that views himself as a hero, but has never bothered to ask anyone if they agree. His main challenge in the series is of course surviving, but also trying to figure out who he is without being a part of an army and if that was even something he truly stood for anyway.
Byron: What other awesome entities await us in Crusader? Can you spotlight some of them here?
Matt Emmons: The Masters, a trio of power hungry liches, are the main lurking threat, but the real star on the creature side is their lackey, Pilgrim. Somewhat humanoid, he's covered in ragged wraps and a dirty cloak and just about almost always a terrible, toothy grin plastered on his face. He is immortal – to his chagrin – and obeys The Masters purely out of the promise that when he brings them the Crusader he can finally die.
Byron: What else can you tell us about these powerful Masters? And is there an even more malevolent foe out there for our "hero" behind the scenes?
Matt Emmons: They're lurking in the background waiting on Pilgrim to do their bidding, but they're the heavy hitters of the setting. The region is lush and largely unpopulated, but the rundown nature of the few settlements we do see the Crusader visit shows there used to be a much larger presence of civilization here before they showed up.
As far as malevolence waiting for the Crusader and friends, they're the big one! I've peppered in a few moments during the first two issues of what their presence does to the surrounding landscape, so it will be a fun reveal during their final confrontation in issue #4. No spoilers, but they're a bit more than fancy cloth and bone!
Byron: Talk about working with Ukrainian letterer Andriy Lukin. What do his talents bring to this table? They must be considerable as he was a winner in Mad Cave Studios' Talent Search for 2022.
Matt Emmons: Andriy and I have worked on a couple projects together over the last few years (Dagger Dagger Vol. 2, various logo designs) and I'm very fortunate to have connected with him through some mutual friends. Surprisingly, I'm not a very visual person, so whenever I'm thinking of lettering it's pretty bare bones, and Andriy really brings some creativity to a section I'd be lacking in on my own. All the different typefaces for how characters speak especially help nail the feel and tone of their voices. Not only that, but Andriy designed the title logo for Crusader as well!
I won't be surprised to see his name popping up on more and more books in the near future. In fact, I'll be looking forward to it!
Byron: Matt, what other projects inside or outside comics in which you are involved can you tell readers about?
Matt Emmons: Currently I'm wrapping up shipping out my most recent book, The Council of Frogs, which is another fantasy book, though with a very different tone. Next year I plan to work on its follow-up of sorts, kick off my first longform serialized comic, and finally throw myself into the TTRPG space by making my first game!
Dynamic Forces would like to thank Matt Emmons for taking time out of his busy schedule to answer our questions. Crusader #1 (of 4) from Mad Cave Studios is slated to be on sale September 6th!
For more news and up-to-date announcements, join us here at Dynamic Forces, www.dynamicforces.com/htmlfiles/, "LIKE" us on Facebook, www.facebook.com/dynamicforcesinc, and follow us on Twitter, www.twitter.com/dynamicforces.
---
NEW! 1. 11/28/2023 - CULLEN BUNN
4. 11/08/2023 - OLIVIA CUARTERO-BRIGGS
5. 11/02/2023 - ETHAN SACKS & NAOMI SACKS