KIM DWINELL

SEND THIS TO A FRIEND!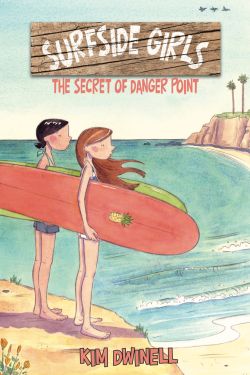 DF Interview: Kim Dwinell brings a wave of all-ages fun with Surfside Girls: The Secret of Danger Point graphic novel
By Byron Brewer
Things are getting weird in Surfside. Lately, Samantha's best friend Jade explodes into fits of giggles whenever she sees a boy, and it's throwing a wrench into the kick-back summer of surfing and hanging out that Sam had planned. But after swimming through a secret underwater cave, Sam starts to ... see things. Like ghosts. And pirates. And maybe something even scarier! Can she and Jade get to the bottom of this mystery in time to save their town?
Surfside Girls: The Secret of Danger Point is a first-ever graphic novel from longtime animator – and surfer -- Kim Dwinell. The artist/writer spoke with DF about this new project from IDW and Top Shelf.
Dynamite Forces: Kim, The Secret of Danger Point OGN is slated to be the first of a trilogy of Surfside Girls adventures for a fandom faction peculiarly overlooked these days: the all-ages audience. And this just doesn't necessary mean " for kids only," obviously. What can you tell us about the genesis of this new series from IDW and Top Shelf?
Kim Dwinell: As a young girl, I was always interested in adventures and mysteries. I wanted to be the kid in Flipper with a pet dolphin; I wanted to be Nancy Drew out solving mysteries with my friends in a convertible. I wasn't into comics – my brother read Spider-Man, and it just didn't seem interesting or accessible to me. It wasn't until I saw Craig Thompson's Blankets, and then Raina Telgemeier's Smile that it all came together for me. I knew instantly that the little world of Surfside that had been in my head for so long finally had a format. I used to work in animation, and I see graphic novels as a film-in-a-book. I wrote what I would have wanted to read as a girl: action/adventure/mystery with strong girl protagonists. I'm super beachy, and that's why the backdrop of this whole series is a fictional Southern California beach town. Top Shelf understood my audience immediately and has been great in helping me reach them.
DF: Can you introduce us to Sam and Jade? Will they be the main protagonists in each of the trilogy graphic novels?
Kim Dwinell: Sam and Jade are based REALLY loosely on myself and my best friend Melissa. We taught ourselves to surf when we were fourteen years old by taking the bus with our surfboards down to the beach and spending long days out in the surf, giggling, and watching boys from a distance. I called on a lot of my memories of this time for these characters (except that their adventures are WAY more exciting than ours ever were!). Sam is athletic, intuitive, and not very book smart. She has a working-class dad who owns the beach burger joint, and a stay-at-home mom. Jade is more intellectual, though also athletic. Her dad is a doctor and her mom is an architect, and they have the fancy house up on the hill with the great view. The girls' strengths complement each other for mystery-solving, but like any middle-school girls they are still figuring out who they are, and that can lead to some rifts in their friendship. My writing voice has always landed at about twelve years old, which I think is such an amazing time to be a human. I can sit all day and listen to junior-high kids talk!
DF: What can you tell us about the storyline for Secret of Danger Point?
Kim Dwinell: The Secret of Danger Point starts off with the girls at the start of their summer vacation, and they've been in a little fight (over boys!). To make up, they head out for a paddle, because the ocean is flat that day with no surf. Sam notices a sparkle on the ocean floor, and swims down to investigate. After passing through an underwater cave, she finds herself at the top of the cliff surrounded by ghosts! Jade can't see the ghosts, and is not quite sure if her best friend is crazy or not. Sam needs Jade's help to solve the mystery of all the spooky things she's seeing, and the bigger mystery of uncovering the plans that a scheming land developer has for Surfside. Their friendship is tested as Jade has to trust Sam and work together to save their town.
DF: Aside from Jade and Sam, any other interesting characters readers should be on the lookout for?
Kim Dwinell: Well, I do kind of have a crush on the "love interest," a pirate-boy ghost named Robert…
DF: In a non-spoilery manner, can you clue us in at all about a "supernatural presence" in Surfside?
Kim Dwinell: Sam's first encounter is with Mr. Wu, an old man in traditional Chinese dress. He has passed the baton of protecting the cliff off to Sam, whether she wants it or not. The rest of the ghosts represent… something… and figuring out what they represent helps the girls solve the mystery. I don't want to reveal too much, but there might also be a baby dinosaur.
DF: As an artist, tell us about establishing the necessary mood of the book through your layout choices and palette.
Kim Dwinell: It's funny you ask about palette. I have traveled all over the planet, but I am a California girl through-and-through. I wanted to make sure I put as much Southern California as I could into the book, and SoCal definitely has a palette! There is a reason they call it the Golden State: our greens are not the greens of the Midwest, they are gold-greens. Our hills are golden, and even the sky is not the blue-blue of Hawaii or Florida. It is a very washed-out palette. Optimists would say golden! But really, we live in a desert by the sea. I learned in a plein-air painting class in college that our dry, dusty air makes the shadows the complement of gold, which is purple. If I had hyper-saturated the color palette, it would have read more like Hawaii, and I wanted the reader to really feel Southern California.
DF: Kim, if you don't mind (and as I am a huge animation buff), tell me about your life working in that profession just a bit, if you would? What are some of the things you've done, etc.?
Kim Dwinell: I was fortunate enough to wiggle my way into animation at just the right time. I started out doing inbetweens on The Swan Princess, and when that studio closed I got hired onto Turner Feature Animation's Cats Don't Dance. That was a fabulous working experience, where I met a lot of really talented and creative people. The majority of them have gone on to do amazing things in the animation industry. We had so much fun on that film that we still have crew reunions! After Cats I got hired on at Disney for Hercules, Mulan, Tarzan, and what was at the time Kingdom of the Sun, which became The Emperor's New Groove, but I left before it changed. I worked my whole career in Clean-Up Animation, usually on the lead female character. It is a very detail-oriented part of the animation process, and taught me to recognize problems with proportion and to put things "on model," while keeping the movement the same as what the rough animator had intended. I really enjoyed those years working in studios, and made sure that I took full advantage of all of the classes offered at the studio while I worked. At Disney I took figure drawing every day at lunch, I went plein-air painting with the background painters; I took sculpture classes, child drawing classes, etc. I ended up leaving animation because I wanted to start a family, and the seventy-hour weeks were not a good option for trying to be a mom.
DF: Any clues as to what the Surfside Girls Books 2 and 3 center around?
Kim Dwinell: Well, there are a lot of disappearing cats in Book 2, and maybe a gold mine. That is, if Chris (my editor) approves. Book 3 is in Hawaii, and there are amazing legends in Hawaii that I'm exploring. There will always be some time in each book for the girls to catch some waves!
DF: Kim, what other projects are you involved with that you can share with our readers?
Kim Dwinell: Really, it's just about as much as I can do to keep up with my books and teach. I teach animation at California State University Long Beach. I have some occasional freelance that I enjoy doing if I'm not trying to hit a deadline with the book. Other than that, I am pretty devoted to my students, who keep me really entertained and in touch with whatever's hip. I find it a good balance to teach and do books. I would be lonely without the interaction in the classroom, but I need my alone time as well to create and recharge.
Dynamic Forces would like to thank Kim Dwinell for taking time out of her busy schedule to answer our questions. Surfside Girls: The Secret of Danger Point graphic novel from IDW and Top Shelf is in stores now!
---
NEW! 1. 01/21/2021 - RORY MCCONVILLE
5. 01/07/2021 - DARICK ROBERTSON