JAMES TYNION

SEND THIS TO A FRIEND!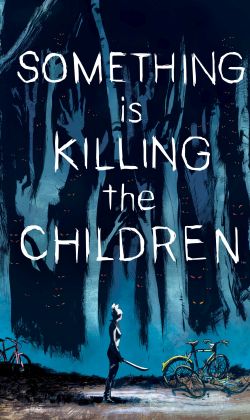 DF Interview: James Tynion IV unveils monstrous secrets in new horror series, 'Something is Killing the Children'
By Byron Brewer
When the children of Archer's Peak begin to go missing, everything seems hopeless. Most children never return, but the ones that do have terrible stories – impossible stories of terrifying creatures that live in the shadows.
Their only hope of finding and eliminating the threat is the arrival of a mysterious stranger, one who believes the children and claims to see what they can see. Her name is Erica Slaughter. She kills monsters. That is all she does, and she bears the cost because it MUST be done
GLAAD Award-winning writer James Tynion IV (Memetic, Batman: Detective Comics) teams with artist Werther Dell'Edera (Briggs Land) for an all-new limited series from BOOM! Studios about staring into the abyss to find your worst fears staring back.
Dynamic Forces: James, tell us about the genesis of this horror-filled limited series, Something is Killing the Children. I understand it has been bubbling on the Tynion backburner for quite some time.
James Tynion IV: It's wild, because I really think the first time I had a conversation with BOOM! Studios about doing a horror book called Something Is Killing the Children was back when The Woods and Memetic (my first two creator-owned series with them) were just out in stores. But truth be told, that version of the series was radically different than the one that's coming out in September. It was the title that grabbed me, and the title goes back even further than that, to a very short story I wrote in college. I'd played with it once every year or so, and there were these disparate elements that were all floating around in the ether. It was last summer that they coalesced into the comic that you're about to read. The character, Erica Slaughter, brought it all together. The idea of a small town in the Upper Midwest, baffled by a series of child-murders and disappearances they do not understand… and then this strange monster hunter coming to town to deal with it. That's where this story really began.
DF: Tell us what you can about the world you and artist Werther Dell'Edera are building here. How are the murders affecting the community, and how is the community's collective reaction affecting the people?
James Tynion IV: I didn't want this to feel like an action comic series. I wanted it to live in the same breath as some of the new wave of independent horror films that have been coming out for the last few years. Those are stories that deal with the horror in the little moments, the human moments. Horror is all about emotion, and the weight of a horror you can't really understand or describe, or even look in the face is deeply deeply frightening to me. That's what the monsters in this series are, they are our deepest fears come to life, but the adults of this world can't see them or comprehend them. It's only the children who can see this destructive force of darkness in the world, and that makes it easy for it to prey on them. But for the rest of the town, they're in shock. They're experiencing real and powerful grief, and they don't really know what to DO with that grief. But that raw psychic energy only makes these monsters stronger, and puts more children at risk. It's an ouroboros that only an outsider like Erica Slaughter can take onto herself, but at a tremendous cost to her own psyche and well being.
DF: What can you tell us about the storyline for the book?
James Tynion IV: It's funny, when I started writing the book, I saw it as five standalone one-shot chapters. But then when I was a few pages into the first issue, establishing some of the children at the heart of the killings, I saw the size of the world around them and I didn't want to resolve it in twenty-some pages. I knew it was bigger than that, and I wanted it to be bigger than that. More than any other project, I've been letting the characters tell me where the story goes. I have a roadmap right now, having finished three full issues, but I've thrown that roadmap out before. I feel like I'm excavating, and that's a really really cool feeling. Living in and with the book. But honestly, the story is pretty simple. A small town's children are going missing and turning up dead. A stranger comes to town to deal with the threat the small town can't understand. The small town begins to fear the stranger, because she's the only thing they can point their fingers at. It all builds from there.
DF: Tell us about writing on the dichotomy between children and adults, especially with the adults feeling helpless and the children the only witnesses to the so-called monsters that are tearing other children apart.
James Tynion IV: It's a tricky thing, because I'm effectively writing them in two completely separate stories. Our young characters know and see the fantastic around them, and our main young character (who is named James for SOME reason) experienced some truly harrowing trauma before our series began. But he latches onto the idea that there is a REAL threat they can actually solve and move past. The adults, on the other hand, only see the abstract threat, and can't grapple with what's really happening beneath their noses. They are looking for people to blame, as though blame would resolve any of this.
DF: Introduce readers to Erica Slaughter.
James Tynion IV: Erica Slaughter is the name on her Driver's License, but also her driver's license is clearly a fake. If you ask her if that's her real name, she'll say "Sure." In a matter of fact tone. She has a gold scar on her temple from trepanation, but she's not about to tell you why. She has an arcane symbol of a Dragon tattooed on her forearm, a symbol that looks like it's from some arcane secret society, but she won't tell you its name. She carries around a child's backpack, something that looks well over a decade old, stained and patched and poorly maintained, but she won't tell you where she got it. She has an old beat up flip phone, and will answer it from time to time, taking orders from an unseen boss. She hunts monsters. She doesn't do it for the joy of it, but because if she doesn't, children are going to die.
DF: Any other characters important to the story as we begin in issue #1? If so, can you briefly intro them here?
James Tynion IV: The story begins with a middle-schooler in Archer's Peak, WI playing a game of Truth or Dare that ends with him daring one of his good friends to go to the bottom of the ravine behind his family's house in the northern woods of Wisconsin. While out in the ravine, he slips and falls away from his friends, and a few minutes later he hears them start to scream in agony. That night, he loses all of his friends, and given the fact that he is the only survivor of the mysterious child deaths in Archer's Peak, the rest of the town is as suspicious of him as they are of this strange blonde newcomer. The kid's name is James. And Something is Killing the Children is as much his story as it is Erica's.
DF: Talk a little bit about Werther's art. What does he bring to this chiller?
James Tynion IV: Honestly, Werther's art has blown me away every step of the creative process. I had some rough ideas for the character of Erica, but in just a few design sketches, he captured the perfect tone of the character and the series. But the best thing about working with Werther is that he captures the sadness and the humanity of the moments outside the pure horror of this series. His work is an absolute revelation to me, and I am so thrilled to get to work with him on this project. I also have to say what an incredible job Miquel Muerto has been doing on the colors. From Erica's acid green eyes, to the vibrant blues and reds of the most violent, messed up part of the book? Every page is a feast for the eyes, and I feel like the luckiest creator in comics getting to write for them.
DF: James, what other projects, inside or outside comics, can you tell readers about?
James Tynion IV: Oh boy. It's one of those exciting moments where almost half of the comic projects I'm working on are still secret. What I can say is that Something Is Killing the Children is only the beginning of my return to creator-owned books. I've got a lot of irons in the fire and I am very very excited for people to find out about everything we've got cooking. On top of that, anyone who has been reading Justice League and Justice League Dark over at DC Comics knows that we've been building some huge stories for the entire DC Universe, and all of those stories are about to come to a head, starting this month with Justice Doom War … And continuing in a DC project I'm not even allowed to HINT at yet. So just stay tuned. I've got a lot of big comics coming your way later this year and all next year. Just you wait and see.
Dynamic Forces would like to thank James Tynion IV for taking time out of his busy schedule to answer our questions. Something Is Killing the Children #1 from BOOM! Studios hits stores Sept. 4th!
For more news and up-to-date announcements, join us here at Dynamic Forces, www.dynamicforces.com/htmlfiles/, "LIKE" us on Facebook, www.facebook.com/dynamicforcesinc, and follow us on Twitter, www.twitter.com/dynamicforces.
DARK KNIGHTS RISING #1 SIGNED BY JAMES TYNION IV
BATMAN TMNT II #1 SIGNED BY JAMES TYNION IV
BATWOMAN #1 ULTRA-LIMITED ELITE GOLD SIGNATURE SERIES SIGNED BY JAMES TYNION IV
DETECTIVE COMICS #950 FIRST PRINTING VARIANT ULTRA-LIMITED SILVER SIGNATURE SERIES EDITION SIGNED BY JAMES TYNION IV!
BATWOMAN #1 SIGNED BY JAMES TYNION IV
DETECTIVE COMICS #934 ULTRA-LIMITED SILVER SIGNATURE SERIES SIGNED BY JAMES TYNION IV
---
NEW! 1. 11/25/2020 - STEVE SKROCE
4. 11/16/2020 - RYAN O'SULLIVAN
5. 11/16/2020 - RYAN O'SULLIVAN