DAVID BOOHER & DREW ZUCKER

SEND THIS TO A FRIEND!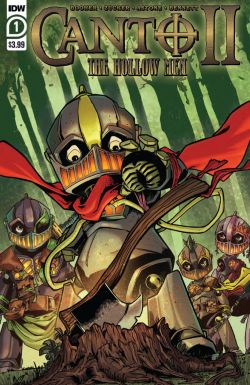 DF Interview: David Booher & Drew Zucker continue the adventures of their tin soldier in 'Canto II: The Hollow Men'
By Byron Brewer
Once a slave forced to feed a furnace day after day until the clock in his chest ran out of time, the tin man Canto changed his whole world when he embarked on a quest to fetch the real heart of his dying beloved. Though he failed his quest, he returned home to find his people had revolted and overthrown the slavers, inspired by his own bravery.
Later this month, Canto will embark on a new adventure -- this time, with his friends – in Canto II: The Hollow Men, written and illustrated by series co-creators David Booher and Drew Zucker, respectively, with colors by Vittorio Astone and letters by Deron Bennett.
DF caught up with David and Drew and chatted up the tin soldier's next adventure.
Dynamic Forces: David and Drew, I know a lot of us have been pencils down during this pandemic, but it seems like a fandom enthusiasm has built for your little clockwork knight, Canto. Not only is Volume 2 of his regular adventures coming out, but he had a whimsical one-shot as well. Did you ever dream Canto would be embraced by the fans like this, and what is that like?
David Booher: It's been surreal, for sure. I adored Canto from the very first sketch Drew sent me and I've been absolutely thrilled to see other people connecting with his story. We had big dreams for our little clockwork knight, but I don't think we dared to dream this big!
Drew Zucker: Seeing Canto succeed the way he has through everything going on in the world has been both a nail biting experience on our end and a genuinely exciting one. I know David and I always believed in Canto and his story, but for people to have come on board so fully with what we're doing has been an absolute joy.
DF: David, tell us the genesis behind Canto's creation.
David Booher: Canto started as a character sketch from Drew. I knew instantly I wanted to tell his story, whatever it was. Drew had an idea for a more adult story, and I wanted to take it more all ages. Using Wizard of Oz as an influence, I leaned into the idea that he had to go on a quest to save the one he loved, and all the pieces started to fall into place.
DF: For the uninitiated, can you summarize please what our diminutive hero has been up to since first arriving on the comic book page? Will new readers be able to jump right on the bandwagon of Canto II without this previous knowledge?
David Booher: I think new readers could jump on board Canto's adventure now, but it would be good to know what happened in the first arc. Without giving too much away, in the first arc Canto and his people were enslaved. They had clocks instead of hearts, and when Canto's beloved had her clock damaged, he had to go on a quest to find her heart. In Canto II, we return to Canto and his people in the aftermath of that quest.
DF: What is the storyline for Canto II? Who are the Hollow Men?
David Booher: In Canto II, Canto's people are free and live in a new home. They believe the threat from the Shrouded Man has passed. But when they discover their clocks have been cursed to stop unless they return to captivity, Canto and three of his closest friends must go on a big new adventure to lift the curse before time runs out. As for the Hollow Men, you'll have to wait to meet them in issue 2!
DF: Drew, I don't ask this often of an artist, and maybe I should because you are really the actor here, like an animator is really the actor in a toon. What is your take on the character of Canto? What fills your mind as your pencil fills the page?
Drew Zucker: Canto is a stubborn child that matures as the story goes on. When I draw him, I try and really pull from that child like wonder of interacting with the world; being curious about the things around him and approaching the unknown with a bit of excitement. As the story goes on, though, there is a real deliberate approach to making his body language more confident and sure of itself. All of this is meant to help compliment the script that David has laid out and work hand-in-hand with the arc that he's built.
DF: In Canto II, are there any new characters that the readers will be meeting? I assume you did the character designs, talk a little about that process, perhaps with a new character as an example.
Drew Zucker: The short answer is yes, we will be meeting new characters in Canto II. Designing them has been really exciting especially from the Tin's end of things. In Volume 1: If I Only Had A Heart, we kept a lot of the Tin's uniform with one another, but now that they're out in the world we made a deliberate choice to have each one of these characters not only express themselves and their personality visually, but also have details that represent the greater culture that each character belongs to. It goes back to the world building we did in Volume 1. We want each character to be able to help give the world depth.
DF: Is there any inspiration from literature or film for you in creating the images, the world we have come to know in this franchise?
Drew Zucker: We've continued to use Dante's Inferno and The Wizard Of Oz to draw inspiration for the book, there is a lot of digging through illustrations associated with both pieces to find details and then run them through the filter of Canto. I personally have gone back to Lord Of The Rings as my touchstone when I need to recenter design philosophy for more grounded fantasy elements. Outside of that, digging through a lot of photos from the real world and history has helped to create a large chunk of Canto's world.
DF: Drew and David, what other projects might each of you have coming up, inside comics or outside?
David Booher: Canto has definitely been keeping me busy. I also have a big fun sci-fi adventure coming out from another publisher in 2021 and I'm working on a kids graphic novel series that I hope to launch next year. I also have a short in Big Hype Comics slated for the end of the year. Then hopefully more Canto!
Drew Zucker: As of right now Canto is consuming all of my time. I have a few projects on the books that I can't talk about just yet, but my hope is that I'll be able to return to horror at some point for a quick run in addition to hopefully doing more Canto.
Dynamic Forces would like to thank David Booher & Drew Zucker for taking time out of their very busy schedules to answer our questions. Canto II: The Hollow Men #1 from IDW hits stores Aug. 26th!
For more news and up-to-date announcements, join us here at Dynamic Forces, www.dynamicforces.com/htmlfiles/, "LIKE" us on Facebook, www.facebook.com/dynamicforcesinc, and follow us on Twitter, www.twitter.com/dynamicforces.
---
NEW! 1. 11/30/2020 - SKYLAR PATRIDGE
5. 11/16/2020 - RYAN O'SULLIVAN