BRANDON DAYTON

SEND THIS TO A FRIEND!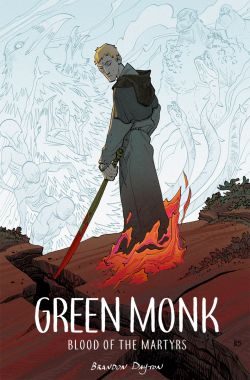 DF Interview: Brandon Dayton mixes contemplative moments, explosive action in Green Monk: Blood of the Martyrs OGN
By Byron Brewer
In a mythical Russia, a mysterious young boy is raised by an order of peaceful monks. As he grows to manhood, bizarre dreams and the call of destiny lead him to discover a powerful, mystical weapon and to face a terrible, violent choice.
The thrilling, YALSA Award-winning comic by Brandon Dayton continues in the Green Monk: Blood of the Martyrs OGN. Wanna know more? Then join DF in an interview with the creator, Brandon Dayton.
Dynamic Forces: Brandon, what can you tell readers about what precipitated this series (I assume) of graphic novels? What was/is your muse?
Brandon Dayton: It's tricky to trace back the origin of an idea. Part of it was motivated by disappointment. I remember watching the Star Wars prequels and thinking about what I wanted them to be. I think the story had origins there, but bit by bit it became its own thing. Watching Andrei Rublev was a big influence. That's where I got the idea for the setting. Little by little, I just kept adding things to it I liked until it became something that really excited me.
DF: Can you do a brief summary about what occurred in your first Green Monk book?
Brandon Dayton: The two stories share the same main character, but they aren't connected by much continuity. You don't need to read one to understand the other. The first Green Monk was more of an overly-ambitious mini-comic. It's a single adventure with the titular character. Kind of like you're randomly picking up a single issue of a series. Green Monk: Blood of the Martyrs is the story from the beginning. It's the origin story. It's also full size, full color and a much bigger story.
DF: What was it like being recognized for the book by YALSA … the Young Adult Library Services Association? Cool!
Brandon Dayton: It was a really delightful surprise. The Green Monk mini-comic was a storytelling experiment. Back when I made it, I was still thinking about making movies, but little by little I started feeling drawn to comics. The YALSA helped solidify that feeling. I was super grateful that they were willing to support a self-published indie comic along with other titles from big publishers. It gave me the confidence to keep moving forward with what I was doing.
DF: Tell us about this world, this mythical Russia you bring so vividly to life.
Brandon Dayton: It's based on this period of Russian history in the mid-1400s when Russia was still under the "Tatar Yolk". Russia was this loose collection of principalities under the thumb of the Tatars from the East and threatened by enemies like the Teutonic Knights from the West. It was a much more wild west time for Russia, long before they unified and expanded across Eurasia. Of course, my version has more magic and mythology in it, but the grim reality of the historical setting is important to ground all the fantasy.
DF: Can you introduce us to your cast of Green Monk: Blood of the Martyrs? Old and new characters (for the uninitiated)?
Brandon Dayton: There are three important characters. Of course, there is Alexey. He's an orphan raised in an idyllic monastery where he develops a deep connection to the spiritual brotherhood and internalizes their ideals. This comes in conflict with his destiny that slowly manifests itself throughout the course of the book.
He's idealistic and naive, but he also puts his money where his mouth is. He acts based on his values. He's also clever, but usually not clever enough to avoid getting into hot water.
There is also a fantastic angle to his character, but I won't spoil that.
There is the Hegumen, who is basically the Abbot of the Monastery. He's a father figure for Alexey and kind of a proxy for all the monks that raise him. He is the physical manifestation of the law, but he can't help being a loving human being either.
The third character is Oxbreaker. He's Alexey's foe from the mini-comic. He's an invincible giant that smashes everything with a metal ball on a rope. Ha, ha. That one seems easier to pitch than the others. Much more sensational. FYI, there are giants in Blood of the Martyrs too.
DF: Can you give us the elevator pitch for this "chapter" please?
Brandon Dayton: It's a super-hero origin story disguised as historical fantasy, but it's really about the cost of integrity and individuality. We get our super-hero by the end of the story, but it comes at a price.
DF: Describe the process on this graphic novel of working as artist AND writer. Is this your preferred practice on a comic? What are the advantages/disadvantages?
Brandon Dayton: I really don't see writing and art as two separate jobs when I work. It's visual storytelling. Sure, I write a script to start things out, but I figure out most details in the layouts and I'm making edits right up until I ink a page, sometimes after. It gives me incredible freedom, which can also be a liability sometimes. Restraints are important to good art, and I have to find ways to introduce those into my process. The other downside is that comics are very labor intensive, and I want to tell more stories.
I have thought about collaborating with other artists to tell more stories, but I haven't quite figured out how that would work yet. Writing panel by panel seems really limiting to me. How can you figure out a visual problem without visual tools? Something I definitely want to try out, though.
DF: Brandon, what other works might be coming from you soon?
Brandon Dayton: Ha, ha! I should have a better answer for that. I'm just focusing on promoting Blood of the Martyrs right now. I have some other things in development, including additional Green Monk stories, but I haven't committed to the next project yet. Hopefully the answer won't be "getting a real job".
Dynamic Forces would like to thank Brandon Dayton for taking time out of his busy schedule to answer our questions. The Green Monk: Blood of the Martyrs OGN from Image Comics hits stores Sept. 26th!
---
NEW! 1. 11/25/2020 - STEVE SKROCE
4. 11/16/2020 - RYAN O'SULLIVAN
5. 11/16/2020 - RYAN O'SULLIVAN